14 December 2017
7 reasons to start watching Tali, like, right now
It's the best day ever – you now get to watch all 8 episodes of Tali's Wedding Diary, about the Jozi princess you love to hate preparing for the most important day of her life.
---
Tali's Wedding Diary is the very first Showmax Original production. It stars Julia Anastasopoulos (who we all know and love as SuzelleDIY) as Tali, the most self-obsessed person you've ever seen, preparing for her wedding to her sweet fiance Darren, played by Anton Taylor (star of popular web series Jozi Shore and the award-winning short Money, Keys, Phone). And all eight episodes are now on Showmax.
Go to showmax.com right now and binge-watch all eight episodes »
If you haven't already fallen in love-to-hate with @tali_babes on Insta, and aren't just *dying* to see Julia in a totally different role to the "cute and weird" Suzelle, here are 7 reasons why you HAVE to watch Tali's Wedding Diary.
1. Because it's a fresh South African comedy
Tali's Wedding Diary was inspired by Julia's own wedding to SuzelleDIY director Ari Kruger. Their shared sense of humour was part of what brought them together and they had lots to laugh at in the build-up to their wedding. "There's so much comedic material in getting married," says Julia. "You meet the funniest people and there's so much stuff you can't actually believe, but somehow we'd never seen a wedding parody in a South African context before."
2. Because we all know a Tali (if you're not a Tali yourself…)
Whether she's your best friend's wife, your colleague, or someone you see at the gym, it's impossible not to recognise at least one person in your life whose Tali traits are strong. Even if you can't stand her, you can't help laughing at her oblivious self-involvement.
3. Because weddings bring out the worst in everyone, but Tali will make you look like a bride-angel
"Audiences are going to love to hate Tali – she's definitely a bridezilla, who's determined to have the perfect wedding, with or without her husband-to-be." says Julia. Tali is all smiles, but she'll stab you in the back to get the dream wedding she deserves.
4. Because you'll learn how to pronounce the name Darren … the Tali way
Anton Taylor is brilliant as the soft-hearted husband-to-be who, for somewhat unknown reasons, manages to love Tali in spite of her flaws. Look out for Tali's special call for her man: "Dar-rennnnnnnnn-a" which she uses to get him to do what she wants.
5. Because it's gone viral
Promotional videos for Tali's Wedding Diary have generated nearly two million views in less than a month, with the trailer trending on YouTube for the week of its release. As Channel24 wrote last week, "Her show hasn't even aired yet but Tali is already a star."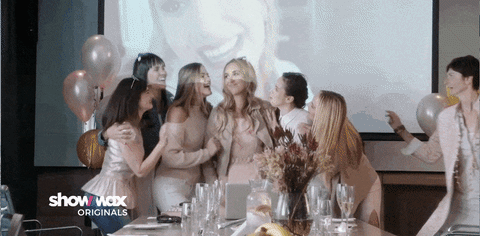 6. Because you love SuzelleDIY
Suzelle and Tali are both played by Julia and co-created by Ari Kruger, who directs both shows. "Tali and Suzelle are very different characters," says Julia. "Everyone loves Suzelle but audiences are going to love to hate Tali."
The latest SuzelleDIY video featuring an interview with Tali is hysterical:
7. Because you're looking for a laugh and this one is packed with jokes only a South African would get
Tali gives you the comedy lift you need if you're getting tired of constant bad news about politics and crime.The 20-minute episodes are perfect for binge-watching and will hopefully remind you that in spite of all the problems we have, there's so much to love about all the crazy people calling South Africa home.