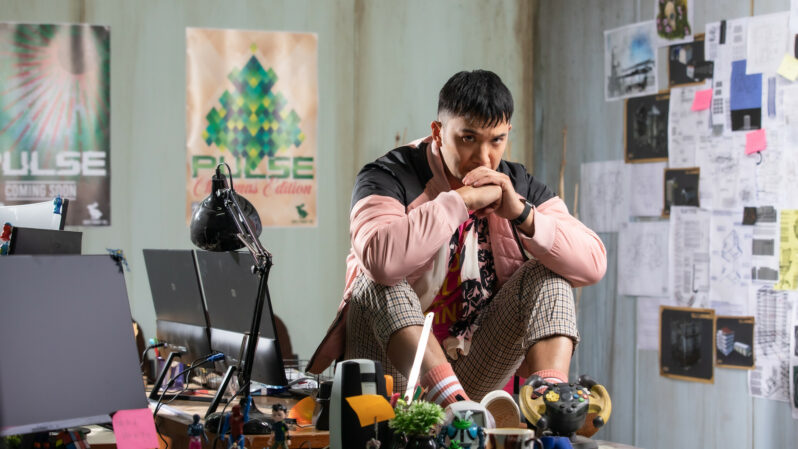 Earl Wan on his role in the "absolutely insane" horror series Pulse
Watch all of it now
It's a long way from Harrogate, North Yorkshire, to sunny Mauritius – and that's a world away from the dark, dystopian world created in survival horror series Pulse. British actor Earl Wan jumped at the chance to play Caspar, a game designer who's ill-prepared to take on the challenge of surviving in a world gone mad.
How did you get into acting?
It's a really long story. I'm a bit of a late bloomer. Before acting, I was a commercial photographer and shot fashion, arts and portraits. That was my way of getting into the film industry and at the time it just seemed impossible to access. I fumbled my way around and then I went to Asia and was based in Hong Kong for a while.
I returned to London and found some background work and that is where it began. I was blown away by the scale of the production. People were so enthusiastic about their job. Even if the hours are gruelling, the energy is amazing. A bunch of people said hey, maybe you should try acting school. I already had a degree and the idea of another degree was off-putting because it is so expensive. So I took part-time school and part-time classes. 
There's a school called Yellow Earth and they are specifically for East Asians. They have a free two-week course but you have to audition for it. I applied, got an audition and got it. I had such a blast and from that point onwards started looking more seriously into acting. I also did extra work.
The first gig I did was Doctor Strange. That really blew my mind. It was an eye-opener watching Mads Mikkelsen work. I was in the Hong Kong scene at the end of the final battle and that was a whole month-long shoot. That sequence was like five minutes long and that took a whole month. For the entire month, I was watching Mads work. It was amazing.
Then straight after that, I got to do Justice League. It was the prologue and I was gutted when Zack Snyder had to step down. When I watched Joss Whedon's version, I was kind of heartbroken. When Zack Snyder released his Snyder Cut I thought my bit would be in. I'm not going to tell you where but I'll see if you can find it.
Those two experiences and learning my craft made me want to act more. The one that really hit the nail on the head though is that I got to be the picture double for one of the heroes in Rogue One: A Star Wars Story. It was a two-month-long shoot and as a picture double sometimes they don't need the main actor so I'd get to stand in and see Felicity Jones working. Sometimes you get to read lines with the main actors. It was a very good learning experience. I didn't go the traditional route of going to schools and stuff. I just kind of slipped into it, you know? 
How would you describe Pulse?
Pulse is exciting and unpredictable. If you take Escape from New York and you mix it in with Alice in Wonderland with a sprinkle of Silence of the Lambs, you've got Pulse. It's absolutely insane. It is the horror genre and it revolves around a bunch of game developers. The arc of it is pretty mad, really insane and very complex. I just thought that as a project I should go for it. My gut was telling me there's something special about this. The character dynamics are really interesting as well, there is a nice range of people and they all needed each other in different ways. It's not your typical kind of good guy, bad guy kind of thing. It's really rich. 
Tell us a bit about your character and what attracted you to playing the role.
Caspar is a games developer. He's Asian, but that's not a major part of the story. He has a really interesting arc and there's more to him than meets the eye. There are very complex layers to the show and it's a good challenge for me to sink my teeth into. 
Do you play video games?
I don't play games as much as I used to just because of time. I used to play a lot on my Dreamcast – I'm on Team Sega. My favourite was Jet Set Radio, all the Sonic games and I loved the beat 'em ups like Street Fighter. I had my Xbox as well, first-generation, the Halo Edition. I still have it. Halo was one of the go-tos. [Watch the series on Showmax.] I played quite a few games. As tech got more advanced, especially with online gaming, it felt for me personally like it took away from having my mates around. We used to gather around the screen and play. That was just so much fun. 
What was it like working with many South African actors on location in Mauritius?
Working in Mauritius was really different. It was nice, warm and sunny. Generally, life was really chilled when we were not working. It was a very different environment because it's not my home. At home, everything is on your doorstep and there is a sense of familiarity. In terms of working with the crew, it was awesome. Especially in the environment we were in with the pandemic. They're all soldiers. Proper troopers. The hours were really intense and everyone stuck together and held it together. It made it really fun. It was awesome. 
Why do you think the horror genre has had such a revival in the last few years? 
I don't think horror has ever been away. I think the pandemic has really magnified a lot of things. Also streaming services, they've made a lot of film and television more accessible. You can just click horror and see a whole list. Meanwhile, back in the day you'd have had to go to Blockbuster or sit and wait for something on the television. Cinemas were quite limited as well. 
Horror is also a popular genre for escapism. With the current social climate, horror has really evolved from your classic boogeyman like Freddy or Jason. Now it is more what-if real-life situations. Get Out is the first one that comes to mind. It's not traditional horror but it's still horror because you're talking about people being abducted and getting swapped. I think people really enjoy that – obviously, you don't want it to happen to you, but you wonder "what if … ?"
I think horror is increasingly popular because it's become so much more relatable. I think Pulse has that as well. What if this actually happened? This could happen. It's not a scenario any of us would want to be in. I think the pandemic has been the closest thing in real life for all of us and no one expected any of this to happen. It's all about escapism and accessibility.