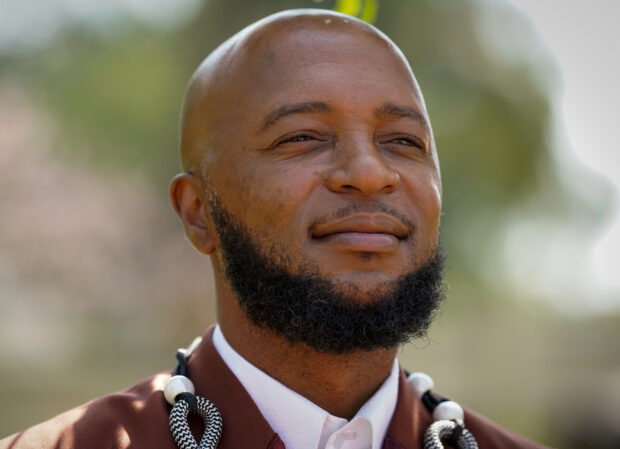 Getting to know Stoan Seate's role on The Wife Season 3
Watch full episodes
Handsome, well-educated and ambitious, Sefako is the most eligible bachelor in all of Royal Thabeng. When he is handpicked to become Naledi's husband, Naledi's father is shocked that his daughter outright rejects Sefako in favour of Qhawe.
This sought-after bachelor is played by musician, TV personality and actor Stoan Seate. Having been in the entertainment industry for over 26 years, Stoan is no stranger to the public eye and as he lands another acting role in The Wife Season 3, we find out more about his relation to the character.
What makes your character interesting?
For me, it's the parallels between Sefako and Stoan. His background, his ethnicity and the tribe where he's from. I'm quite close with a lot of young nobility out of the Rustenburg area. I've drawn in pieces of their characters and personalities into Sefako.
He's made out of pieces of a lot of guys I know, including myself. It's been interesting to try and take him away from the goodie two shoes he was written as, to someone who's more human. It's that not all his qualities are likable. I picked that up from the support base, especially the ladies. The idea is that this guy is coming in to rock the boat for Naledi and Qhawe. They don't like it. They just want this guy dead. That's a nice dynamic to play off of, especially in relation to Qhawe.
How can the audience relate to your character?
All of us know that Sefako is an ambitious guy. He's been doing good all his life. But now he finds himself caught up in a situation that's not of his own doing but it's something he can't get out of. Not that he's not entirely with the situation. But at the same time, it was not his idea.
He's a powerful piece on the chess board. But he's not the king or queen. He's something else. He's like a knight. And ultimately all of us find ourselves in places where a little bit of ambition and circumstance gets you into places, where at the end of it, when you look around after a storm, you ask: how did I get here? By chance, Sefako finds himself falling down a slippery slope – his life is now intertwined in all this drama.
Why is Sefako the better suitor for Naledi?
Sefako is genuinely attracted to Naledi. He was asking himself questions before he met her. He was doing his duty because he's a dutiful young man. He's pedantic about details, and very thorough. Sefako built his own wealth as a young man. Obviously using his family as a springboard.
There's more danger presented by Qhawe to Naledi. When you date a mafia, your enemies could use anybody in order to get to you. Which you see the audience suspecting at the end of Season 2.
With Sefako, there's a more safe and steady environment for Naledi. His financial standing, his social standing and also the fact that he actually feels for her. He is attracted to her and also pursues her in a way that's more appropriate rather than the arranged "marriage". I think that's key. If it was all part of the arrangement then he wouldn't be good to her.
What is it about the Tswana culture that makes this storyline so special in The Wife S3?
In all the tribes of Africa, there are many that occupy land with a lot of wealth beneath it. But very few of those tribes are direct beneficiaries of those minerals.
So the only other powerful people – who are believable when you say "Here's a group of people with the resources to rival the Zulu brothers" – are the BaTswanas.
You have the contrast of the taxi industry and the Tswana royalty out in Rustenburg. When you bring those two worlds together, with romance, rivalry and jealousy, it's just a potent mix of drama; a melting pot. It's like a car crash, a gory accident scene with bodies all over the place but you can't help but slow down and look.
New episodes of The Wife Season 3 are already streaming on Showmax, with new episodes landing every Thursday.