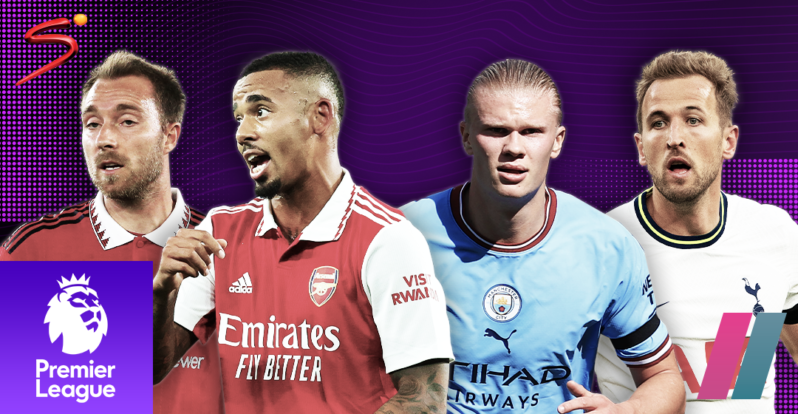 29 September 2022 /
Sport
Live Premier League derbies to stream on Showmax Pro
Subscribe to Showmax Pro
As the goosebumps gather in anticipation this coming weekend's double-header – the North London derby on Saturday, 1 October 2022 and the Manchester derby on Sunday, 2 October 2022, streaming live on Showmax Pro courtesy of SuperSport – here's everything you need to know.
North London Derby: Arsenal vs Tottenham
How it started
You have to go right back to 1913 to the start of the rivalry when The Arsenal (before they dropped the "The") moved to North London and became local rivals to Tottenham Hotspur.
Since then, it's been over a century of bad blood between the sides. In the Premier League era (since 1992), both teams have been in the top flight from the start, which has ensured the growth of a historic rivalry to a modern one.
Some players have dared to play for both sides (Sol Campbell, Emmanuel Adebayor and William Gallas to name a few) and have had to deal with endless abuse ever since.
How it's going
In terms of history, Arsenal definitely have the bragging rights with more league titles and FA Cups than their neighbours. Spurs also haven't lifted any silverware for 14 years (a stat that Gunners fans can't get enough of).
As for the present, Tottenham fans will argue that the pendulum has swung. After a streak of 22 years of finishing below them in the league, Spurs are now on a proud streak of finishing above the Gunners six seasons in a row, with last season's effort being significant as it meant Tottenham qualified for the UEFA Champions League at the expense of their rivals.
This season, the stakes are high going into the first North London derby with Arsenal sitting on top of the league and Tottenham just one point behind.
Fans of both teams will say that winning this game will prove that they're in great shape to challenge for the title. Meanwhile, Manchester City will probably sit back and laugh at their optimism.
Did you know?
Arsenal are ahead in the head-to-head record between the teams, with 79 wins as opposed to Tottenham's 61.
Harry Kane is the all-time top scorer in the fixture with 13 goals in only 15 Premier League games.
St Totteringham's Day is the name Arsenal fans give the day when it becomes mathematically impossible for Tottenham to finish above them in a season.
There have been goals in this fixture for 30 derbies in a row. The last goalless draw between the sides was 13 years ago.
Manchester Derby: Manchester City vs Manchester United
How it started
You have to go back 141 years for the first meeting between the two Manchester clubs, although they went by different names back then.
The red half of Manchester hogged the success up to and including the Premier League era (where there were even some seasons without City in the division as they dropped to the second and even the third tier).
For over a century, it had been a rivalry defined only by proximity, but an extraordinary cash influx for the blue half of Manchester in 2008 changed that.
How it's going
Ever since the closest Premier League season ever where City pipped United to the post for the title in 2012, it's been an unprecedented boom period for Manchester City. Their current success is unparalleled under Pep Guardiola while the Red Devils are still grappling with a way forward in the post-Ferguson era.
City have won four of the last five Premier League titles and are looking to become only the second club to win three in a row.
Who are the only club to have achieved that? Manchester United, of course.
Despite City enjoying a purple patch when it comes to trophies, the Manchester Derby itself remains closely fought with both teams sharing four wins each in the last three years.
Did you know?
Manchester United are 20 wins ahead in the overall head-to-head (77 wins as opposed to City's 57).
Wayne Rooney has the record number of goals in this fixture with 11. When it comes to current players, Marcus Rashford leads the way with four.
Both clubs are supported by local iconic rock bands. Oasis are avid Manchester City followers and Stone Roses get behind Manchester United.
This will be Erik Ten Hag's first Manchester Derby. The last five Manchester United managers have all lost their first derby.
Live stream the North London derby on Showmax Pro on Saturday, 1 October 2022 and the Manchester Derby on Sunday, 2 October 2022, courtesy of SuperSport.
Showmax Pro is a streaming service available for Showmax subscribers in Africa that bundles the Showmax entertainment offering with music channels, news and live sports streaming from SuperSport.
Subscribers can live stream the latest seasons of the English Premier League, La Liga, Serie A, UEFA Europa and UEFA Conference leagues, as well as FIFA World Cup qualifiers and more.
The platform also offers a wide range of other live sports events including athletics, professional boxing, and the world's biggest marathons. Visit showmax.com to learn more or to subscribe to Showmax Pro.
Join the conversation on social media by following and interacting on the below pages:
Twitter: @ShowmaxPro
Instagram: @ShowmaxPro
Facebook: @ShowmaxPro