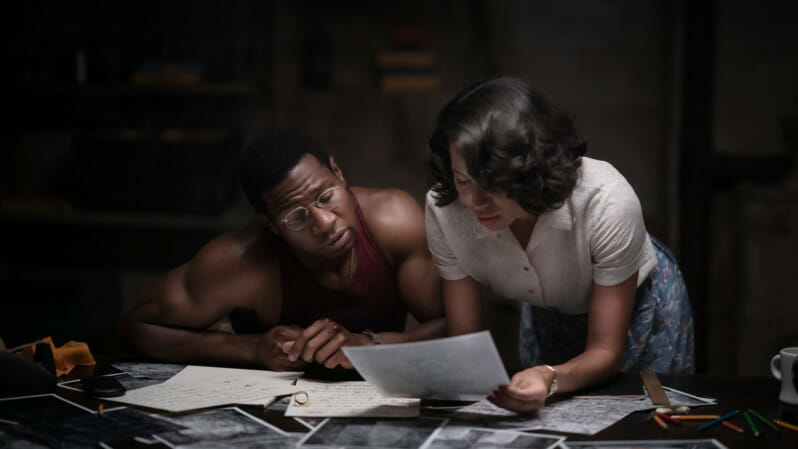 Lovecraft Country
Watch all of it now
In the 1950s, Atticus Freeman, a young African-American, sets out on a road trip with his friend and uncle to find his missing father. This catapults the three into a struggle for survival against the dual terrors of Jim Crow-era America and terrifying monsters that could be ripped from a paperback written by pulpy horror author HP Lovecraft.
Based on the cult novel by Matt Ruff, Lovecraft Country is a collaboration between Misha Green (creator of Underground, named Best New Cable/New Media Show of 2016 by the African-American Film Critics Association) and Oscar-winner Jordan Peele (Us, Get Out), executive produced by JJ Abrams (Star Wars, Star Trek, Lost, Super 8, Westworld).
What genre is Lovecraft Country?
To call Lovecraft Country genre-bending is no understatement. With elements of science fiction, fantasy, horror, period drama, action, even comedy, this gorgeously shot and styled series refuses to be put in a box! Let's take a look at some of the genres and themes:
Science fiction: Nothing can quite prepare you for the ***SPOILER*** opening scene of Lovecraft Country, where UFOs and aliens run amok while our protagonist, Atticus Freeman, runs for his life! It's a jolt that throws your expectations for this series offtrack, and reminds you of that other sci-fi classic, War of The Worlds (also on Showmax, btw). And if you adore sci-fi, episode 7 is a wormhole of delight!
Horror: Monsters with teeth and claws and dripping with goo, like the kind you've seen in shows like The X Files and Fringe. Very realistic body horror that includes arms that have been ripped off, and humans who slough off their skin in a bloody mess. Vengeful ghosts who float about with their fatal injuries on display. Author and monster aficionado HP Lovecraft did not shy away from the weird and horror genres, and neither does Lovecraft Country.
Fantasy: Just a sprinkle of magical books, secret languages and the occasional very handsome warlock means that literally, anything is possible in the world of Atticus Freeman.
Period drama: You can't talk about Lovecraft Country and not talk about the set design and wardrobe. Set in 1950s America, the production takes the styles of the day, typically worn by white characters, and dresses up its black cast lavishly. It's a joy to see Leti in full 50s regalia, and Atticus in his skin-tight shirts and trousers. Major themes of the time include racism and segregation, women's rights and the Vietnam War and its casualties.
LGBTQ+: You might be surprised to find out that there are gay characters sprinkled throughout the plot, from the repressed to the flamboyant, and all critical to the story.
Action-comedy: There is something distinctly gung-ho and Indiana Jones-ish about some of the mysteries that need solving, as Atticus and Leti explore underground chambers, pick their way through dusty skeletons and run away from ghouls and ghosts in their search for ancient relics.
The cast of Lovecraft
The fantastic cast includes Black Reel nominee Jonathan Majors (The Last Black Man in San Francisco, Da 5 Bloods), Teen Choice nominee Jurnee Smollett-Bell (Birds of Prey, Friday Night Lights), four-time Emmy nominee Michael Kenneth Williams (When They See Us, The Night Of), Golden Globe nominee Courtney B Vance (The People Vs OJ Simpson, Law & Order), BAFTA winner Wunmi Mosaku (Luther, The End of the F*ing World, Fantastic Beasts and Where to Find Them), and Abbey Lee (Mad Max: Fury Road, The Neon Demon).
At the time of writing, Lovecraft Country has a 97% critics rating on Rotten Tomatoes and is #2 on IMDB's Most Popular TV chart. As Newsday put it, "To call Lovecraft Country 'wildly original' seems almost a quaint understatement. But it is wild. And original. Little doubt about that."
The first four episodes are available to stream on Showmax, with the following four arriving on 6 October 2020, and the final two coming in November.