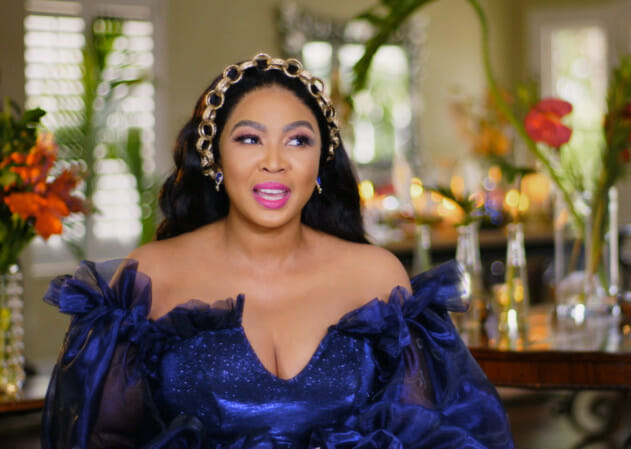 By TVPlus on 1 April 2022 /
Reality
The Real Housewives of Durban Season 2: Get over it guys, Ayanda Ncwane isn't coming back
Watch all of it now
Get over it, guys – Ayanda Ncwane isn't returning to The Real Housewives of Durban (RHOD) but the fun travels, fashionable moments and explosive clashes continue without her in Season 2 of the hit reality show.
It was a shock to viewers of RHOD when it was announced that Ayanda Ncwane was leaving the show after Season 1. Apart from her stylish outfits and witty one-liners, Ayanda was vulnerable. Throughout Season 1 of RHOD, Ayanda wore her heart on her sleeve, and she didn't hold back on her emotions, especially when her mother died. She invited viewers into her home while she and her siblings mourned their sudden loss.
Watch: The Real Housewives of Lagos Season 1 is now streaming
Ayanda was truly entertaining and it's easy to see why viewers miss her, but she isn't coming back – at least, not anytime soon. Instead, Ayanda is spreading her wings. She's CEO of media empire Ncwane Communications, which she built from the ground up with her late husband and gospel musician Sfiso Ncwane, additional business ventures, and she's a mom to two boys Ncweti and Mawenza. Plus, Ayanda is exploring other avenues but should she change her mind and consider returning to RHOD, fans will welcome her with open arms.
Here's what fans had to say about Ayanda's departure:
Read below to find out why viewers miss the original cast member Ayanda Ncwane in RHOD.
Ayanda's never-ending drama with Nonku
Ayanda's introduction in the pilot episode of RHOD set the tone for the franchise. She arrived at castmate Sorisha Naidoo's Diwali dinner party, dressed to the nines and minutes later, she was the centre of drama that carried throughout Season 1. It all started when fellow cast member Nonku Williams revealed that she had a daughter, Nothile, with Ayanda's deceased husband, Sfiso. Everyone at the table went silent but Ayanda handled the bombshell well. She didn't rise from her chair and give Nonku a piece of her mind for disclosing sensitive information in front of the cast.
Instead, in her next one-on-one meeting with Nonku, Ayanda told her that she accepted Nothile into the Ncwane family. "As the Ncwanes, we are opening our hearts, arms and home to her, anytime. I would love to embrace Nothile the way in which her father would have," said Ayanda.
Although Ayanda was keen on forming a friendship with Nonku, a prospective friendship went down the drain at the Reunion special. During the evening, Nonku and her mother – The Queen – suggested that Ayanda pay a fee on Sfiso's behalf so that Nothile could change her name to Ncwane, and Ayanda lost her cool. She was disappointed that yet again Nonku didn't reach out to her in private to discuss a family matter. "It's a big ask for me," said Ayanda, before adding, "I'm surprised that it's addressed here."
In Season 2, Nonku revealed that she hasn't spoken to Ayanda since the Reunion and their kids haven't forged a bond due to their dispute. With all the issues between Nonku and Ayanda, it could be another reason why Ayanda decided to leave RHOD – too much drama.
Ayanda's style was always on point
All the events, big and small, were fashion moments for Ayanda. She would make a grand entrance in every room she would walk into, and Ayanda's brother and stylist Phupho Gumede ensured that she stole the spotlight in every scene, especially during her confessionals.
Some of her best looks include a royal blue dress with oversized hand ruffles, there's also the orange one-shoulder dress, and, of course, the yellow ensemble with matching hat that she wore during her morning catch-up session with Sorisha. "I will never apologise for being well-put-together because that's simply who I am," said Ayanda when asked about her style, before adding that "I don't know another Ayanda apart from this one."
We will certainly miss Ayanda's style inspiration but there's more trendy outfits to look forward in The Real Housewives of Durban Season 2, new episodes drop every Friday on Showmax.