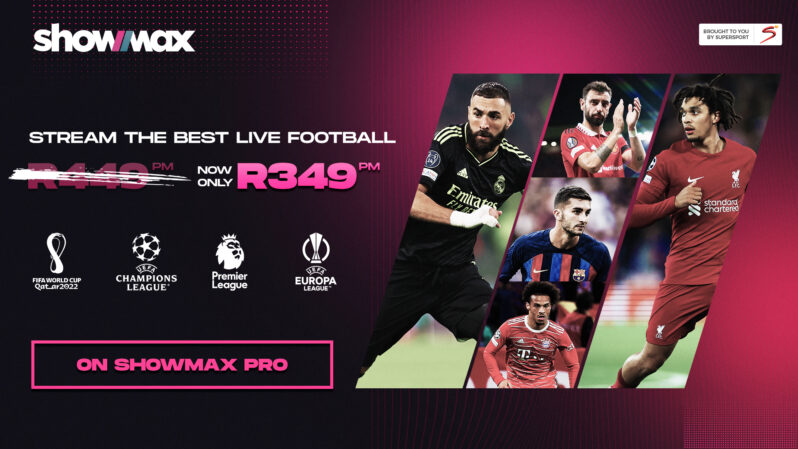 22 September 2022 /
Sport
Showmax Pro price now R349 per month in South Africa
Get Showmax Pro
Streaming service Showmax reduces cost for its Showmax Pro sport plan while all other prices remain unchanged.
Update: From 14 October 2022 to 31 January 2023, Showmax Pro is available for a limited-time special offer in South Africa. Showmax Pro Standard will cost R299 per month and Showmax Pro Mobile will cost R199 per month for this limited time and in South Africa only. Read more here »
As of 23 September 2022, Showmax Pro will be available to subscribers in South Africa for R349 per month, a 22% reduction on the previous price of R449. The Showmax Pro Mobile plan remains available for R225 per month.
Speaking about the price change, Yolisa Phahle, MultiChoice Group CEO for Connected Video, says, "If there's one thing we know for sure, it's that South Africans love football. Showmax Pro gives our customers incredible value by making it possible to stream the world's best leagues including the DStv Premiership from virtually anywhere. Our new price point makes accessing sport even easier and more affordable for South Africans."
Showmax Pro bundles the Showmax entertainment offering with live sport from SuperSport, live music and news channels. Football on offer includes the Premier League, DStv Premiership, LaLiga, Serie A, UEFA Champions League*, UEFA Europa League, UEFA Nations League and every match of the FIFA World Cup Qatar 2022.
The Showmax Pro plan allows subscribers to stream on up to two devices at the same time, meaning less fighting over controls and more screens to keep up to date with all the action. (Showmax Pro Mobile is available on one mobile device, with one stream.)
Showmax's updated pricing comes ahead of the FIFA World Cup Qatar 2022, set to kick off on 20 November. Every game as well as highlights, analysis and magazine shows will be available to stream on Showmax Pro and Showmax Pro Mobile, courtesy of SuperSport.
The updated price point for Showmax Pro is for South Africa only.
*The Showmax Pro line-up differs per country. UEFA Champions League games are only available on Showmax Pro in South Africa, Mauritius and Lesotho.
To find out more or subscribe visit showmax.com