By Stephen Aspeling on 14 November 2022
The best Dwayne Johnson movies to watch online
Browse all movies
Arnold Schwarzenegger was Mr Universe before he became a Hollywood action star. Following closely in his footsteps with size 14 boots is Dwayne "The Rock" Johnson who conquered the world of wrestling during the Attitude Era before becoming one of the highest-paid and highest-grossing actors on the planet.
Still known by his ring name, Johnson's charms, physique and likability have made him a smash hit and a bankable box office juggernaut. Leagues ahead of wrestler-turned-actors Dave Bautista and John Cena, The Rock is still tagging-and-bagging the biggest and baddest roles.
While he may not be running for the Oval Office just yet, Johnson has left no stone unturned in his bid to become Hollywood's biggest entertainer in every sense of the word. In his bid for world domination, It seems only fitting that we rank The Rock's movies, all streaming now on Showmax.
Jumanji is an action-adventure comedy fantasy starring Dwayne Johnson, Jack Black and Kevin Hart as video game characters. Four teens quickly realise they have to work as a team to escape a magical old-school video game when it suddenly transforms them into their adult avatars.
Fun and peril are the order of the day in this thrilling jungle adventure, which shares its subtitle with an action movie with "Stifler". The Rock channels charisma and brooding intensity as Dr Bravestone, identifying with playing a 16-year-old in a 46-year-old's body on account of his 6ft-4 height and 115kg weight at the same age.
Much like Schwarzenegger, The Rock is versatile enough to switch from action to comedy with the click of his heels. Big, brawny and charismatic, he has the star quality to take down bad guys and poke fun at himself in buddy action comedy Central Intelligence.
With The Rock playing opposite his hilarious off-screen pal Kevin Hart, their on-screen chemistry is dynamite as an accountant is recruited by a formerly dorky high school friend into a covert operation. Testament to his infamous moon bag and polar neck photo, which Kevin Hart used as Halloween inspiration, Central Intelligence is all about co-lead chemistry, espionage action and tons of silly fun.
Michael Bay is known for his colourful, brash and visually spectacular blockbusters but dials it back a notch for the dark action comedy Pain & Gain, starring Mark Wahlberg, Dwayne Johnson and Anthony Mackie.
Based on the true story of the Sun Gym gang in Miami, a group of ex-convicts and bodybuilders kidnap a wealthy businessman in order to extort money but things don't go to plan. Playing Paul Doyle, Pain & Gain is a perfect fit for Dwayne Johnson, who spent eight months preparing for the role in his home gym, The Iron Paradise.
Dwayne Johnson has built his film career on the same charm and intensity that spurred his wrestling persona as The Rock. The coming-of-age underdog sports drama Gridiron Gang follows Sean Porter, a counsellor who leads juveniles at a detention centre to channel their frustration, find discipline and build their self-esteem by playing football.
Having earned a scholarship to play football at the University of Miami, Johnson could've gone NFL professional, owing much of his personal transformation to his high school coach. This makes Gridiron Gang the perfect vehicle to leverage The Rock's biography with what have become trademark traits.
San Andreas is a Roland Emmerich action blockbuster that's all about size, charm and entertainment value. Blending disaster movie peril with True Lies style stunts, San Andreas is visceral, quick-paced, entertaining and powered by non-stop action.
Dwayne Johnson is our altruistic hero Ray, who's able to throw himself into the action and warm hearts through survival drama in this spectacular actioner about a family trying to regroup after an earthquake strikes. Generating suspense and warm fuzzies, The Rock's star quality shines through, as he plays opposite the sultry Carla Gugino and gorgeous blue-eyed Baywatch co-star Alexandra Daddario.
Faster is an homage to 70s action films starring Dwayne Johnson as a man who goes on a violent crime spree to avenge the people who betrayed him. Meanwhile, a contract killer and investigator on the verge of retirement pursue the tough-as-nails ex-con.
Driving a vintage Chevelle muscle car on his way to exact revenge, this film is all about action, attitude and piston-pumping thrills. Faster hinges on The Rock's star presence and commitment, trailblazing his way back to the action genre, having learned a West Coast prison fighting style called 52 Blocks just for one scene.
Journey 2: The Mysterious Island is a sequel to the eye-popping Journey to the Centre of the Earth connected by the presence of Hunger Games star, Josh Hutcherson. Headlined by Dwayne Johnson, this action adventure comedy follows a group of adventurers who band together to find a missing grandfather on a mythical island.
As a family movie, Journey 2 takes a Honey I Shrunk the Kids approach where disproportionate and wonderful creatures naturally generate an otherworldly feel and many great opportunities for action and comedy.
Dwayne Johnson has the physique of action figurines from the 80s. While his bodybuilder frame is more Masters of the Universe than GI Joe, he stars as Roadblock opposite Channing Tatum, Adrianne Palicki, Arnold Vosloo and Bruce Willis in action military sci-fi thriller GI Joe: Retaliation.
Declared traitors by their mortal enemy, Cobra Commander Zartan, who has the world's leaders under his control, forces the Joes to turn to their leader, General Colton. This nostalgic adaptation to a beloved throwback features a stellar cast, epic action sequences and kick-ass visual effects.
Red speedos and bouncy, slow-motion beach runs were the stuff of popular 90s TV series Baywatch. This action crime comedy and irreverent adaptation features Dwayne Johnson as a head lifeguard and Zac Efron as an egotistical former Olympian who come to blows only to put it all on the line to save the day… and bay.
Playing Mitch Buchannon, a typically buff Dwayne enjoys good chemistry with Efron as a brash new recruit. Baywatch pays its dues to series figureheads, David Hasselhoff and Pamela Anderson, but is more concerned with dishing out cheesy, campy comedy and seriously over-the-top sun-kissed fun.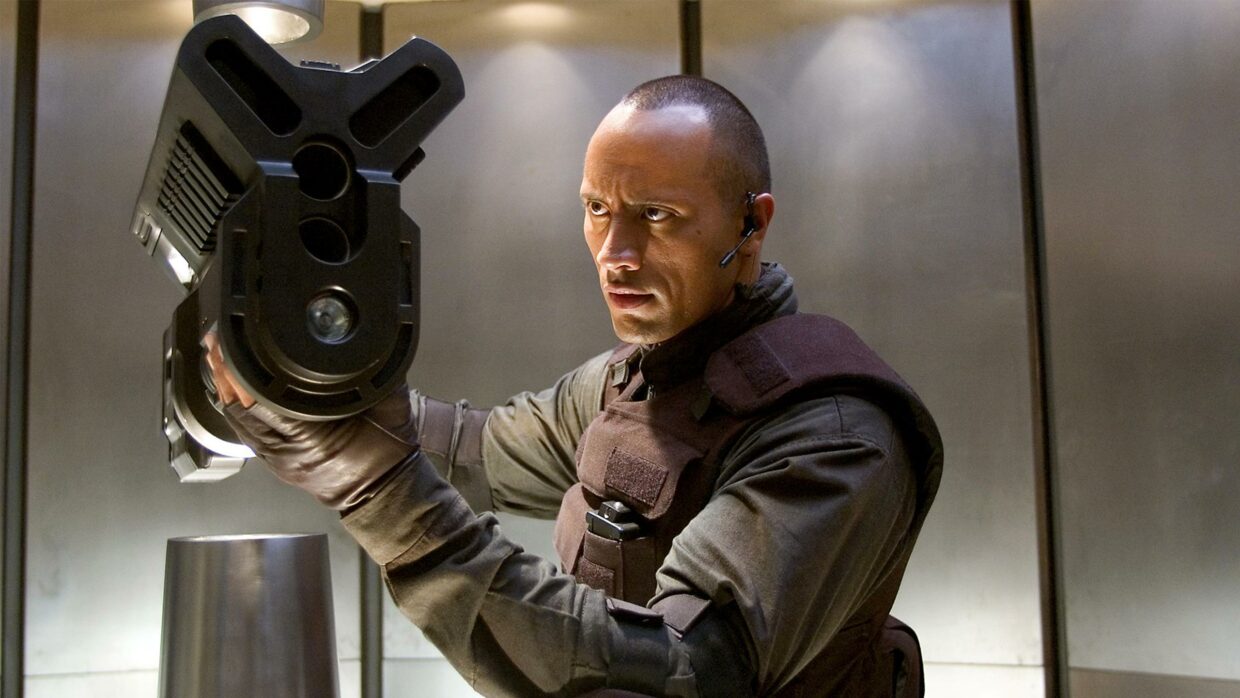 Doom is a classic and pioneering first-person shooter that took the gaming world by storm in 1993. Getting a long-awaited adaptation to screen, Doom follows Sarge, who leads seven elite marines through a wormhole on a dangerous rescue mission to a facility on Mars to obliterate an infestation of demon-like creatures.
The Rock stars as BFG-toting bad-ass Sarge with Karl Urban as Reaper and Rosamund Pike as Grimm. FPS fans will love this action-packed, fun, entertaining and hulking sci-fi action deep space showdown.