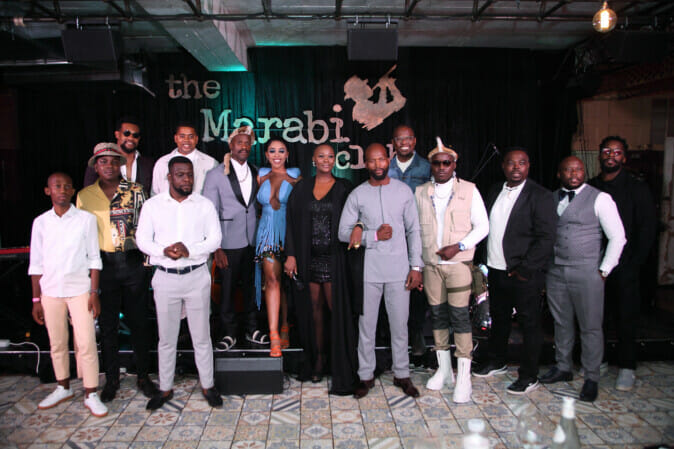 The Wife cast and everything you want to know about them
Watch full episodes
The Wife cast is packed with fresh faces and established talents. Get to know some of the main cast of The Wife on Showmax, the telenovela that's broken records and garnered legions of fans who tuned in every Thursday morning to watch the latest episodes of their favourite series.
The Wife Season 1
Hlomu is played by Mbalenhle Mavimbela
Rising star Mbalenhle Mavimbela (Skeem Saam, Isipho) plays the role of Hlomu the wife, the journalist who falls in love with a taxi driver, not realising that when you marry a man, you marry his secrets. She is a passionate, young investigative journalist. Love forces her to choose between a life of uncovering the truth and a life of hiding it.
Also in Hlomu's life is her fiance, Sandile the doctor, who is played by Kay Sibiya. They are living together when she meets Mqhele, and he is unaware of her dissatisfaction with their unexciting relationship. Kay has had roles in both Uzalo and Generations.
Hlomu also has a twin brother Langa, played by TikTok breakout star Lindah Majola in his first major acting role in The Wife telenovela. As her fun-loving twin, Langa is there to pick up their pieces when things go wrong for Hlomu, and drives her back to their home in KZN when all she needs is family and healing. Lindah is currently working on a series set to air on SABC.
At Hlomu's office, where she works as a journalist, her boss Lux is played by Kabelo Moalusi of The Queen, The Throne and Generations. Her colleague and friend Lerato is played by Thuli Phongolo from Rockville and Generations.
In later episodes, we get to meet Hlomu and Langa's parents. Their father, Bab'Dladla, is played by Saint Seseli (How to Ruin Christmas, Keeping Score, Isipho), who isn't afraid to put Mqhele in his place after he raises his hand to his daughter. The twins' mother, Ma'Dladla is Ayanda Nhlangothi, a former Idols contestant who has appeared on Ifalakhe and Erfsondes.
Onto the casting of the eight Zulu brothers, a formidable crime family from Greytown, KZN, who are described in the books as dark and dangerous brothers.
Mqhele is played by Bonko Khoza
He burst onto the acting scene as Jabz in the multi-award-winning film Necktie Youth and has since appeared in the likes of Professionals and the Emmy-nominated Roots. On the surface, Mqhele is a loving, family man, but deep inside, his demons are at war with one another. He pursues what he wants until it's his.
Nkosana is played by Mondli Makhoba
If you recognise this well-known face on our screens, it's because Mondli has had roles in Umkhokha, Generations and Imbewu. As Nkosana on The Wife and the firstborn of the Zulu brothers, he took charge of the family after his parents' murder. He's a man of a few words and thinks carefully before he acts.
Nqoba is played by Abdul Khoza
Fans of The Wife telenovela has been raving about Abdul's performance as this hot-headed sibling, and describe it as a perfect casting. Abdul Khoza already has a SAFTA win under his belt, and his roles of Isibaya and on Kings of Joburg has garnered him much praise and attention. In his role as Nqoba, he is a 'hit first and explains later' type of guy. Sometimes he doesn't even explain.
Nqoba's partner and mother of his children is Zikhona Sodlaka, who plays Mandisa. She is a SAFTA nominee for her role in After 9 and also features in the upcoming Showmax Original epic series Blood Psalms.
Qhawe is played by Kwenzo Ngcobo
The sweetest of the brothers, Qhawe is also the family strategist. He saw Hlomu first, and it was love at first sight, but this once, he failed to put a plan into action. Kwenzo has spent his early acting days mainly in theatre, travelling the world, and he also appeared in Imbewu – but his role in The Wife has no doubt sent his career into the stratosphere.
Sambulo is played by Sipho Ndlovu
Sipho has an instantly recognisable set to his face, and he has played roles in some of the biggest soapies in South Africa, namely Isibaya and The Queen. As Sambulo, there's more to this brother than meets the eye. Laid back, funny, and we learn, he is also an undercover hitman. He's not after power but is his brothers' keeper and the true glue working silently to hold them all together.
You can't have a conversation about the Zulu brothers without mentioning The Youth Squad aka the younger brothers who round up this oddly charismatic criminal family. Look out for SAFTA nominee Thulane Nkululeko Shange (Is'thunzi, iNumber Number) as Mqoqi; Ishmauel Songo (Rhythm City, Tsotsi) as Mpande; and Swelihle Luthuli (eHostela) as Ntsika.
These younger brothers are often sent on errands by Nkosana and the older Zulu clan, who also do their best to protect their younger siblings from the criminal life that they have taken up for reasons as yet unrevealed to viewers. Inevitably, The Youth Squad gets involved in the cash-in-transit heists that Nkosana, Nqoba, Mqhele, Qhawe and Sambulo have been pulling off, with disastrous consequences as they come under the beady eye of the law.
In opposition to the Zulu family are the Majolas, who runs things at the taxi rank and make the mistake of asking Nkosana to sacrifice the life of one for his brothers as reparation for an incident, forcing him to go to war against them.
Bongani Gumede plays Bab Majola
He is a two-time SAFTA Best Actor nominee for Isibaya and has also appeared in Zone 14 and Yizo Yizo.
Siyabonga Shibe plays Gwaza
He has also been nominated for SAFTAs as Best Actor in Gazlam and Best Supporting Actor for Ashes to Ashes.
Ntando Mcube plays Geja
You may have seen him in Durban Gen, Intersexions, Saints and Sinners, and Lockdown.
Doing his best to maintain the peace between the Zulu and the Majola clans is the legendary Dumisani Dhlamini, who plays Dlakadla, and has been put in charge of the taxi association after the former leader was killed by Nkosana.
The Wife Season 2
Zandile is played by Khanyi Mbau
The role of Zandile, the fierce matriarch of the Zulu family, is played by Khanyi Mbau. The South African megastar is also in Happiness is a Four-Letter Word, Red Room, Abomama and Mbau Reloaded: Always Rise.
Mandisa is played by Zikhona Sodlaka
Nqoba's partner and mother of his children is Zikhona Sodlaka, who plays Mandisa. She is a SAFTA nominee for her role in After 9 and also features in the upcoming Showmax Original epic series Blood Psalms. You'll also recognise her from Grassroots, Housekeepers and Igazi.
Naledi is played by Gaisang K Noge
Naledi, a doctor, starts falling for fan favourite Qhawe Zulu towards the end of Season 2. Like Hlomu and Zandile, she'll come to understand that loving one of the Zulu brothers means loving all of his dark and tumultuous past. As much as she will enjoy the trappings that come with being the wife of one of those rich, handsome, powerful and dangerous men, she must also live with the inherent danger that remains.
Naledi will be the lead in The Wife Season 3, landing on Showmax later in 2022.