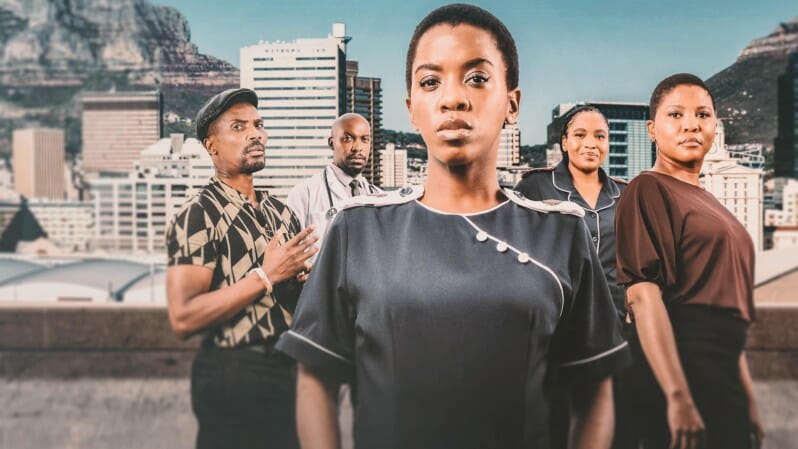 By Trent Mortlock and TVPlus on 1 August 2022 /
Drama
11 medical dramas to stream in case of an entertainment emergency
Browse all series now
Licensed to kill, doctors are automatically trusted with our bodies, whether it's for a sore knee or a couple of hours under the knife on the operating table. So why wouldn't we want to know how our doctor's doing at his day job?
From crotchety savants to ego maniacs with god complexes, these compelling medical series are streaming 24/7 in case of an entertainment emergency.
Currently the sixth best-reviewed series of 2022 according to Metacritic, comedy-drama This Is Going To Hurt stars Emmy winner Ben Whishaw (Q in No Time To Die, voice of Paddington) as a junior doctor in a British labour ward.
Based on the bestselling memoir of real-life doctor Adam Kay, This Is Going To Hurt has a 94% critics' rating on Rotten Tomatoes, with Time hailing it as "the best medical drama in years".
Radio Times calls the series "a hilarious but heartbreaking tribute to the NHS" – England's National Health Service – adding, "A fast-paced emotional rollercoaster, This Is Going to Hurt is hands-down one of the best dramas we'll see in 2022."
Rotten Tomatoes' 12th Best TV show of 2022 (So Far), The Responder follows Chris Carson (Martin Freeman, The Hobbit), a morally compromised urgent response officer tackling a series of crisis-stricken night shifts in Liverpool.
While trying to keep his head above water both personally and professionally, Chris is forced to take on a rookie partner, Rachel (Adelayo Adedayo – named "Britain's most exciting rising star" by Harper's Bazaar). Both soon discover that survival in this high pressure, relentless, night-time world will depend on them either helping or destroying each other.
Written by ex-police officer Tony Schumacher, The Responder has a rare 100% critics rating on Rotten Tomatoes. "Martin Freeman is magnificent," writes The Guardian. "With rage in his heart and spit on his face, Freeman will surely win all the awards for this drama written by an ex-cop that's as riveting as a thriller and as profound as a documentary… If you are looking for a state-of-the-nation piece, it is here."
New episodes of this local gem land on Showmax every Thursday night, and the title not only focuses on the wounds that get treated in the fictional Healing Hands Hospital, but also the inner wounds that the medical professionals – especially nurses – grapple with daily.
Neo Masonda (Samke Makhoda) is the new intern nurse at Healing Hands but she's snuck in there using her sister Busiswe's identity because the skeletons in Neo's closet forced her to drop out of nursing school. Now she's forced to keep up this façade. Will she be caught out? That's the drama!
Heart-breaking stories from fatal sickness to miscarriages will be part of this series' storylines that aim to tug at viewers' heart stings with a surgical precision, while it shines a light on the difficulties that our public hospitals face, from financial issues to faulty and old equipment.
Gossip spreads like wildfire and drama is always just around the corner in the halls of Binneland Clinic in the Afrikaans soapie Binnelanders. At Koster (Hans Strydom) rules the hospital with an iron fist, and there is nothing more important to him than his hospital and family. He will move heaven and earth to protect those two, and he isn't above breaking the law (but keeping his hands clean) to ensure it.
Binneland Clinic is one of the most prestigious private hospitals in Pretoria, so making the hospital profitable and hiring only the best doctors, surgeons and nurses on their staff to serve their patients are of the highest priorities.
But it's not always smooth sailing, even when you have the best of the best… Enemies always find a way to slither in and damage the hospital's reputation or, even worse, put patients in danger.
Working in the trauma unit of a hospital isn't something that just any nurse or doctor can do. You need nerves of steel and the ability to think on your feet and make quick and accurate decisions when a patient is wheeled into the ER.
The doctors and nurses in the medical drama Chicago Med know what to do when those doors swing open, they're on the top of their game, and they don't just need to save lives, they want to. In the face of tragedy, they bring life and light, even if it means they must give up a part of themselves.
In the emergency room, it doesn't matter whether or not the patient can pay for care, it's the medical professionals' duty to save lives. And that is what the brave personnel of Chicago Med do.
Seasons 1 to 6 of this addictive drama are now streaming on Showmax.
Named as Canadian television's breakout star of 2020, Hamza Haq plays Bashir "Bash" Hamed, a battlefield trauma surgeon who must redo his medical training in order to practice at York Memorial Hospital after arriving in Canada as a refugee. This fresh and timely concept separates Transplant from other similar medical dramas and not just because he goes from skewering kebabs to drilling his boss's head. Please don't try this at home or the office.
It's not quite Doc MacGyver, but both were filmed in the same country, which gives the series a different spin to American medical procedurals. Transplant's clever title, sharp performances, suspenseful ER pacing and humble star offer insights into the immigrant experience with heartfelt story lines about fitting in, shaping up and being accepted. Oh, and House… sorry, Dr Bishop, is played by that Scottish actor, John Hannah.
In case the title of this true story didn't give it away, Dr Christopher Duntsch is responsible for many untimely deaths, often referred to as a serial killer loose in the hospital. He was initially thought of as a rock star neurosurgeon, but these expectations were shattered by a string of gross malpractice cases, as the cavalier surgeon maimed and/or caused patients to die.
Joshua Jackson (fine, Pacey to all you Dawson's Creek fans) plays the cold-blooded and sociopathic Duntsch, who could do no wrong. He's supported, or you could say assisted, by Alec Baldwin (don't go there) and Christian Slater, rounding off an experienced ensemble as they brush up on their Texan accents. Dr Death picks up the story as two fellow surgeons and a young Assistant District Attorney set out to stop the maniac.
Dr Christopher Duntsch's infamy is retraced in the hard-hitting Dr Death: The Undoctored Story. Naturally, with a sensational story about a "serial killer" doctor doing the rounds, there's bound to be some creative licence. It's the stuff of horror movies and with a dark mini-series already out there, it seems almost inevitable that a chilling biographical medical drama thriller will become a reality.
Thankfully for the squeamish, the SAW-like procedures are downplayed. The miniseries tracks the hard-partying college footballer who rose through the medical training academy, thinking he was numero uno. What makes this series so grisly and compelling is hearing the story straight out of the mouths of surviving victims, his girlfriend and best friend, who he technically decapitated!
Medical dramas often get by on a hospital's 24/7 influx of ceaseless trauma, emergencies and tough calls. Saying stuff like "stat", "intubate" or "bring the paddles" may make you sound like you know what you're doing. However, these shows are not a substitute for a real medical qualification and you shouldn't try this at home.
New Amsterdam sticks to a number of medical genre tropes but what's refreshing is that it makes you want to be a better person. The series follows the brilliant and charming Dr Max Goodwin, a new medical director, who breaks rules in order to fix the health system at America's oldest public hospital. Max-Good-Win could be the hospital's slogan but sums up the spirit of the series with Ryan Eggold taking on a role that would've been perfect for Michael J Fox.
License to Kill is a medical crime drama series that profiles medical professionals who put their patient's lives in jeopardy. James Bond also had to jump through quite a few hoops in to get his license to kill. Sure, Dr No complicates matters but the evil genius of this show is in the real-life case studies that range from nightmare surgical procedures and poisoned needles to missing people and ritualistic organ harvesting. It's enough to make sure you never get sick again.
The face of the series is Dr Terry Dubrow, a plastic surgeon who presents each case and episode William-Shatner-Rescue-911 style. What truly brings it home are the interviews with patients, investigators, witnesses and family of the victims who were left behind. Ranging from the infamous Dr Death to Donald Harvey, there's enough here to leave you aghast. Aghast, I tell you!
Hugh Laurie isn't American and can also do a really silly high-pitched voice. Nowadays it's easy to see why his next biggest international roles were in the films Tomorrowland and 101 Dalmations.
Accessing a level of his own brilliance and limitless wit as an actor, he embraces the antisocial maverick Dr Gregory House, who treats colleagues like a crack squad and patients like puzzles. No, not like the electric buzzer game Operation… more like the placebo effect of colour-coded Smarties.
Starring in 176 episodes and playing the titular character of House will do that to a person. To make matters worse, Laurie is so gosh-darn perfect as the brilliant House he kind of did it to himself. Champagne problems, right? The walking stick prop has become synonymous with the character of Dr Gregory House, but it's getting to the point where the legendary actor will probably be grateful for all the practice.