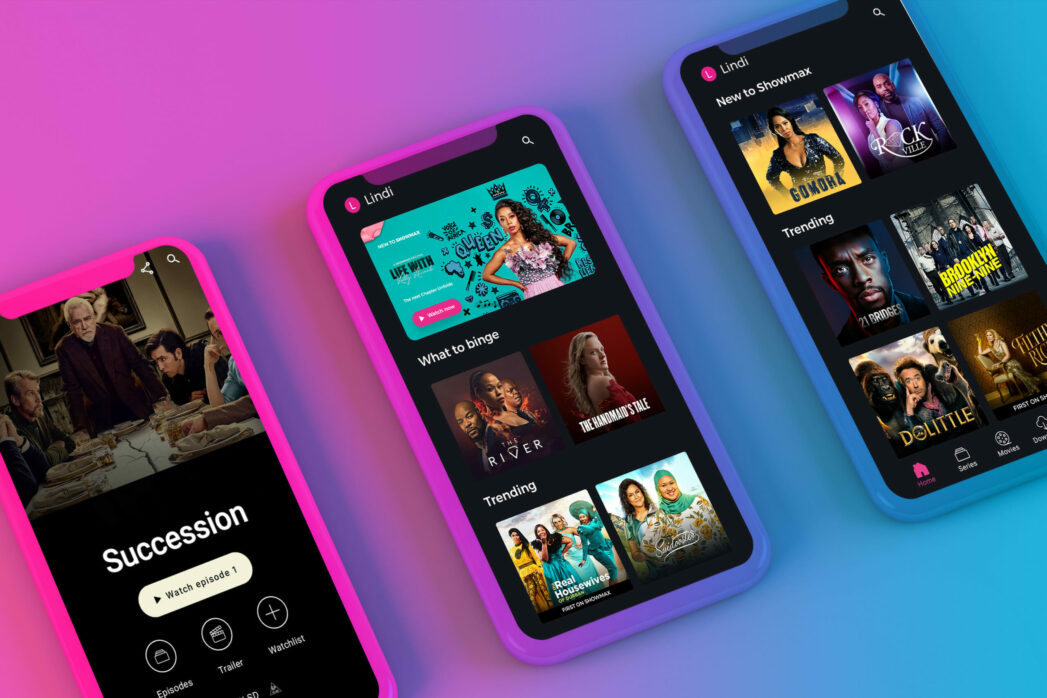 25 August 2021
How does Showmax work?
Find out how Showmax works, Showmax pricing and cost, the different Showmax packages, and how to pay for Showmax.
What is Showmax?
Showmax is not a TV channel.
It's a streaming service where you can watch movies, series, documentaries, sport and kids' stuff. Watch online at showmax.com or using the Showmax app. The Showmax app is available for phones, tablets, smart TVs, media players and gaming consoles.
All you need is a subscription and a device that can connect to the internet to watch Showmax.
Showmax packages and plans
Showmax Standard
Showmax's standard plan comes with thousands of movies and series to stream. Register up to five devices, watch on two streams at once, and get full access to everything on Showmax.
In South Africa, Showmax Standard costs R99 per month. Sign up here »
Showmax Mobile
With Showmax Mobile, subscribers can watch all the same content as Showmax Standard, but only on a smartphone or tablet. Only one device can be registered on each account, and you can watch one stream (or one device) at a time only.
In South Africa, this Showmax package costs R39 per month. This makes Showmax Mobile a cost-effective way for subscribers to stream all the movies, series, documentaries and kids' shows on Showmax on their smartphones.
Showmax Pro
Showmax Pro comes with everything in the standard plan, plus select live sport from SuperSport, and live news and music channels. Showmax Pro is for the streaming enthusiast who wants it all – series, movies, documentaries, kids' shows as well as live sport, news and music.
Showmax Pro channels include SABC news (in South Africa only), Euronews, Africanews, and Newzroom Afrika, plus Trace Urban and Trace Gospel.
Like Showmax Standard, on this Showmax package, five devices can be registered on each account, and you can watch on two streams or on two devices at the same time.
In South Africa, the pricing of Showmax Pro is R349 per month. How to upgrade to Showmax Pro »
Showmax Pro Mobile
Showmax Pro Mobile is the mobile version of Showmax Pro. You can watch all the same content – movies, series, documentaries and kids' shows, plus live sport from SuperSport, news and music – but only on a mobile device, either a phone or a tablet.
In South Africa, the pricing of Showmax Pro Mobile is R225 per month.
Read more about the difference between standard Showmax and Showmax Mobile.
How much does Showmax cost? Here is the Showmax pricing for different packages
| | | | | |
| --- | --- | --- | --- | --- |
| Country | Showmax | Showmax Mobile | Showmax Pro | Showmax Pro Mobile |
| Australia | AUD 12.49 | AUD 6.25 | Not available | Not available |
| Botswana | BWP 95 | BWP 36 | BWP 216 | BWP 108 |
| Ghana | GHC 57.50 | GHC 21.25 | GHC 150.00 | GHC 75.00 |
| Kenya | KSh 760 | KSh 300 | KSh 2100 | KSh 1050 |
| Namibia | N$ 99 | N$ 39 | N$ 295 | N$ 149 |
| New Zealand | NZD 13.49 | NZD 6.75 | Not available | Not available |
| Nigeria | N 2900 | N 1200 | N 6300 | N 3200 |
| Mauritius | USD 7.99 | USD 2.99 | USD 26.99 | USD 13.99 |
| South Africa | ZAR 99 | ZAR 39 | ZAR 349 | ZAR 225 |
| Tanzania | TSh 20,000 | TSh 7,800 | TSh 46,000 | TSh 23,000 |
| Uganda | UGX 30,300 | UGX 11,499 | UGX 67,200 | UGX 33,600 |
| United Kingdom | GBP 6.75 | GBP 3.49 | Not available | Not available |
| Zambia | ZMW 160 | ZMW 72 | ZMW 432 | ZMW 216 |
| Rest of Africa | USD 7.99 | USD 2.99 | USD 17.99 | USD 8.99 |
| Diaspora | USD 8.99 | USD 4.49 | Not available | Not available |
*Showmax Pro is available in: Benin, Botswana, Burkina Faso, Burundi, Cameroon, Cape Verde, Central African Republic, Chad, Comores, Republic of Congo, Cote D'Ivoire, DRC, Djibouti, Equatorial Guinea, Eritrea, Eswatini, Ethiopia, Gabon, Gambia, Guinea, Guinea-Bissau, Liberia, Madagascar, Malawi, Mali, Mauritius, Mozambique, Namibia, Niger, Réunion, Rwanda, São Tomé and Príncipe, Senegal, Seychelles, Saint Helena, Ascension and Tristan da Cunha, Tanzania, Togo, Uganda, Zambia, Zimbabwe.
How to get a 14-day free trial for Showmax
Sign up to Showmax with your credit or debit card and watch free for 14 days.**
Go to showmax.com.
Sign up with your email address and create a password.
Choose your payment method. Don't worry, if you cancel within the 14-day free trial, nothing will be deducted off your card.
Watch movies and series free for 14 days.
Once your trial has expired, your card will be charged to keep watching Showmax. You will be billed once a month.
There is no contract and you can cancel at any time.
**Please note: The Showmax Pro plan doesn't have a free trial.
How to add Showmax to your DStv bill
DStv customers can opt to pay for Showmax as part of their monthly DStv bill. For step-by-step instructions on how to do this, click here.
NB: The Showmax Pro and Showmax Pro Mobile plans can't be added to a DStv bill for a discount.
Which devices support Showmax?
Access Showmax on virtually any device that is connected to the internet.
Phone or tablet: Get the Showmax app to stream or download shows on your Android or iOS device.
Laptop or computer: Go to www.showmax.com on your favourite web browser to stream.
Smart TV: Stream Showmax on your smart TV or connect your laptop to your TV screen with an HDMI cable.
Media streaming device: Use your connected DStv Explora, Android TV, Apple TV, Google Chromecast, Sony PS4 (SA only) or Xbox One to stream Showmax onto your TV.
DStv Explora: The cost of your Showmax subscription is included in your DStv Premium membership, so you won't pay a single cent. And if your Explora is connected to the internet, you'll be able to stream movies and series from Showmax directly onto your TV through your Explora. Find out how here.
Supported devices may differ from country to country.
Live streaming on Showmax Pro is not available on gaming consoles or DStv Explora, and only on certain smart TVs.
For the full list of supported devices, go to the Showmax website or read What devices can I use?.
How to control your data when using Showmax
Showmax offers two clever ways for you to manage your data spend.
Download shows to watch offline: When you're in a Wi-Fi zone, download episodes or movies on the Showmax app on your tablet or phone, and watch them offline later. Choose between four different download quality settings with specific file sizes – the lower the quality, the less data you will use for the download, and the less space the show will take up on your device.
Bandwidth capping: Setting a bandwidth cap helps you use less data by automatically adjusting the streaming quality so that you don't exceed a certain number of GBs per hour while streaming. This is really handy if you are on a data budget. The lowest quality uses just 50MB per hour, with quality that's just fine if you're watching on a mobile device. Find out how to use bandwidth capping here.
What is there to watch on Showmax?
What sets Showmax apart is that you can watch whatever you like, whenever you like. There are no ads, no interruptions and no limits (except your self-control).
Now all you have to do is sign up to Showmax.