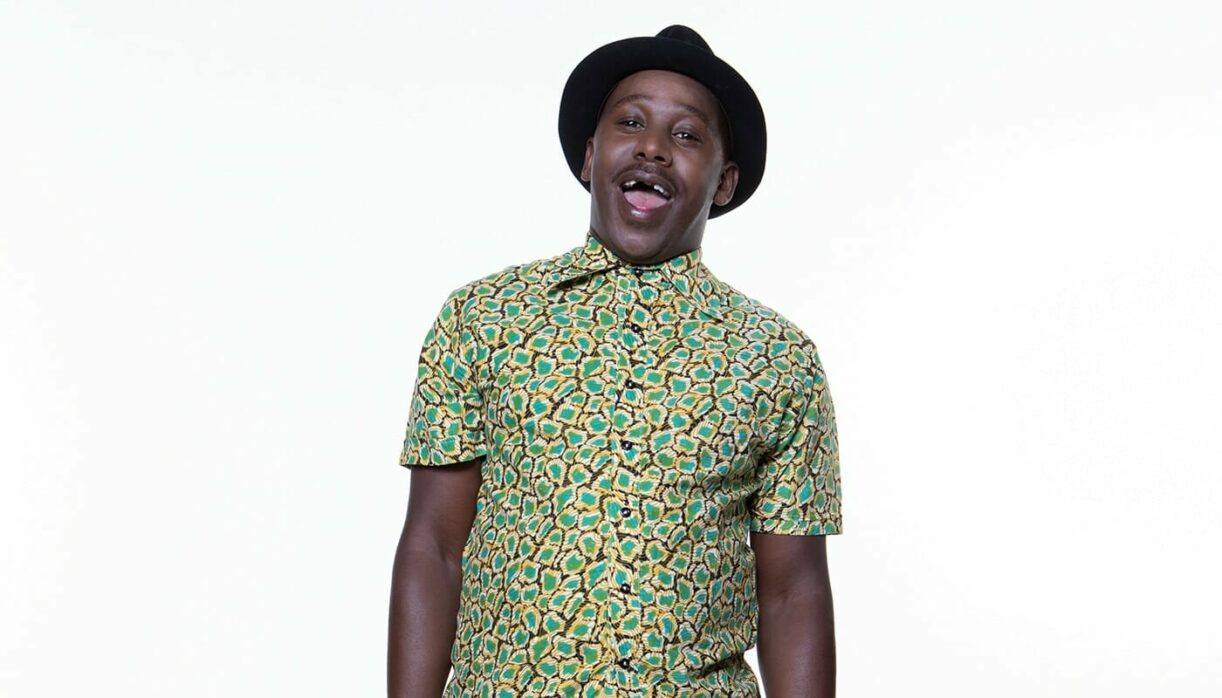 7 March 2019
5 things to know about Xhosa comedian Siya Seya
In the second episode of the Showmax Original Trippin With Skhumba, the 2018 DStv Viewers' Choice Award: Favourite Comedian winner and 2017 Comics' Choice Comic of the Year drives over 1 000 kilometres from Jozi in his CaraCara to visit Siya Seya in the Xhosa comedian's hometown of Port Elizabeth.
Here are five things you should know about the 2018 Comics' Choice Native tongue winner, who was also nominated as Best Indigenous Comedian at the 2015 South African Traditional Music Achievement Awards:
#1. Siya's mother was surprised he became a comedian
When Skhumba visits Siya's mother in Motherwell Township, he asks her, "Ma, how do you feel having such a funny child? Are you aware of how powerful your son is now?"
Siya's mother says she didn't see it coming. "My child, I don't know how it happened. Because growing up, he didn't talk a lot. Siyabulela is generally a quiet person. He shocked me when I saw him talk so much. I didn't know he could be that way."
#2. Siya was inspired by Chris Rock
"The first stand up comedy I watched was Chris Rock's DVD," Siya tells Skhumba, admitting he modelled his early routines on the American. "I was naive when I started comedy. I thought I was Chris Rock himself – the Xhosa version. I didn't realise that when Chris Rock talks about black and white people, it's actually part of his daily experience. I've never had a white friend so I'd never know anything about white people. So I kept dying on stage. I died for a good two years."
#3. No one came to Siya's first gig
Cut off from a comedy scene, Siya tried to bypass years of guest spots on other comedians' gigs and go straight to doing his own one-hour, one-man show instead – at the Opera House no less (admittedly not on the main stage at least). The 2007 show was called Toothless Nonsense and produced from his friend's R70 investment, using a poster made in Microsoft Word. No one came for the first two nights, which was a relief for Siya, "because first of all I had never been in a comedy show. I'd never even done five minutes on stage. I'd never seen another comedian doing comedy on stage."
#4. Siya can't drive, so used to hitchhike to all his gigs
When Skhumba offers to let Siya drive the CaraCara, since it's his hometown, the comedian admits he can't. "I attended driving school once," Siya says. "I went to a driving school in Joburg and they taught me how to drive in Setswana. Except I can't drive and I can't understand Setswana…"
Instead Siya's had to hitchhike to many of his gigs – including East London, King William's Town and Grahamstown. "When you work here in the Eastern Cape, the best and cheapest source of transport is hitchhiking from private cars. It's the norm here."
He says getting home is usually easier than arriving on time. "We've been embarrassed many times. You kill on stage and then you have no transport. The audience must now save you."
#5. Siya became an overnight sensation – a decade later
Nine years after that first one-man show – after three trips to Cape Town and another to Joburg – Siya still wasn't a famous comedian. He credits Skhumba with changing that. "As a comedian, when you're coming from another province, you call every comedian; you inbox and you stalk every comedian. 'Hey, I'm gonna be in Joburg, please hook me up with gigs.' And basically, Skhumba saved my life. In 2016, he took me in when I arrived in Joburg with no plan and one month's rent and helped me find gigs."
Since then, Siya's grown from strength to strength, performing at huge events like Comedy Under The Sun by Mashabela Galane, MoJokes by David Kau, and Blacks Only. He's currently touring his one-man show, Critical But Stable – and may be back at Port Elizabeth's Opera House soon, on the main stage this time…
New episodes weekly, only on Showmax
Trippin With Skhumba, Showmax's first vernacular Original and first Original reality series, releases new episodes every Thursday. The first episode focused on 2016 Comics' Choice Native Tongue winner Mashabela Galane, visiting his home in Moletjie, Limpopo. Next week, Skhumba will head to Kempton Park in Gauteng with 2015 Comics' Choice Intermediate winner Schalk Bezuidenhout. Subsequent episodes will focus on Celeste Ntuli (Empangeni, KwaZulu-Natal), who was the most nominated comedian with Skhumba going into the 2018 Comics' Choice Awards; 2017 Native Tongue winner Salesman (Pretoria); and 2016 Comic of the Year winner Tumi Morake (Bloemfontein).
Book your tickets now for the comedy special that ends the season
The first season will end with an hour-long stand-up special, featuring Skhumba and his guests, as well as one new comedian from each hometown visited. Ticket sales are now open for Trippin With Skhumba: The Live Comedy Show, which will be held on 23 March 2019 at 1 Fox Junction in Newtown, with the show starting at 8pm. Early bird tickets cost R250, with the price going up to R320 soon. Limited tickets are available, so book fast. For more information, visit Webtickets here.
Watch the first two episodes of Trippin With Skhumba first and only on Showmax.
In each 30-minute episode, Skhumba will drive a fellow South African comedian back to their hometown, exploring places that won't make any tourism brochures and stories that would be edited out of any authorised biographies.
Trippin With Skhumba is directed by Vincent Moloi, who won the 2019 Best Director: TV Drama SAFTA last weekend for Tjovitjo. The series is being produced for Showmax by Diprente (the production company behind this year's box office hit Matwetwe; Catching Feelings; and the International Emmy-nominated Late Nite News With Loyiso Gola), which is co-owned by 2018 Comics' Choice Comic's Pen winner Kagiso Lediga, and is also producing Netflix's first African Original series Queen Sono.