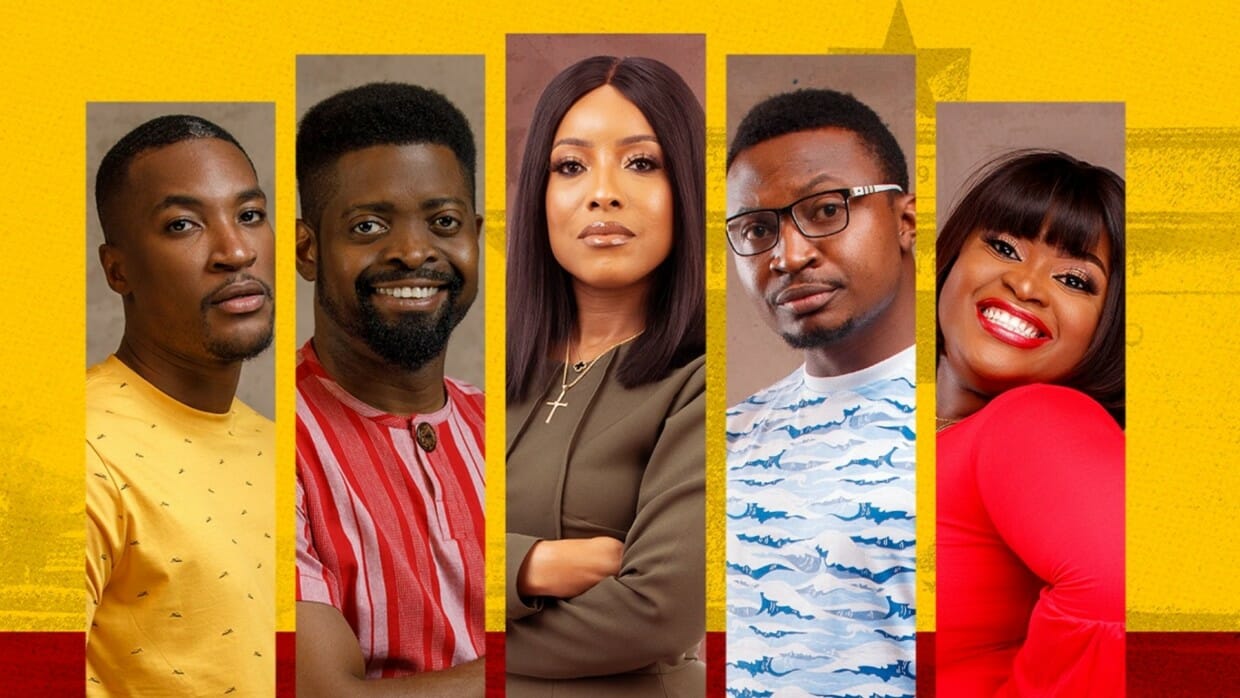 1 October 2021
What is new on Showmax in Ghana in October 2021
If you have a BBNaija-shaped hole in your life, look out for the launch of the first Showmax Original comedy series in West Africa: Ghana Jollof! There are also new series from Akwaaba Magic to look forward to.
Best of local
Ghana Jollof | Showmax Original | Starts 22 October, new episodes drop every week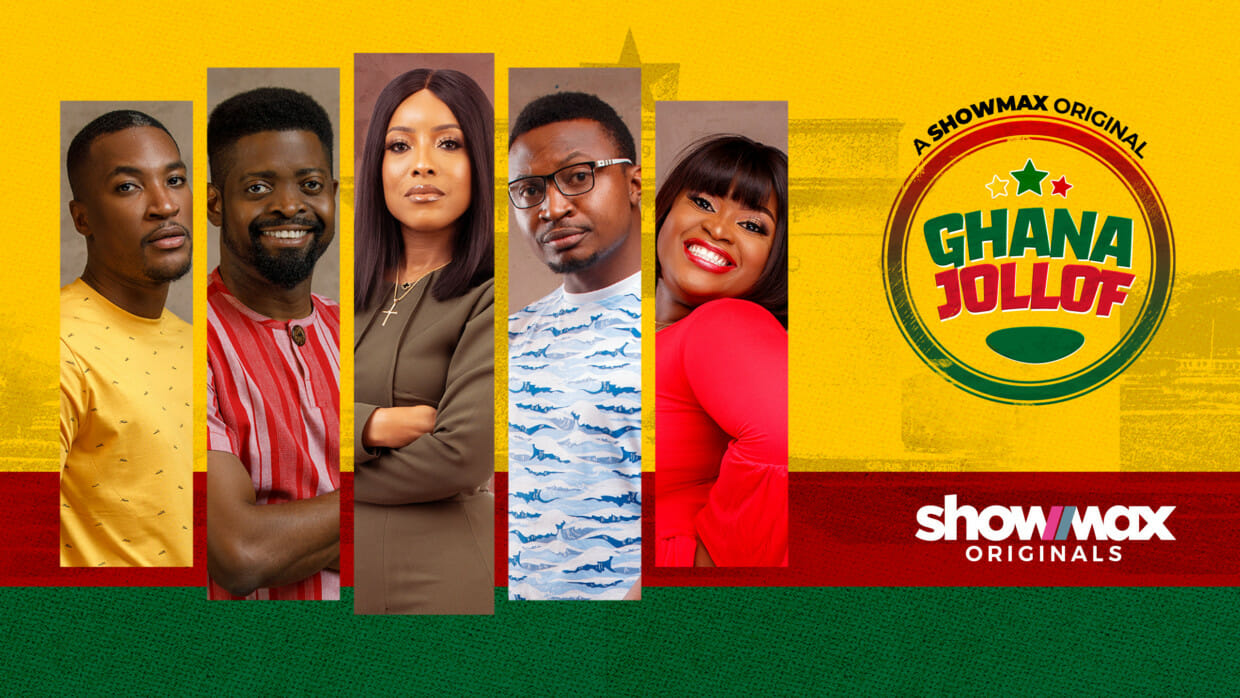 In Ghana Jollof, Showmax's first West African comedy, Africa Magic Viewers Choice Award (AMVCA) winner Funnybone and Africa Movie Academy Award (AMAA) nominee Akah Nnani star as two Nigerians who move to Ghana in search of greener pastures.
The all-star Nigerian cast includes multi-award-winning comedian Basketmouth, who also executive produces; comedian/actor Buchi; and Uzor Arukwe, who starred as dreaded crime boss Knight in Sugar Rush.
The equally impressive Ghanaian cast includes AMAA nominee Joselyn Dumas; heartthrobs Mawuli Gavor (Chief Daddy) and James Gardiner, who currently stars in Ghana's popular telenovela Dede; the uncontested 'Queen of Ghana comedy', Jacinta Ocansey; popular reality star Portia Freelove; model and actress Brihanna Kinte; veteran actor Jackson Albert Davies (Beasts of No Nation); actress Korkor Oyeba Mensah; and multiple award-winning comedian/actor Kalybos.
Shot in Lagos and Accra, Ghana Jollof is directed by AMVCA nominee Diji Aderogba (About A Boy).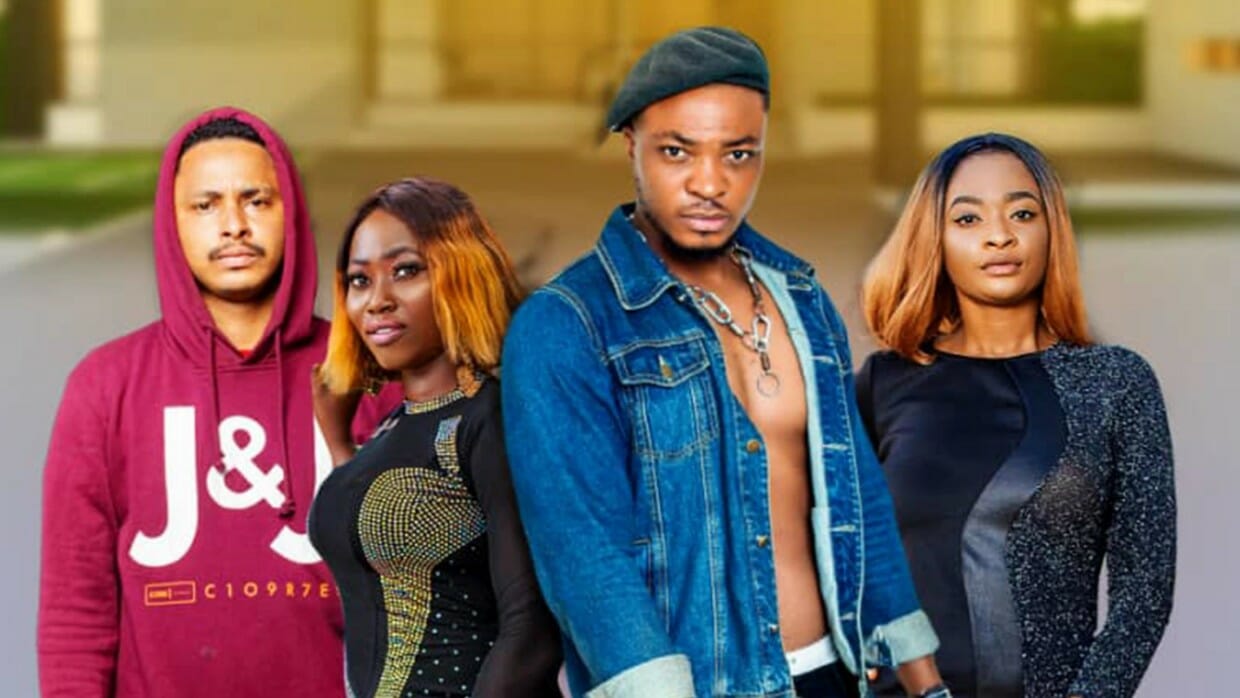 A woman who takes care of a stranger and helps him through his sickness gets full-time riches from him after his death. But now she must protect this wealth against ungrateful, greedy relatives before destiny locates the one person to whom all the wealth belongs – the stranger's long-lost daughter.
Directed by Kingsley Dwomoh, The Rich Girl stars Qwasi Blay Jnr (Adoma), Daniel K Afriyie, Eric Amponsah and Haruna Faliltu.
Yours Truly | Stream from 5 Oct
What do you call a woman who married seven different wealthy husbands who were one step away from their graves? Her antics? She figuratively walked them to the cemetery and left them by the grave.
Directed by Emmanuel Oppong, Yours Truly stars Gilbert Kwade, Edinam Atatsi and Dzifa Gilikpo.
Inside Out S2 | New season starts 7 Oct, new episodes weekly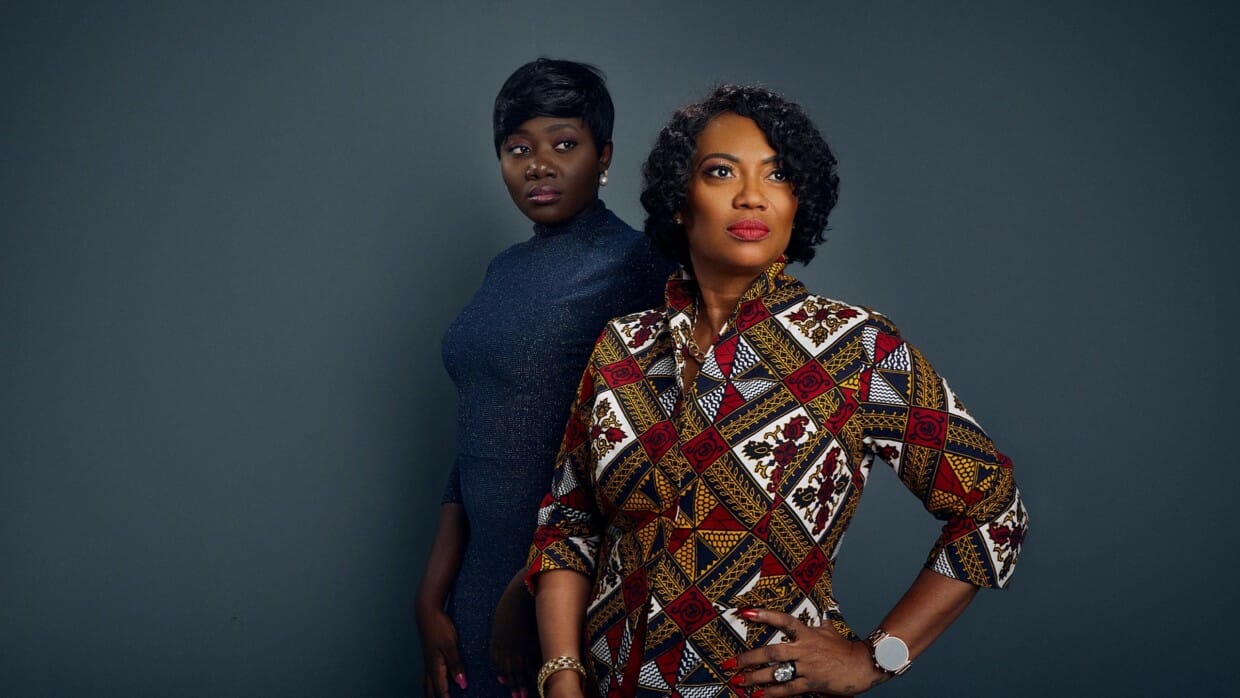 After an explosive first season that saw Soraya (Bless Fortune) battle not one, but two powerful families to help clear her mother's name and stay out of jail, Ghana's gripping drama Inside Out is back for a second season.
In this new season, Soraya's life is about to be even more complicated with the return of her sworn enemy, Maafio (played by Roselyn Ngissah), who rises from the dead to claim her vengeance. To make matters worse, Maafio forms an alliance with her partner in crime, Lucia (played by Pascaline Edwards), the woman who engineered Soraya's mother's death in prison.
Directed by Pascal Amanfo (Cartel: The Genesis), Inside Out is adapted from the South African series The Housekeepers, and also stars multi-award-winning actress Akorfa Edjeani (Azali, Aloe Vera), Edinam Atatsi (Aloe Vera), Jackie Ankrah, and Jeffrey Nortey.
Obstacles | Starts 11 Oct
50 years on, destiny brought Roberta Frimpong and Eric Bonsu together as lovers, but will fate allow them to marry or will the animosity of their fathers get in the way.
Directed by Frederick Opare, this brand-new drama stars Africa Magic Viewers' Choice Awards winner Gloria Osei Sarfo (The Picture Perfect: Ten Years Later), Women's Choice Awards Africa winner Roselyn Ngissah (Inside Out), and Peter Richie (Azali).
Time with HR | Starts 13 October
This new Ghanaian talk show follows HR director Yasmin Boama as she embarks on a quest – seeking professional knowledge on career development, sustainability and progression.
Combined with practical entrepreneurship skills, experienced high-profile personalities provide answers to backend business questions and how to move up the career path within an organisation or industry.
Some of the personalities to expect on the show are Ghana's A-list actor Adjetey Anang (Dede, To Have and to Hold), singer-songwriter Adina Thembi, Miss Ghana organiser Inna Patty, renowned entertainment and lifestyle blogger Ameyaw Debrah and more Ghanaian personalities.
International series
Succession S3 | First on Showmax | Mondays from 18 October 2021
Succession, winner of Best Drama at both the Emmys and Golden Globes in 2020, follows four very rich siblings behaving very badly while trying to win their father's approval – and control of his company, a global media and entertainment empire.
Jeremy Strong won the 2020 Best Actor Emmy as Kendall Roy, while Brian Cox won the 2020 Best Actor Golden Globe as his father, Logan. In Season 3, the already impressive cast is adding Oscar winner Adrien Brody (The Pianist), Emmy winner Alexander Skarsgård (Big Little Lies) and more.
Ambushed by Kendall at the end of Season 2, Logan begins Season 3 in a perilous position, scrambling to secure alliances. Tensions rise as a bitter corporate battle threatens to turn into a family civil war.
The Hollywood Reporter calls Succession "one of television's best dramas, a searing, funny and painfully true look at wealth, power and family." Catch up on Succession S1-2 here.
Resident Alien S1 | First on Showmax | Binge from 1 October
Based on the Dark Horse comic, Resident Alien is a murder mystery sci-fi dramedy that follows Harry, an alien played by Alan Tudyk (Rogue One) who crash lands on Earth and passes himself off as a human small-town doctor.
Arriving with a mission to kill all humans, Harry starts off living a simple life… but things get a bit rocky when he's roped into solving a local murder and realises he needs to assimilate to his new world.
Resident Alien has a 94% critics rating on Rotten Tomatoes, with the Los Angeles Times writing, "We are in Spielberg country here… Tudyk… is in fine form as an alien in ill-fitting human clothing, getting the hang of laughter and sex… I smiled, I laughed, I cared."
Delilah S1 | Binge from 1 October
Not all superheroes wear capes. In OWN Original legal drama series Delilah, title character Delilah is played by Maahra Hill and she prefers to pair up her trench coats with stilettoes. All while she juggles running her small law firm and keep her family afloat as a single mother following a messy divorce.
The real challenge though begins when Delilah takes on a case against North Carolina's most reputable law firm where her best friend Tamara (Jill Marie Jones) is running for partner. The stakes are high and the claws are out as both women compromise their friendship to win. Delilah and Tamara's rivalry is at the heart of the storyline and viewers will find themselves at the edge of their seats and siding with one or the other.
Delilah is produced by the same team behind the family drama series Greenleaf, with powerhouse talk show host Oprah Winfrey (and owner of OWN) serving as executive producer in both shows. Like a typical OWN show, Delilah is characterised by strong-willed, ambitious yet flawed African-American lead characters with plenty of cliff-hangers.
Chucky | First on Showmax | Binge episodes 1-3 from 27 October, weekly episodes thereafter
A vintage Good Guy doll turns up at a suburban yard sale, throwing an idyllic American town into chaos as a series of horrifying murders begins to expose the town's hypocrisies and secrets in the brand-new series Chucky, which picks up after the events of the seventh film in the horror franchise, Cult of Chucky.
Created by Don Mancini (Child's Play), the series stars Oscar nominee Brad Dourif (The Lord of the Rings' Wormtongue) as the voice of serial-killer-possessed Good Guy doll Chucky, with child actor Zackary Arthur (Transparent) as Jake Wheeler.
Jennifer Tilly (Bullets over Broadway) returns as Tiffany Valentine, and Alex Vincent (Child's Play) reprises his role as Chucky's archnemesis, Andy Barclay, with Christine Elise (BH90210) returning as Andy's foster sister, Kyle.
International movies
Saint Frances | First on Showmax | 11 October
Saint Frances follows a deadbeat nanny who finds an unlikely friendship with the six-year-old girl she's charged with protecting.
It has a 99% critics rating on Rotten Tomatoes, who named it their second best-reviewed comedy of 2020. As Rolling Stone says, "What looks like a throwaway about a precocious kid and her nanny is actually one of the best and gutsiest movies you'll find anywhere these pandemic days – a fun-time trailblazer that retains its rough edges to that last. It's some kind of miracle."
The film has won 11 international awards, with The National Board of Review naming it one of the Top 10 Independent Films of 2021.
Unpregnant | 14 October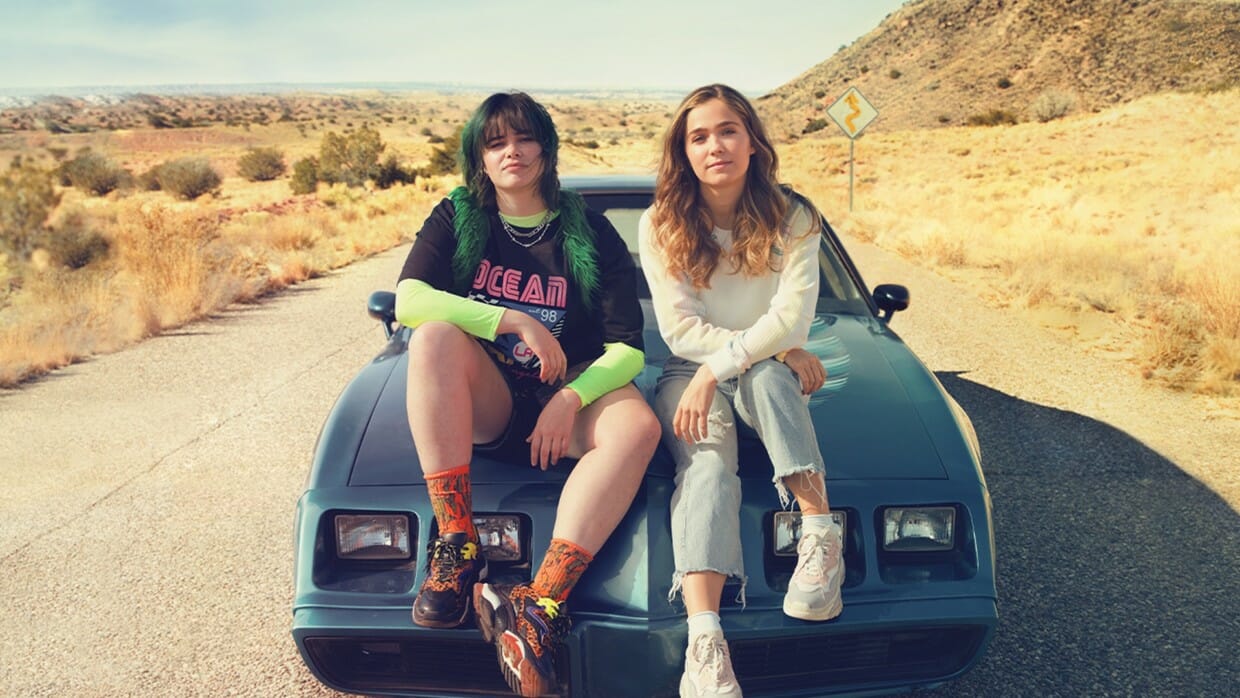 In the girl buddy road trip comedy drama Unpregnant, 17-year old Veronica's dreams for the future hang in the balance after she accidentally falls pregnant. Unable to get an abortion in her home state of Missouri, she turns to her former best friend Bailey to help her get to Albuquerque.
The film's excellent cast is led by Haley Lu Richardson (Five Feet Apart) as Veronica, and Barbie Ferreira (Euphoria's Kat), who was nominated for a 2021 Imagen Award for Best Actress for her role as Bailey.
Nominated for a 2021 GLAAD Media Award, it has a 91% critics rating on Rotten Tomatoes, where the critics consensus says, "Unpregnant puts a compelling twist on the road trip comedy – and treats its sensitive subject with heart."
Summerland | 11 October
Set in an idyllic South England seaside village, British drama Summerland sees a reclusive writer reluctantly taking in a young evacuee from London during World War II.
This moving tale of womanhood, love and friendship stars Gemma Arterton (The Escape) and Gugu Mbatha-Raw (Motherless Brooklyn), child actors Lucas Bond (The Alienist) and Dixie Egerickx (The Secret Garden), Penelope Wilton (Downton Abbey) and Sir Tom Courtenay (Unforgotten).
Empire Magazine says, "Arterton triumphs again and Swale marks herself as a director to watch. Summerland successfully combines an intelligent feminist fable and a lesbian love story with a slick period tearjerker."
Also Watch in October:
7 October
Neo-Western crime drama Hell or High Water stars Chris Pine (Star Trek) and Ben Foster (3:10 to Yuma) as two brothers who resort to bank robbery in a bid to save their family ranch in Texas. It was nominated for four 2016 Oscars and three Golden Globes and holds a 96% critics rating on Rotten Tomatoes.
Comedy-drama Sometimes, Always, Never stars BAFTA winner Bill Nighy (The Best Exotic Marigold Hotel, Love Actually) as a quirky, Scrabble-obsessed tailor whose tireless search for his missing son has turned his family upside down. It has an 82% critics rating on Rotten Tomatoes, with Forbes praising its "delicate balance of whimsy and melancholy" and Nighy "at the very top of his game".
While we wait for the long-delayed final chapter in the Lethal Weapon saga on hold, catch the entire four-movie Lethal Weapon box set on Showmax. Oscar-winner Mel Gibson (Braveheart) and Danny Glover (2012) starred in the original action-comedy franchise that redefined the action genre in the 80s and 90s and remains the template for the buddy-cop genre. The four films grossed just shy of a billion dollars globally.
21 October
First on Showmax this month, the 2020 thriller drama The Secrets We Keep is set in post-WWII America, where a woman rebuilding her life in the suburbs with her husband comes to believe her neighbour is the monster who committed heinous war crimes against her and her family and sets out for vengeance. Noomi Rapace (The Girl with the Dragon Tattoo) stars opposite Chris Messina (Argo).
28 October
Oscar-winner Hilary Swank (Million Dollar Baby) leads the critically acclaimed cast of What They Had as a daughter returning home to cope with her ailing mother and her father's reluctance to let go of their life together. The film has an 86% critics rating on Rotten Tomatoes, with LA Times calling it, "One of the year's best indie dramas."
Best of Africa
Black Tax S2 | BET Africa and Showmax Original Sitcom | 9 October
Just when you think you're finally making your way in this world, think again, because it's payback time from the first paycheque with Black Tax.
With six SAFTA nominations (including for Best Comedy) and a win for Best Scriptwriting, the popular BET Africa and Showmax Original sitcom Black Tax is back for a second season of laugh-out-loud hilarity as career-woman and single mom Thuli Dlamini tries to keep up with paying her dues to her family, who supported her journey to success.
SAFTA winner Jo-Anne Reyneke (Broken Vows) returns as Thuli, with Mandla Jwara (Isithembiso) nominated for Best Actor at the 2021 SAFTAs as her father. Legend Clementine Mosimane plays her mother, while comedians Sne Dladla and Jason Goliath also star.
New faces this season include Motlatsi Mafatshe (How To Ruin Christmas: The Wedding), newcomer Asante Mabuza and acting legend Owen Sejake (Tsotsi).
Created by Meren Reddy, Joshua Rous and Luke Rous, who have 15 SAFTAs between them, Black Tax is a co-production between BET Africa and Showmax, produced by Rous House Productions (Inconceivable).
Triggered | 11 October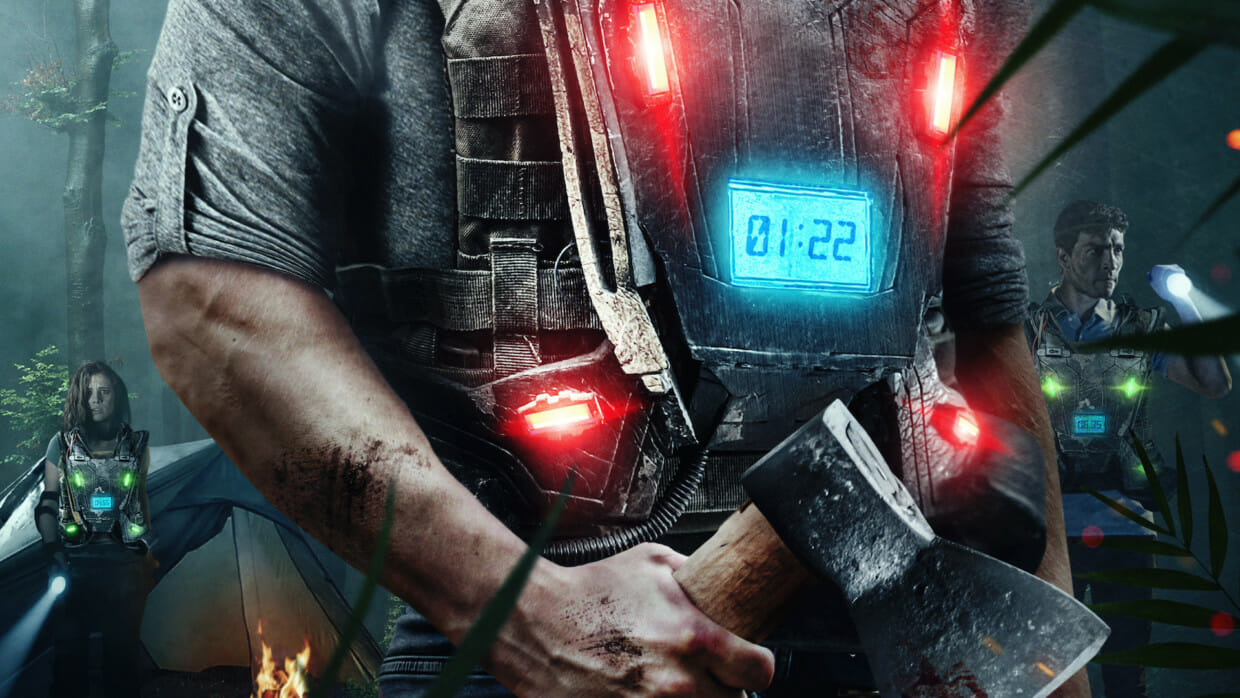 Filmed only at night on a farm in Swellendam, Triggered is a 2021 SAFTA-winning horror movie directed and co-written by Alastair Orr (Axis Mundi).
The film follows nine former high school friends who celebrate their five-year reunion camping in a forest. Terror strikes when they wake up with bombs strapped to their chests, all with varying times on their countdown clocks… and the only way to survive: by "stealing" time from one another.
The ensemble cast includes Reine Swart (SAFTA nominee for Siembamba), Liesl Ahlers (Friend Request), Russell Crous (The Watch), SAFTA winner Craig Urbani (Isidingo) and multi-award-winning actor Sean Cameron Michael (Black Sails).
Freedom | First on Showmax | 14 October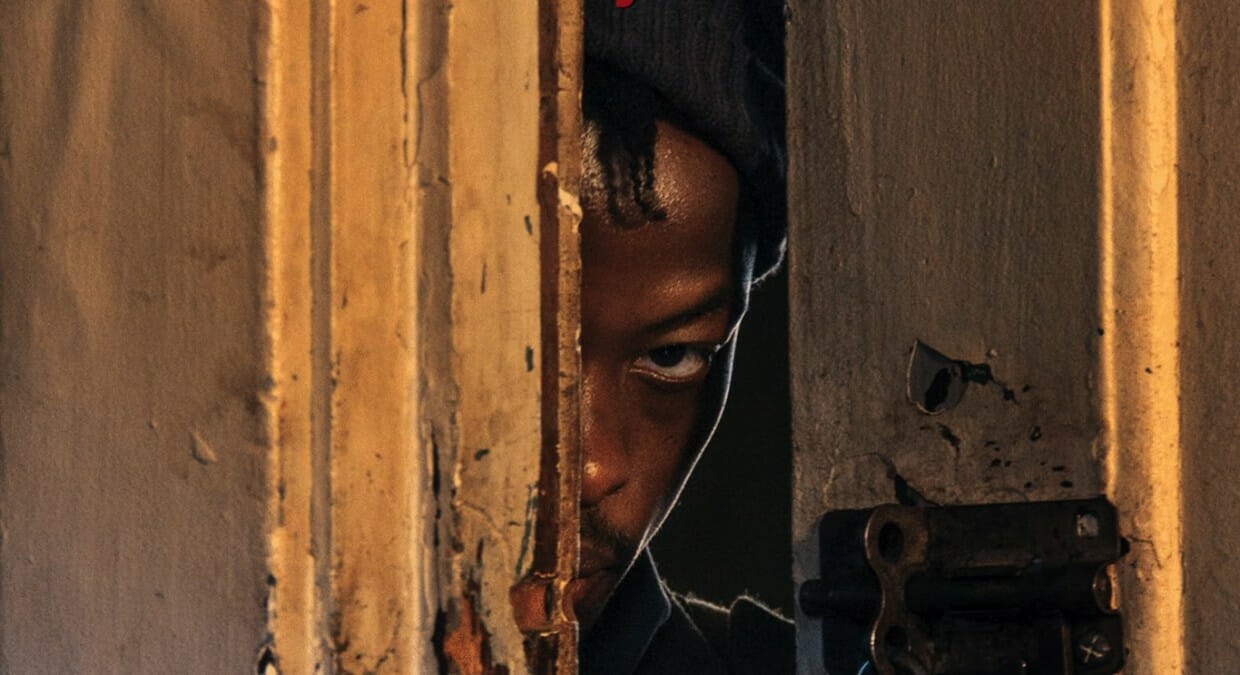 Inspired by Fyodor Doestoevsky's classic novel Crime and Punishment, Freedom follows university student Freedom, who is caught between desperation and the weight of expectation as he struggles to cling to an impossible existence in inner-city Johannesburg.
It stars Jafta Mamabolo (Jerusalema, Otelo Burning, Ayanda), who makes his debut as writer and co-director alongside award-winning filmmaker Ralph Ziman (Jerusalema).
The star-studded cast includes SAFTA winners Kenneth Nkosi (Reyka), Mandla Gaduka (Losing Lerato), and Mary Twala (This is Not A Burial, It's A Resurrection), as well as SAFTA nominee Samkelo Ndlovu (Rhythm City).
Non-Fiction
Love Island binge! | Binge US S2 from 1 October and UK S7 from 20 October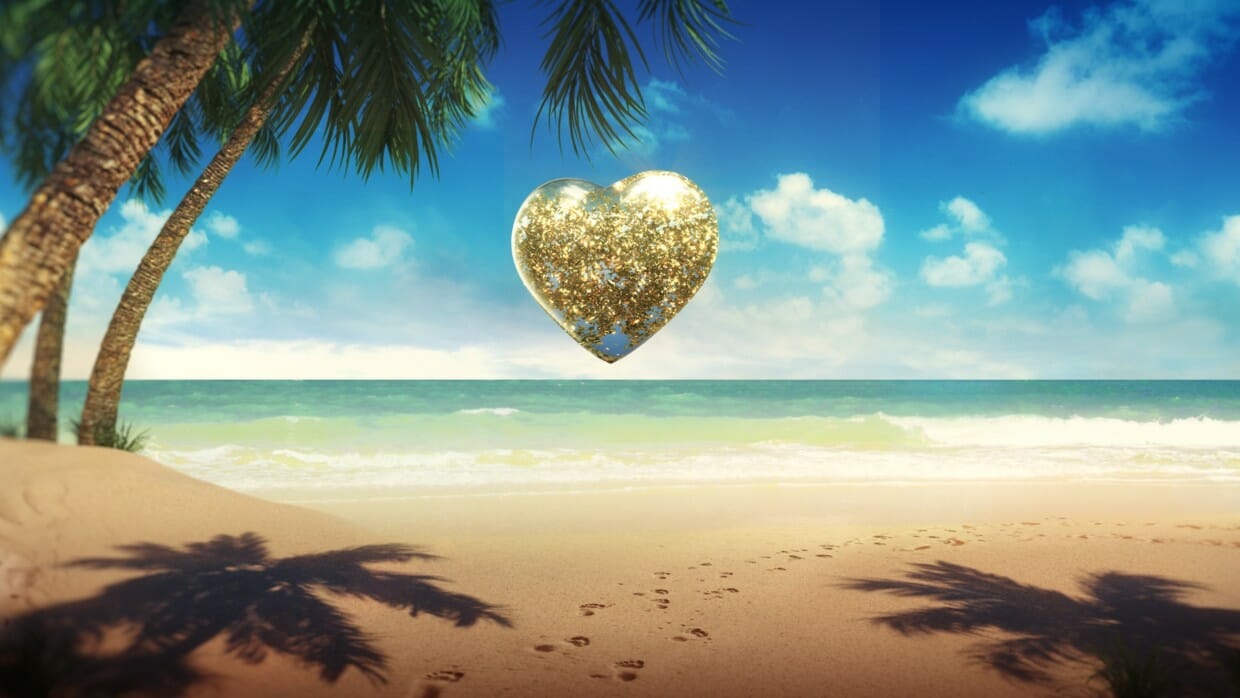 Season 2 of Love Island USA is finally here and coming first on Showmax this month. Following a delay due to the pandemic, the second season was moved from Fiji to The Cromwell — a casino hotel on the Las Vegas Strip – with strict quarantine measures in place, so for the 31 "islanders", the isolation is real as they couple and re-couple under the watchful eye of host Arielle Vandenberg over 40 days in a bid to win the $100,000 prize.
From 20 October, you can also binge all of Season 7 of Love Island UK. Follow 37 hot new singletons through a steamy summer of love in the Love Island villa as they put in the graft, couple-up and (fingers crossed) try to find The One. Once again hosted by Laura Whitmore, this is the second most-watched season of the show so far, with over 4 million viewers per episode.
Kids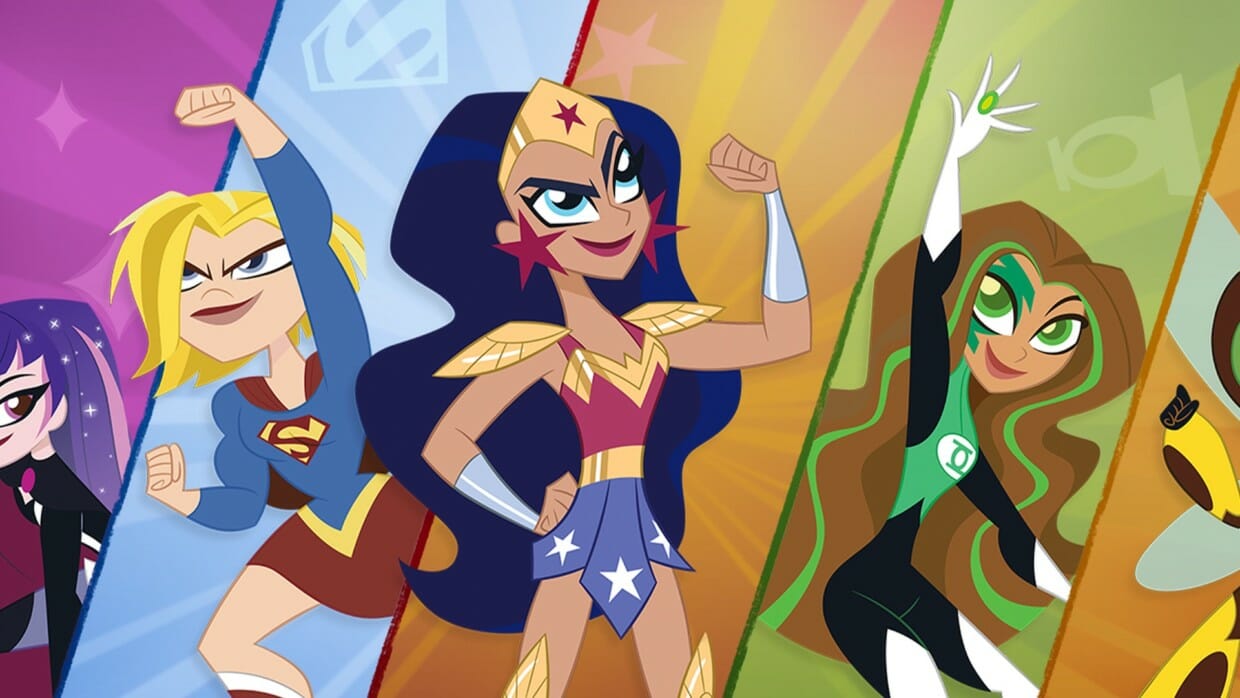 DC Super Hero Girls follows teen superheroes (and Metropolis High School students) Wonder Woman, Batgirl, Bumblebee, Supergirl, Green Lantern, and Zatanna as they fight crime and protect the citizens of Metropolis.
It was nominated for a 2021 Emmy and three 2020 Annies, and The Guardian said: "It's empowering and inspiring and great to see female characters showing agency in a series aimed at children and so on – but also, significantly, it's just funny as hell."
The Croods: A New Age | 4 October
The #10 biggest movie of 2020, with a worldwide gross of $215 million, DreamWorks Animation's "Croodaceous" adventure The Croods: A New Age follows the prehistoric Croods pack as they try to keep up with their new neighbours, the more evolved Bettermans.
Nominated for a 2021 Golden Globe Award for Best Motion Picture, six Annie Awards and two Kids' Choice Awards, it's recommended for ages 8+ by Common Sense Media, with Empire Magazine praising its "vibrant animation and a wackadoodle sense of humour," and Times (UK) calling it a "raucous, nakedly commercial but also a wickedly funny sequel."
Also, catch the Oscar-nominated original film The Croods on Showmax.
Also watch:
4 October
Nominated for Best Feature at the 2020 Annecy International Animated Film Festival, Bigfoot Family packs in the action and hairy adventures while taking on the oil companies. Following the events of the 2018 film The Son of Bigfoot, Bigfoot decides to use his fame to protect a wildlife reserve, but when he mysteriously disappears, his son Adam must rescue him. Common Sense Media recommends the film for ages 7+.
Also on Showmax in October
1 October
Intergalactic S1
4 October
Power Rangers Super Megaforce | Power Rangers Super Samurai
7 October
Lycra & Petticoat | Motel | My Little Pony S9 | Power Rangers Dino Super Charge
18 October
The Cleansing Hour | The Quiet Ones | Transformers Cyberverse S1-3 | UNEFA S1
21 October
My Little Pony: Rainbow Road Trip | My Little Pony Equestria: Holidays Unwrapped | My Little Pony Equestria: Spring Breakdown | My Little Pony Equestria: Sunset Backstage Pass
25 October
A Brother's Honor | Worth