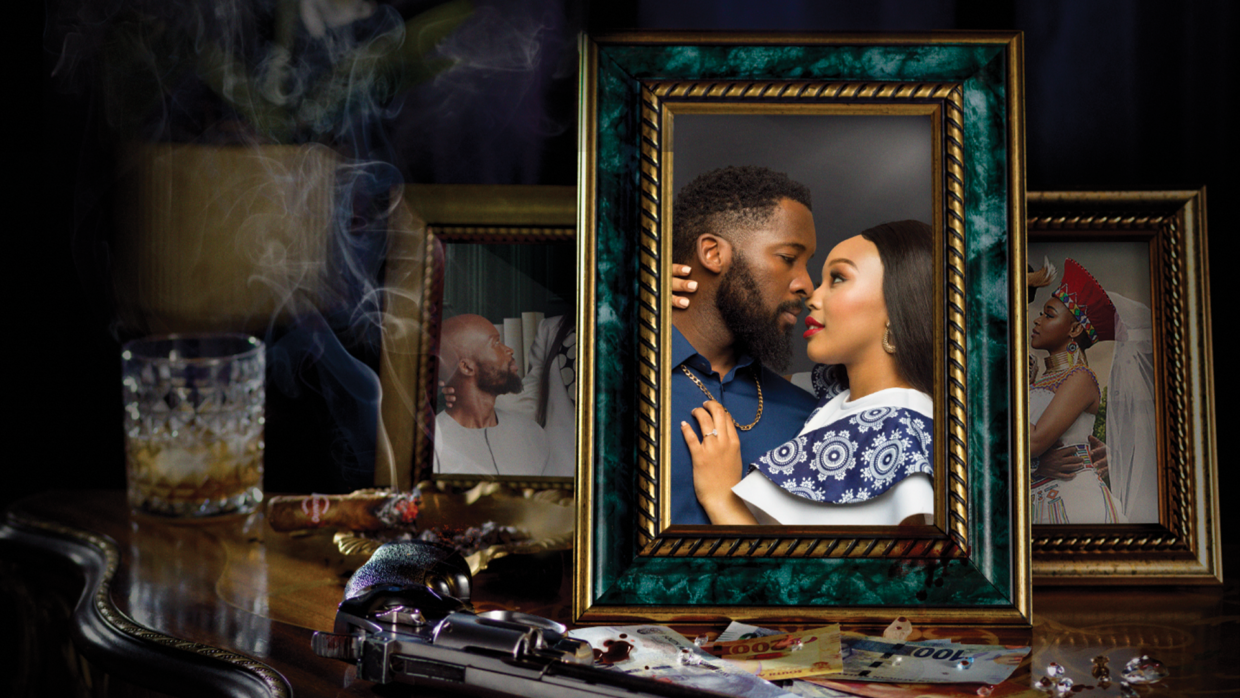 31 October 2022
What to watch on Showmax in November 2022
November is nothing short of a bumper month, with so many Showmax Originals launching you won't need to watch anything except content created by the finest talents in Africa. Everyone's waiting for The Wife S3, featuring the hottest couple we've had so far. Also back for the third time is the one and only Tali, this time in Tali's Joburg Diary. And coming at the end of the month is Donkerbos, a chilling crime drama that will hit you right in the heart.
Watch this space for even more exciting announcements coming soon!
---
Showmax Originals
The Wife S3 | Three episodes every Thursday, from 10 November
The award-winning, record-breaking, Twitter-topping Showmax Original telenovela The Wife is finally back. Season 3 centres on two star-crossed lovers: Tswana doctor Naledi Montsho and Zulu taxi driver Qhawe. Gaisang K Noge (House of Zwide) stars as Naledi opposite DStv Mzansi Viewers' Choice Favourite Rising Star winner Kwenzo Ngcobo, dubbed "the Woolworths of amadoda" by Twitter, as Qhawe.
"With Naledi missing and the Zulu brothers' crimes now front-page news, the third and final season of The Wife is going to be explosive," says head writer Busisiwe Ntintili. "The Zulu brothers may have finally met their match in Naledi's family."
Look out for SAFTA winner Wiseman Mncube (eHostela) joining the cast as Mqhele this season. Other new cast include Sello Motloung (Blood Psalms) as Naledi's father, Kgosi; Bongo Maffin's Stoan Seate as Sefako, Qhawe's rival for Naledi; Lungelo Mpangase (eHostela, Lingashoni, Mzali Wam) as Xoli, Sambulo's love interest; Mo Setumo (The Queen) as Tshidi, Naledi's elder sister; and Thabang Lefoa (Skeem Saam) as Tsietsi.
Tali's Joburg Diary | Fridays from 18 November
Tali is coming home. Economy class. What. The. Actual.
Having shared her wedding in Tali's Wedding Diary and then her pregnancy in Tali's Baby Diary, Tali is moving back to Joburg in Season 3, determined to get Jayden into the premium preschool, Little Angels Hyde Park, and reclaim her crown, or at the very least the title of Class Mom.
But planning a wedding and even giving birth have nothing on moving back in with your parents. Especially when you're already at your wits' end after years of baby rearing in lockdown, when Darren embraced the new normal a little too much, GoldProp all but dissolved, and your credit cards started bouncing.
At the 2022 SAFTAs, Tali's Baby Diary was named Best TV Comedy, with awards for Best Actress (Julia Anastasopoulos), Best Supporting Actress (Kate Normington), Best Directing (Ari Kruger & Daniel Zimbler) and Best Editing in the TV Comedy category, and a further six nominations, including Best Actor for Anton Taylor, and Best Supporting Actress for Kate Pinchuck.
Donkerbos | 29 November
When the bodies of six children are found in the backwater forests of Donkerbos, Limpopo, an ostracised detective (multi-award-winner Erica Wessels) must wrestle with her dark past, her family and a distrustful community to catch the killer before another child is taken.
Created by Nico Scheepers (Nerens, Noord Kaap) and produced by Nagvlug (Skemerdans, Barakat), Donkerbos is a small-town murder mystery that switches between English, Afrikaans and Venda.
The star-studded cast includes SAFTA Lifetime Achievement Award winner Thoko Ntshinga (The River), Fleur du Cap winners Sanda Shandu (Skemerdans) and Nicole Holm (Fynskrif), Silwerskerm winners Stian Bam (Racheltjie de Beer), Jacques Bessenger (Fynskrif, Warrior) and Aphiwe Sithole (Poppie Nongena), and multi-award-winners Leandie Du Randt (Vuil Wasgoed) and Wilhelm van der Walt (Fynskrif).
Flawsome | From 10 November
Flawsome revolves around the lives of four friends, portrayed by Bisola Aiyeola, Ini Dima-Okojie, Sharon Ooja and Enado Odigie, as they navigate their personal and professional lives while bound by the flawed yet unbreakable ties they share.
Bisola Aiyeola takes on the role of Ifeyinwa, a hard-working heiress who has spent all her life preparing to become the CEO of her father's company only to find out she isn't her father's choice candidate. Ini Dima-Okojie is Ramat, who has a seemingly perfect marriage, a perfect middle-class life and a great career, but her reality isn't as rosy as it seems.
Sharon Ooja plays Ivie, a wide-eyed young woman who abandoned medicine and surgery for a career in fashion design with hopes of living the big-city-girl life. Enado Odigie plays Dolapo, a career-driven woman who continues to beat the odds as she moves steadily up the corporate ladder with the biggest clients in her portfolio.
Compelling, flawed and heartbreakingly human, these young women work hard, scheme, fall in and out of love and nurture dreams both big and small. As their individual circumstances shifts, one thing remains constant: their loyalty to one another and their devotion to the hustle.
---
International series
Hacks S2 | Binge from 23 November
In September, Jean Smart took home the 2022 Emmy for Outstanding Actress in a Comedy for the second year running for her performance as legendary Las Vegas comedian Deborah Vance. Hacks S2 got a futher 16 nominations.
Season 2 continues to explore the evolving mentorship between the acerbic Deborah and her young, entitled writer, Ava (Hannah Einbinder, nominated for back-to-back Emmys for this breakthrough role).
Season 2 has a 100% critics rating on Rotten Tomatoes, where it's the fourth best-reviewed show of 2022 so far. IndieWire praised Hacks as "a series of endless wonders".
Plus, HBO Max has already renewed Hacks for a third season.
The Man Who Fell To Earth | Binge from 7 November
An alien arrives on earth with a mission: to learn to become human and find the one woman who can help save his species. Together they discover that in order to save his world, they must first save ours.
One of Rotten Tomatoes' most anticipated shows of 2022, The Man Who Fell To Earth stars Chiwetel Ejiofor and Naomie Harris alongside the likes of Clarke Peters and Bill Nighy.
Based on the Walter Tevis novel of the same name and the iconic film that starred David Bowie, The Man Who Fell To Earth has an 86% critics' rating on Rotten Tomatoes, with Salon praising Ejiofor in particular. "It's an incredible performance bursting with tenderness, humour and the requisite level of oddity one would expect of a being thrust into an unfamiliar place."
The Ipcress File | Binge from 9 November
As the Cold War rages, ex-smuggler-turned-reluctant-spy Harry Palmer (Joe Cole from Gangs of London) finds himself at the centre of a dangerous undercover mission, on which he must use his links to find a missing British nuclear scientist.
Based on the classic Len Deighton spy novel, Harry Palmer has a 94% critics' rating on Rotten Tomatoes, where the critics' consensus says, "Slick, stylish, and packing sly nods to present politics, The Ipcress File is a classic spy caper with a modern sensibility."
Super Pumped: The Battle for Uber S1 | Binge from 1 November
The roller-coaster story of upstart transportation company Uber, embodying the highs and lows of Silicon Valley.
The season pivots on Travis Kalanick (Joseph Gordon-Levitt), Uber's hard-charging CEO, who was ultimately ousted in a boardroom coup, and his tumultuous relationship with his mentor, Bill Gurley (Kyle Chandler from Super 8), the plainspoken, brilliant Texan venture capitalist who bets his sterling reputation on Uber's success – and then has to live with the consequences.
Uma Thurman stars as Arianna Huffington, the savvy businesswoman and co-founder of The Huffington Post, who was an Uber board member.
Showtrial | Binge from 28 November
Celine Buckens (Warrior) was nominated at the 2022 BAFTAS and International Emmys as Talitha Campbell, the arrogant daughter of a wealthy entrepreneur who is arrested following the disappearance of fellow student Hannah Ellis, the hard-working daughter of a single mother.
From the makers of Vigil and Line of Duty, Showtrial switches between both sides of the legal battle, as defence and prosecution fight for their version of what really happened to Hannah, and the truth about Talitha: Falsely accused? Or callous murderer?
As Metro (UK) says, "By this point, it seems the makers of Line of Duty can do no wrong. The verdict on their intriguing legal thriller is in, and it's another triumph."
All American: Homecoming S1 | Binge from 1 November
A young tennis hopeful from Beverly Hills and an elite baseball player from Chicago contend with the high stakes of college sports while navigating the highs, lows and sexiness of unsupervised early adulthood at a prestigious historically Black college.
The spinoff of acclaimed drama series All American sees GeffriMaya reprise her role as Simone Hicks opposite Peyton Alex Smith (Legacies) as Damon Sims and Kelly Jenrette (The Handmaid's Tale) as Amara Patterson.
Created by Nigerian-American Nkechi Okoro, the young adult sports drama has a 100% critics' rating on Rotten Tomatoes, with Variety calling it a "a big-hearted, worthy spinoff."
---
Movies
Dune | 28 November
The 12th-biggest box office hit of 2021 globally, Dune won six Oscars, five BAFTAs, three Critics Choice awards, and over 150 more awards.
Oscar nominee Denis Villeneuve (Arrival, Blade Runner 2049) directs Dune, the big-screen adaptation of Frank Herbert's seminal bestseller of the same name. A mythic and emotionally charged hero's journey, Dune tells the story of Paul Atreides (Oscar nominee Timothée Chalamet), a brilliant and gifted young man born into a great destiny beyond his understanding, who must travel to the most dangerous planet in the universe to ensure the future of his family and his people. As malevolent forces explode into conflict over the planet's exclusive supply of the most precious resource in existence – a commodity capable of unlocking humanity's greatest potential – only those who can conquer their fear will survive.
As Lady Jessica Atreides, Rebecca Ferguson (The Greatest Showman) won a Critics Choice Super Award for Best Actress In Science Fiction/Fantasy Movie. Oscar winner Javier Bardem, Emmy winner Zendaya, Oscar nominees Charlotte Rampling and Josh Brolin, Emmy nominees Oscar Isaac and Stellan Skarsgård, and the likes of Jason Momoa and Dave Bautista co-star.
Dune has an 83% critics rating on Rotten Tomatoes, with The Guardian, in their five-star review, praising it as "blockbuster cinema at its dizzying, dazzling best… Dune reminds us what a Hollywood blockbuster can be."
Uncharted | 7 November
Uncharted introduces audiences to street-smart Nathan Drake (Tom Holland, aka Spider-Man) who embarks on a treasure-hunting adventure with wisecracking partner Victor "Sully" Sullivan (Mark Wahlberg).
Inspired by the acclaimed video game series, this action-adventure epic spans the globe and follows Nate and Sully as they embark on the dangerous pursuit of "the greatest treasure never found" while also tracking clues that may lead to Nate's long-lost brother.
Antonio Banderas and Sophia Ali (Dr Dahlia Qadri in Grey's Anatomy) co-star.
The Many Saints of Newark | Stream from 24 November
HBO's multi-award-winning gangster epic The Sopranos won 21 Emmys and is the tenth highest-rated TV show of all time on IMDb. Now The Many Saints of Newark goes back in time to when young Anthony Soprano is growing up in one of the most tumultuous eras in Newark's history, becoming a man just as rival gangsters begin to rise up and challenge the all-powerful DiMeo crime family's hold over the increasingly race-torn city. Caught up in the changing times is the uncle he idolises, Dickie Moltisanti, who struggles to manage both his professional and personal responsibilities—and whose influence over his nephew will help make the impressionable teenager into the all-powerful mob boss we'll later come to know: Tony Soprano.
Tony Soprano is played by Jon Bernthal (We Own This City) as an adult and Michael Gandolfini (The Deuce) as a teen, stepping into the iconic role his father James Gandolfini remains best known for. Leslie Odom Jr. (Broadway's Hamilton) Vera Farmiga (The Conjuring), Ray Liotta (Goodfellas) and Michael Imperioli (The Sopranos) co-star.
It's been hailed as "heaven for Sopranos fans" by Newsday.
Candyman | Stream from 21 November
Don't say his name…
For as long as residents can remember, the housing projects of Chicago's Cabrini Green neighborhood were terrorized by a word-of-mouth ghost story about a supernatural killer with a hook for a hand, easily summoned by those daring to repeat his name five times into a mirror.
In present day, a decade after the last of the Cabrini towers were torn down, visual artist Anthony McCoy (Yahya Abdul-Mateen II from Watchmen and Us) and his girlfriend, gallery director Brianna Cartwright (Teyonah Parris from If Beale Street Could Talk and The Photograph), move into a luxury loft condo in Cabrini, now gentrified beyond recognition. Anxious to maintain his status in the Chicago art world, Anthony begins to explore the true story behind Candyman in his paintings, unknowingly unleashing a terrifying new wave of violence.
Yahya was named Best Actor in a Horror Movie at the 2022 Critics Choice Super Awards, where Candyman was also up for Best Horror Movie. Yahya also won at the 2022 Fangoria Chainsaw Awards, Nia daCosta was named one of Palm Springs International Film Festivals' Directors to Watch, and the horror was up for BET and Black Reel Awards, among other honours.
A number one box office hit, Candyman was the sixth best-reviewed horror film of 2021 on Rotten Tomatoes, with an 84% critics' rating.
Bill & Ted Face The Music | Stream from 17 November
Once told they'd save the universe during a time-travelling adventure, two would-be rockers from San Dimas, California find themselves as middle-aged dads still trying to crank out a hit song and fulfil their destiny.
Keanu Reeves (John Wick, The Matrix) and Alex Winter (BIll & Ted's Excellent Adventure) re-unite, with Emmys nominee Kristen Schaal (What We Do In The Shadows) and Anthony Carrigan (No-Ho Hank in Barry) joining the cast alongside musos like Dave Grohl and Kid Cudi.
Bill & Ted Face The Music has an 83% critics' rating on Rotten Tomatoes, with Variety using terms like "most excellent" and "bodacious" in their review. The movie also earned People's Choice nominations for Favourite Comedy Movie and Favourite Comedy Movie Star (Reeves), among other accolades.
Also watch
North Hollywood | 3 November
In North Hollywood, a kid must decide between choosing the future his father wants and following his dream of becoming a pro skater. The cast includes Miranda Cosgrove (iCarly), Critics Choice Super Award winner Vince Vaughn (Freaky) and Angus Cloud (Euphoria's Fezco).
Eighth Grade | 14 November
Eighth Grade follows an introverted teenage girl trying to survive the last week of her disastrous eighth grade year before leaving to start high school. Eighth Grade won 60 international awards, including a Critics Choice Award for lead actress Elsie Fisher, and Directors Guild of America and Writers Guild of America awards for best first-time feature for writer-director Bo Burnham.
A Shot Through the Wall | 17 November
A Shot Through the Wall won Best Feature at the 2021 Beaufort International Film Festival, where actor Kenny Leu (Yakuza Princess) was nominated for Best Actor as a Chinese-American police officer whose life unravels after he accidentally shoots an innocent Black man. Boasting an 82% critics' rating on Rotten Tomatoes, the film also stars multi-award winner Tzi Ma (Arrival, Mulan) and Ciara Renée (Kendra Saunders / Hawkgirl in DC's Arrowverse).
Green Flake | 21 November
Inspired by a true story, the Western drama Green Flake (aka Black Pioneer) follows the courageous cross-country journey of enslaved American pioneer and Latter-day Saint Green Flake. Among its 22 awards, Green Flake has won Best Film at 10 different festivals, including the Venice Film Awards, the London Independent Film Awards, and the LA Film Awards.
Classic Oscar contenders
Look out for the Facebook origins story The Social Network (7 November), which won three Oscars in 2011, including Best Screenplay for Aaron Sorkin, and the sci-fi drama Passengers (17 November), starring Jennifer Lawrence and Chris Pratt, which was nominated for two Oscars in 2017.
1 box office hits
Look out for the classic #1 box office hits The Karate Kid (10 November), starring Jackie Chan, and The Amazing Spider-Man 1 and 2 (30 November), with Andrew Garfield.
---
Local
Elders S5 | Binge from 10 October
Erns Grundling and the crew take on a 270km pilgrimage from Uniondale to Mossel Bay in Elders: Tuinroete (Garden Route).
The fifth season of this SAFTA-winning travel/adventure show follows a brand-new route on the Pilgrimage of Hope (which Erns walked in Season 3) through the Klein Karoo, Langkloof and Garden Route, travelling through mountain passes, picturesque countrysides and breathtaking coastlines and, of course, finding great company and authentic South African hospitality along the way.
Erns's guests this season include actor Frank Opperman, presenter Lyntjie Jaars, former Head of kykNET's Afrikaans channels, Karen Meiring, and former Public Protector Prof Thuli Madonsela.
Laduma | Stream from 18 November 2022
Laduma is the 17-year-old son of the late legendary soccer star Alfred Ngema. Can Laduma find his father's sought-after boots before his polygamous family breaks apart?
Bohlokwa Mpiti (Rhythm City, Umnisamvula) stars as Laduma, with SAFTA nominee Gcina Nkosi (Scandal!) and Andy Mnguni (The Republic) playing his father's wives. Also look out for Six Nyamane (Blessers) and SAFTA nominee Peter Mashigo (The Queen, The Herd, The Throne) in key roles.
---
Non-Fiction
The Real Housewives of Dubai | Binge from 25 November
Move over Durban and Lagos: this new iteration of the popular international franchise The Real Housewives follows a powerful group of women as they run business empires and expertly navigate a highly exclusive social scene within this ultra-luxe billionaire's playground.
Whether they're dining on a mountainside overlooking a valley of 1 000 camels or hosting the wedding event of the year, these ambitious and glamorous women prove everything is more extravagant in the City of Gold.
When new group dynamics threaten long-standing friendships, tensions inevitably reach a boiling point, so if you can't handle the heat … get out of Dubai.
---
More to stream
3 November
Bewonder en Bewaar | Five Flights Up | Iyodibana | Mama | Proud Mary | The Adventures of Maid Marian | Trevor Noah: That Racist | Uthandolusha | Voice From The Stone
7 November
Die Oorslaan | Emshadweni | 'n Man Se Plek | Magenge | Nobody's Fool | Singleholic | uNongendi
10 November
Pressure Point | Seven Pounds | Slank S6
14 November
Die Klas Van Juffrou Nellie Welgemoed | Easy A | Ifa Lethu | Makofi S3 | Man of the House | Ngithande | Ya Lepelle
17 November
Enough | Heart Attack | Red Tape
21 November
Bayajabula | Die Oorslaan | Isikhundla | Thembeka Wami
24 November
Blood Conscious; Dankie | Lottoland S5; Trevor Noah: There's a Gupta On My Stoep
28 November
Aangetroud | A Starstruck Christmas | Impilo Ne Diski | Ilangate 2 | Iqiniso | Kwela: Hannes Aan Huis S6 | Pinocchio: A True Story | The American King