30 November 2020
What's new on Showmax in Kenya in December 2020
What's your holiday jam? Christmas movies? Well, look no further. Reality shows? We've got you covered. Meaty series to binge? From boxsets of Dexter and The Affair to brand-new HBO drama Industry, you're all set. Or brilliant movies? Watch 1917 for something serious, or summon the whole family to enjoy Sonic the Hedgehog, Playmobil: The Movie and Ben 10 Versus the Universe: The Movie.
Countdown to Christmas
Showmax is releasing a new Christmas special every day until 27 December, including over 30 international movies, Christmas specials of some of your favourite shows, and eight made-in-Africa twists on everyone's favourite season. Cuddle up from 21 December with the blockbuster romcom-drama movie Last Christmas, starring Emilia Clarke (Game of Thrones) and Henry Golding (Crazy Rich Asians).
View the full Christmas collection here.
---
International series Kenyans will love
---
Power Book II: Ghost S1 | Binge the first five episodes from 1 December
Power Book II: Ghost picks up shortly after the earth-shattering events of Power (binge all six seasons on Showmax) as Tariq St Patrick (BET Award nominee Michael Rainey Jr.) grapples with a new world order: his father dead and his mother, Tasha, facing charges for the murder her son committed.
Executive produced by Curtis "50 Cent" Jackson (who also produced Power and For Life), Power Book II: Ghost has already been renewed for a second season. "If you liked Power, you'll like this," says Decider. Which is more than enough for us.
For Life S1 | Binge from 1 December
For Life was nominated as Outstanding Drama at the 2020 Black Reel Awards, where star Nicholas Pinnock was nominated for Best Actor for his performance as a prisoner who becomes a lawyer and fights to overturn his life sentence for a crime he didn't commit.
Executive produced by Curtis "50 Cent" Jackson (Power), For Life has an 86% critics' rating on Rotten Tomatoes, where the critics' consensus says, "Guided by Nicholas Pinnock's powerful performance, For Life eschews procedural pitfalls with a sturdy, empathetic script and an impressive ensemble to bring it to life."
The Bold Type S4 | First on Showmax | Binge from 1 December
The Bold Type follows the lives and loves of three young women who wor at a fashion magazine. Beneath the glam, this forthright millennial-favourite drama series is a story of real friends sticking together, working their butts off and finding their way in the world as young adults.
Aisha Dee, Katie Stevens and Meghann Fahy have all been nominated for Teen Choice Awards as Kat, Jane and Sutton respectively. Emmy nominee Melora Hardin (The Office) plays Scarlett's editor Jacqueline. The third season ended on a bombshell, so we can't wait to see how the women pick up the pieces.
The Bold Type has a 95% critics rating on Rotten Tomatoes, an 8/10 score on IMDb. Glamour calls The Bold Type "one of the most delightful shows on TV," while The New Yorker says it's "a show to warm a jaded heart."
Industry S1 | First on Showmax | Binge episodes 1-4 from 2 December, with weekly episodes every Wednesday
Collider says Industry is what would happen if "Euphoria and Billions had a baby on HBO".
Industry is an exhilarating dive into the world of international finance, as seen through the eyes of ambitious twenty-somethings struggling to secure their futures. The BBC-HBO series follows a group of young graduates competing for a limited set of permanent positions at a top investment bank in London – but the boundaries between colleague, friend, lover, and enemy soon blur as they immerse themselves in a company culture defined as much by sex, drugs, and ego as it is by deals and dividends. As members of the group rise and fall, they must decide whether there's more to life than the bottom line.
Created by former bankers, the eight-episode drama series lists Golden Globe winner Lena Dunham (Girls) as director of the first episode.
---
More series you'll love
---
Diane Lockhart (Christine Baranski in an Emmy-nominated role) and Lucca Quinn (Cush Jumbo in a Critics' Choice nominated role) continue the fight for justice in The Good Wife spin-off series, The Good Fight.
Season 4 finds Reddick/Boseman/Lockhart navigating a very different landscape. After they lost their biggest client and their founding partner's name was tarnished, they were forced to accept an offer by a huge multinational law firm, STR Laurie, to be a small subsidiary. Suddenly all of their decisions can be second-guessed by the giant firm that is literally on top of them.
Nominated for Outstanding Drama at the 2020 Television Critics' Association Awards, the seven-episode fourth season has a 100% critics' rating on Rotten Tomatoes.
Drama, comedy, romance and friendship come together in this story of a group of friends who are drawn together after a tragedy claims the life of one of their own. A Million Little Things has an 86% audience score on Rotten Tomatoes.
The Affair S1-5 | Binge from 1 December
A struggling novelist and a young waitress strike up an extramarital relationship, but perspective is everything in this tale of instant attraction told from the contradictory points of view of the people drawn into a complex web of intrigue and deceit that follows.
Now on its fifth season, The Affair has won three Golden Globes: Best Drama and Best Actress for both Ruth Wilson (His Dark Materials) and Maura Tierney (E.R.). The series also stars Dominic West (The Wire) and Joshua Jackson (Little Fires Everywhere, Dawson's Creek). The Affair holds an 86% critics' rating on Rotten Tomatoes.
The Third Day | Mondays from 23:30 from 7 December, same day as M-Net
Co-created by Dennis Kelly (Utopia), this tense mix of mystery, thriller and drama is divided into two parts. In the first half, a man (Jude Law from The New Pope) visits a mysterious island off the British coast and discovers a group of inhabitants intent on preserving their home at any cost. In the second half, a strong-willed outsider (Naomie Harris) comes to the island seeking answers — but instead triggers a battle to decide its fate.
Time praised the six-part HBO thriller as "a riveting psychological thriller and a stunning showcase for Jude Law…eerily beautiful."
---
Movies
---
1917 | 17 December
Sam Mendes, the Oscar-winning director of Skyfall, Spectre and American Beauty, brings his singular vision to his World War I epic, 1917, which won three 2020 Oscars and two 2020 Golden Globes, for Best Drama and Best Director.
At the height of the First World War, two young British soldiers, Schofield and Blake, are given a seemingly impossible mission: they must cross enemy territory and deliver a message that will stop a deadly attack on hundreds of soldiers – Blake's own brother among them.
1917 is IMDb's 98th highest-rated film of all time, and has an 89% critics' rating on Rotten Tomatoes, which says: "Hard-hitting, immersive, and an impressive technical achievement, 1917 captures the trench warfare of World War I with raw, startling immediacy."
The Song of Names | 10 December
The Song of Names tells the story of Jewish violin prodigy Dovidl and his adoptive brother, Martin, who are bound together as World War II changes their lives forever. On the eve of his first solo concert, Dovidl disappears without a trace. Forty years on, a clue in the performance of a young virtuoso sets Martin on a path to find his childhood friend.
The film stars Oscar nominees Tim Roth and Clive Owen. Oscar-nominated screenwriter Jeffrey Caine (The Constant Gardener) adapted Norman Lebrecht's Whitbread-winning novel for director François Girard (The Red Violin). The Los Angeles Times called it "a profound, affecting and beautifully told chronicle of faith, family, obsession and the language of music."
This romantic comedy directed by Woody Allen follows a young couple arriving in New York for a weekend, where they are met with bad weather and a series of misadventures.
Timothée Chalamet and Elle Fanning star alongside Jude Law, six-time Golden Globe nominee Liev Schreiber (Ray Donovan) and Selena Gomez.
---
Best of Africa
---
Lebo M – Coming Home | Showmax Original | Five episodes 2 December; two episodes 9 December; final three episodes 15 December
He's the first voice you hear in The Lion King. He's a Grammy winner and a Tony nominee. Now, the legend is back with his latest production: the Showmax Original reality series Lebo M – Coming Home.
The 10-part series promises fans a front-row seat to his career as he creates new music with the likes of Zahara, Ladysmith Black Mambazo, Judith Sephuma, and his daughter Refi, but it also turns the spotlight onto his biggest dream: bringing his family together.
Along the way, he'll share the stories of his life: how he got his musical break as a nine-year-old, his memories of the 1976 Soweto uprising, his "accidental" exile in Lesotho as a teenager, his time living on the streets in the USA, and how he's stayed clean since overcoming his alcohol addiction, as well as insider stories from his legendary career.
Rogue | 3 December
In Rogue, Teen Choice winner and People's Choice nominee Megan Fox (Transformers) stars as Samantha O'Hara, who leads a team of mercenaries on a mission to rescue a group of kidnapped girls. When their plan goes south, the mercenaries find themselves out of ammo and lost in the bush, having to defend themselves against both the kidnappers and an angry lion.
MJ Bassett (Power, Strike Back) directs the action-adventure film, which also features South African stars Jessica Sutton (Motherland: Fort Salem), Sisanda Henna (Trackers), Brandon Auret (Still Breathing), Kenneth Fok (Warrior) and Greg Kriek (The Recce).
This Showmax Original film is a co-production between MultiChoice, Capstone and Mannequin.
As The Guardian wrote about Rogue, "If hit Netflix documentary Tiger King had you championing the big cat cause, here's the animal rights-respecting action-thriller you should watch next…" They called it "an energetic action thriller" where "the action rattles along."
Jacob (2019) | 3 December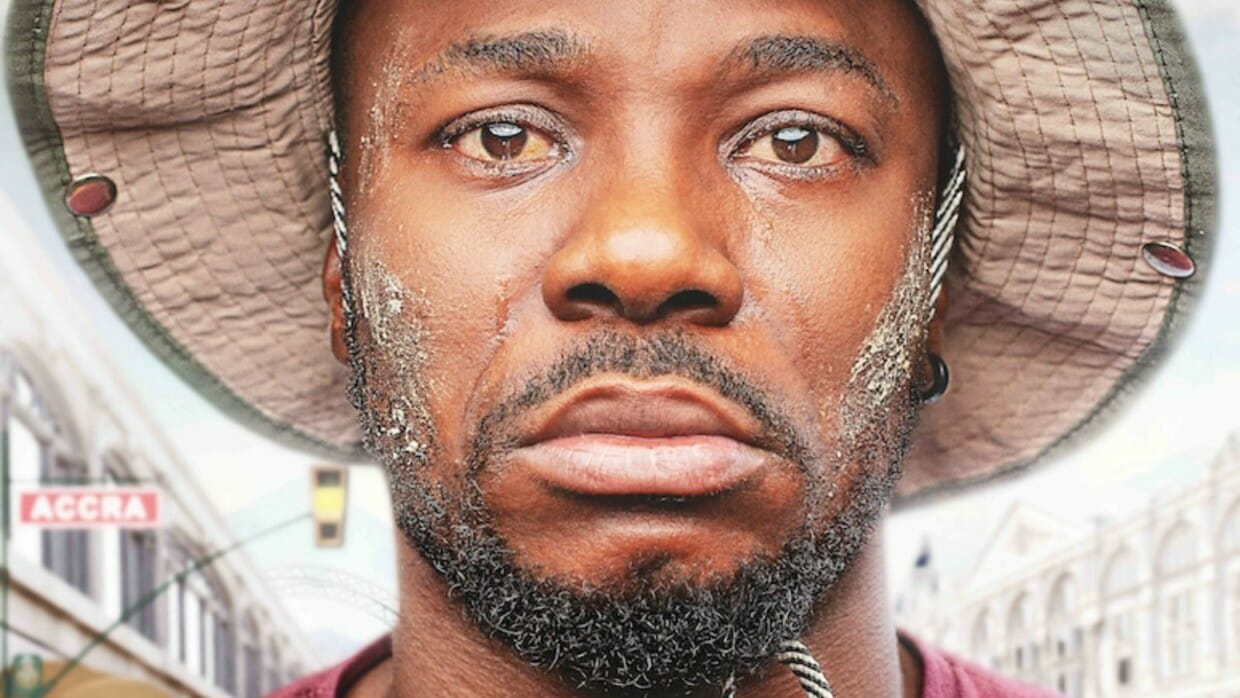 Meet Jacob, who sells second-hand clothing to make a living – except his customers keeping buying on credit. Then there is his cousin who he lives with, who is as lazy as the day is long. How is a man supposed to make something of himself in these conditions? Jacob is produced by well-known comedian Hogan Gabriel, who also plays a role in the film. Directed by Salifu Zakari, this comedy-drama stars many well-known Ghanaian faces, including Africa Magic Viewers Choice Award-winning Prince David Osei, as well as John Peasah aka Drogbah (YOLO) and Belinda Dzattah.
Her Mask | 3 December
As the lead in Darrell Roodt's horror Siembamba, Reine Swart was nominated as Best Actress at both the SAFTAs and the Africa Movie Academy Awards, among other festivals. Now she steps into the director's chair for a horror of her own: Her Mask.
The edge-of-your-seat film is about a grieving British girl who travels to South Africa to unravel her murdered mother's secrets. "We thought about the concept 'everyone wears a mask' in 2019," says Reine. "Little did we know that everyone was literally going to wear masks in 2020."
Mad House (2019) | 10 December
Follow us into the Mad House, a comedy that uses humour to shine a light on mental health issues. Filmed at the Accra Psychiatric hospital, it stars Kwasi Boadi as Akrobeto), Bismark Nii Odoi, (Bismark the Joke), Richmond Amoako, Ekow Smith, Stephen Mawunyo (Oteele), Jessica Williams, Prince Amoabeng, Abeiku Nyame, (Jagga Pee) Samuel Dabo, Kofi Adjorlolo, Christian A. Asamoah (Big Akwess), Herbert A. Korley (Aweele) and more.
The 2 Pilots (2019) | 24 December
This popular hit movie lands on Christmas Eve, just in time to diffuse any family tensions with the magic of laughter. Directed by Jones Agyemang, this comedy stars Kwadwo Nkansah and Richard Asante, as two hustlers hiding from the police, disguised themselves as pilots. It works – until they find themselves in the cockpit for real! They manage to take off, but how on earth are they going to land? The 2 Pilots raked in the awards when it premiered in last year, and it's just what you need.
---
Non-Fiction
---
Kingdoms of Fire, Ice & Fairy Tales | 3 December
Kingdoms of Fire, Ice & Fairy Tales is the second film by Bonné de Bod and Susan Scott, following on from the critically acclaimed and multi-award-winning Stroop – Journey Into The Rhino Horn War.
It's a departure from their investigative filmmaking as they look at iconic wildernesses in three locations: Yellowstone National Park in America; the Black Forest in Germany; and the Arctic Circle in Swedish Lapland.
Survivor S39: Island of the Idols | 7 December
Presenter Jeff Probst is back with all the mud, sweat and tears that's kept us hooked on this global phenomenon for over 20 years. Shot in Fiji, the 39th US Survivor season promises all the drama for the 20 castaways of Tribe Lairo and Tribe Vokai, including one of the most controversial evictions ever, one that's changed the game rules for good.
Plus, legendary Survivor alumni Sandra Diaz-Twine (the only contestant ever to win Survivor twice, on Survivor: Pearl Islands and Survivor: Heroes vs. Villains), and Rob Mariano (who won Survivor: Redemption Island), are back, but not to compete – they'll be living on their own Island and serving as mentors to this season's contestants.
Showbiz Kids | First on Showmax | 7 December
Written and directed by former Broadway child star Alex Winters (Bill & Ted's Excellent Adventure), Showbiz Kids is a raw look at Hollywood and the toll that early success can have on young professionals.
Highlighting the shared experiences of prominent former child stars, the documentary features intimate, revealing interviews with the likes of Henry Thomas (Elliott in E.T.), Mara Wilson (Matilda in Matilda),
Evan Rachel Wood, Jada Pinkett Smith and Milla Jovovich. Showbiz Kids has a 96% critics' rating on Rotten Tomatoes.
Baby God | First on Showmax | 11 December
If you thought Three Identical Strangers was fascinating, HBO's brand-new documentary film, Baby God, will have you glued to the screen.
It examines infamous Nevada fertility specialist Dr Quincy Fortier, a man who deceived countless women struggling to conceive by using his own sperm — without their knowledge or consent — to impregnate them.
Recalling a time before sperm banks, when little was understood about DNA, the film follows several of his biological children as they grapple with their identities, examining the morality of one doctor who used science and status to exploit innumerable women — and further his own genetic legacy — over nearly half a century.
---
Kids
---
Based on the global blockbuster video game franchise from Sega, Sonic the Hedgehog tells the story of the world's speediest hedgehog as he embraces his new home on Earth. In this live-action adventure comedy, Sonic and his new best friend Tom (James Marsden) team up to defend the planet from the evil genius Dr Robotnik (Jim Carrey).
Sonic the Hedgehog is currently the fourth biggest film of 2020 at the global box office. In a four-star review, Common Sense Media recommends the movie for ages eight and up, calling it "a laugh-until-you-turn-blue fun film for the family to enjoy together."
Ride Like a Girl | 7 December
This inspiring Australian biographical sports drama is based on the true story of Michelle Payne, the first female jockey to win the Melbourne Cup. It stars Teresa Palmer (A Discovery of Witches) and Sam Neill (Jurassic Park).
The Guardian says, "The big-heartedness of this film won me over despite my utter ignorance of the racing world." The movie has a four-star rating from Common Sense Media, which calls it a "gorgeous, exhilarating biopic about a barrier-smashing female athlete." With a recommended age of 10+, it's perfect, uplifting perfect family fare.
We Bare Bears: The Movie | 17 December
The much-loved, four-season animated sensation comes to a big, beary conclusion with a hilarious and heartwarming 70-minute movie worthy of its Emmy-nominated, BAFTA-, Annie and Annecy Award-winning parent series.
We Bare Bears: The Movie sees Grizz, Panda, and Ice Bear embark on an adventure to Canada after an agent from the Department of National Wildlife Control tries to put an end to their hijinks once and for all.
Den of Geek praised the movie for reminding us of the series' true message, saying, "Underneath all the comedic hijinks, We Bare Bears has always been about acceptance and this film makes that message loud and clear." It's recommended for ages 8+ by Common Sense Media.
Craig of the Creek S1 | 14 December
For Craig and his friends Kelsey and J.P., the creek is a kid utopia of untamed wilderness in which tribes of children reign over tree forts and dirt bike ramps – the perfect setting for amazing adventures.
Common Sense Media gives it four stars and a 6+ age recommendation, saying the series "has a throwback quality about it that's really appealing in a time of device overload."
This animated adventure series from Cartoon Network has already picked up a 2020 Emmy nomination for Outstanding Children's Animated Series, as well as a 2019 Annie Award nomination.
Yabba Dabba Dinosaurs S1 | 14 December
The Flintstones are back from the past with a prehistoric blast of fun in Boomerang's brand-new animated series Yabba-Dabba Dinosaurs.
Pebbles Flintstone and Bam-Bam Rubble are two best friends who do everything together – go to school, hang out at the weekends, and ride giant dinosaurs. Join their adventures in Stone Age Bedrock and get to know Fred and Wilma Flintstone, Barney and Betty Rubble, Dino and all your soon-to-be favourite prehistoric pals!
Where's Waldo S2 | 15 December
A brand-new season of Where's Waldo has landed, so get ready to go exploring with this fun (and secretly educational) series, perfect for kids aged 5 and up.
You may know him as Wally, but you'll definitely recognise Waldo in his stripey red and white jersey and bobble hat, probably from the hours you've spent hunting for him in the picture books and puzzles that were the inspiration for this cartoon.
Join Waldo, Wenda and Wizard Whitebeard of the WorldWide Wanderer Society on exciting missions around the globe as they explore the wonderful cultures and countries of the world. Don't forget to look out for those awesome "Where's Waldo?" moments, where you'll get to search a scene full of those maddening red and white stripes to find our hero.
Ben 10 Versus the Universe: The Movie | 17 December
Calling all Ben 10 superfans – this is the movie you've been waiting for! Ten-year-old Ben is getting a little bored with all the day-to-day hero work when he suddenly gets news of a planet-destroying meteor heading straight towards Earth. But when his race to stop the disaster lands him in entirely the wrong place, he's mistaken for his nemesis, supervillain Vilgax. Now, it's up to Ben to get out of there, and save Earth from the real danger.
---
Also on Showmax in December
1 December
A World without NASA | Animalogic S1 | Culture Quest with Mister Otter S1 | Contender S5 | Dexter S1-8 | Full Proof S1 | Magic Numbers: Hannah Fry's Mysterious World of Maths | Into The Blue | Know it All S1 | Make Me a Super S1 | Matilda and the Ramsay Bunch S1-4 | Operation Ouch S1-2 | Resident Advisors | Science Xplosion S1 | Science Max S3 | Siesta Z S1-2 | Steve Harvey's Funderdome S1 | Teenage Boss S1 | The Disappearance of Eleanor Rigby: Them | Tumbledown | Who's There S1
3 December
Model S1 | Timmy's Christmas Surprise
4 December
Seeing America with Megan Rapinoe
7 December
A.D. : The Bible Continues | Blackspot | Fruitful Emission | Grey Matter | Jexi | Joe Pera Special: Joe Pera Helps You Find The Perfect Christmas Tree (Adult Swim) | The Jellies S2 (Adult Swim) | Moshidi's Child | My Business | Nantes Kookboek Met Nataniel En Erik S1 | Spoorloos S2 | Thavhazimbi | The Rose | Twelve | uXolile
10 December
Also for Grown-ups: Emerging Voices in South Africa Animation | Die Ware Naarheid Met Schalk Bezuidenhout S3 | Line of Duty | The Space: Theatre of Survival |
14 December
Max | Max 2: White House Hero
17 December
Legally Blonde | Legally Blonde 2: Red, White and Blonde
21 December
Gigolos S3-6 | Playmobil: The Movie | Sex Life S2 | The Nut Job | Yours | Mine & Ours
27 December
Coastal Elites
28 December
Hot Tub Time Machine 2 | Teen Spirit