By TVPlus on 26 October 2022
10 Afrikaans series and movies to help you ace your Matric exams
Browse all series now
The National Matric Exams are just around the corner and to support the hardworking matriculants in South Africa who will be writing Afrikaans as one of their main language subjects, you could offer them a little Showmax inspiration with Afrikaans appreciation.
The Afrikaans series on Showmax have handy subtitles to help you along, and while watching the series and movies, you will also learn more about Afrikaans culture and get an appreciation for this delightfully poetic, expressive and flexible local language, which was once called kombuistaal (a kitchen language).
Here are 10 must-watch gems, packed with life lessons, drama, and awesome entertainment that will make you fall in love with Afrikaans!
This movie about a matric farewell (how fitting!) stars actress and singer Christia Visser (Lillie in the drama series Die Boekklub, another must-watch) as wallflower Jana van Tonder, who hasn't had it easy in life.
At school she is basically invisible and even gets bullied by the blonde bombshell head girl Angelique (Leandie du Randt, Emma in action movie Jagveld). You can just feel that "mean girl" vibe. There is a boy (of course there is, it's a rom-com) Jana smaaks (Afrikaans for fancies), who she hopes will be her date for the matric farewell, but of course things don't go her way. Later, Jana learns who she is meant to be with – and he was right beside her all the time.
Did you know? The movie is set in 2004, when South African-born actress Charlize Theron won her first Oscar for Best Actress. The moment is a huge moment for Jana, who uses Charlize's Oscar red carpet dress as inspiration for her own matric farewell gown.
Towerkuns (magic), is the best way to describe this beautiful film about a young girl named Gideonette de la Rey (Anchen du Plessis, who also plays young Vaselinetjie in our fourth pick below), who lives in fear that her family curse – die vloek – will get her! Anyone with the name Gideon in her family will supposedly die early in life, and as Gideonette is named after her father Gideon (Why?What were they thinking?) who has just died, she is constantly waiting for her impending doom, until her mom sends her away to go live with her grandparents.
Once on their farm, Gideonette's eyes open to a life full of mystery, magic, intrigue, fun and, above all, love. Fear and worrying about tomorrow and all the "what ifs" are the things that can really tip you into an early grave (so take note, overachieving teen pushing yourself too hard…). Rather embrace life, face your fears, and live each day to the full.
Did you know? Veteran Afrikaans actors Pierre van Pletzen (Oubaas from Afrikaans soapie 7de Laan), and Rika Sennett (Prof Laetitia in Afrikaans soapie Binnelanders) play Gideonette's grandparents Willem and Koekie Joubert.
Johan and Lida Botha are legendary Afrikaans actors and any series (like 4 Mure) or film that they both star in is something you know will touch your heart. Leemtes En Leegheid (a void) focuses on Magdaleen (Lida), a recluse in her late 70s, who struggles to live without her late husband (Johan). The story is a lesson in not allowing grief to stop you from living, or going out again to smell the sea air, like Magdaleen wants to do.
Did you know? This film is on its way to the Berlin Film Festival in February 2023 and a powerful poem by Afrikaans poet Ingrid Jonker, Jy Het My Gesterf, is recited at the end.
Based on the acclaimed novel of the same name by Anoeschka von Meck (if you want to read more Afrikaans, check it out) this film tells a story about race, culture and identity – specifically the identity of Helena Bosman (Marguerite van Eden, Jane in movie Somerkersfees) who was found abandoned as a baby in the heat-seared veld (Afrikaans for field/bush) of the Northern Cape.
She is taken in by an elderly couple who nickname her Vaselinetjie (a reference to the Vaseline that was put on her burned skin when she was baby) and she calls them oupa and ouma (Afrikaans for grandad and granny). When she is older, though, social services take her away and place her in an orphanage in Johannesburg far away from everything anyone she knows.
In the orphanage Helena faces many troubles, and experiences some happiness. But the main life lesson of the story is that everyone has a purpose, no matter how you were brought into this world. We can't recreate our past, but we can navigate our future.
Did you know? The film digs into the politics of post-apartheid South Africa, the relationship between communities and race, and how those who apartheid oppressed have navigated their new world without any legal restrictions.
Leon de Villiers' novel Die Pro used to be a prescribed book for Afrikaans as a high school subject . It focuses on teenage surfer Tiaan (Edwin van der Walt, Theo in the comedy series Troukoors) who must come to terms with the accidental death of his best friend, Dirkie (Viljé Maritz, Ruan Opperman in the movie Weerwraak).
Tiaan suffers heavily and refuses to surf again, until Dirkie's twin sister Yvette (Reine Swart, Nadine in the Afrikaans soapy Villa Rosa) arrives in town and turns to Tiaan for help with her quest to be selected to join Wave-Seeker, a fictional World Surf Tour, which Tiaan and Dirkie wanted to be a part of.
This film teaches teenagers how to deal with loss, and to learn to work through trauma and to be okay with getting on with life, even though it sometimes still hurts.
Did you know? Afrikaans actor and singer Bouwer Bosch wrote and recorded the theme song for this movie, Vlug (Afrikaans for flee).
Kitte Claassen (Carla Smith, Kleintjie in dramedy Ekstra Medium) has her whole life in front of her in this dramedy series. She's 22, she has an awesome group of friends and she's in her final year of completing her honours degree in journalism. But then, out of nowhere, she is diagnosed with the big C … cancer.
It's a shock to her system, but she doesn't let it get her down, even though going for chemo for the next six months is a beast. This is a series with real characters from all walks of life and the great thing about it is that it teaches you to love yourself even in the face of an extraordinary challenge.
Did you know? Actress Carla shaved off all her hair for this role to make it as authentic as possible. It was a performance that put her on an emotional roller coaster.
Kom ons gaan wen! (Afrikaans for "let's go win!".) That is the mantra that the ruthless lawyer Hans van Wyk (Chris van Niekerk in the movie Nommer 5) follows when it comes to his work. In his posh Cape Town-based law firm Van Wyk & Vennote, which he rules with an iron fist, money talks and reeling in a client with a R100 million turnover is child's play.
In this three-season series we get to learn more about Hans and his army of lawyers that include his two children Lara (Tinarie van Wyk Loots, Annabel Loots in the drama series Dwaalster) and Ben (Neels van Jaarsveld, himself in the reality dating series Op My Eish), who are both vying to step into his shoes when he retires. There are fights, disputes, tragedy, love (of all kinds), and loss in this brilliant drama. One lesson it drives home is that you should never give up on family, who will always be your foundation.
Did you know? Fynskrif is produced and written by Louis Pretorius and Albert Snyman, the same showrunners behind the must-see drama series Die Boekklub.
Nou gaan ons braai! (And you don't need to understand Afrikaans to know what that means). Braai is a South African staple and in this competition series, three teams of strangers come together and braai against each other for a grand prize filled with braai goodies worth around R15 000.
Think Come Dine With Me, but with braai as the main method of preparing the three-course meal.
Pay close attention to the subtitles as this series showcases and expands on many different aspects of Afrikaans culture (we are a special bunch) and the best lesson you can learn here is how to braai – while you are still young! If you can braai and langarm or sokkie (that's like a ballroom bop), you've already aced being Afrikaans.
Did you know? Showmax also has the spin-off series Kom Ons Braai: Familie & Vriende, in which friends and family compete against each other.
What better way than to end things off with two of the best and biggest Afrikaans soapies and telenovelas currently available on Showmax!
Suidooster revolves around the fictional community of Ruiterbosch in Cape Town where the Jacobs family (Christian) and Samsodien family (Muslim) live and work together. The south-easterly wind can blow interesting and sometimes dark characters into Ruiterbosch, but there is always something to learn from the interesting Cape-Malay inspired stories that form part of this soapy.
Did you know? Tune in to learn more about the Muslim culture and at the same time learn some Arabic words. Suidooster won the 2022 SAFTA for Best Soapie.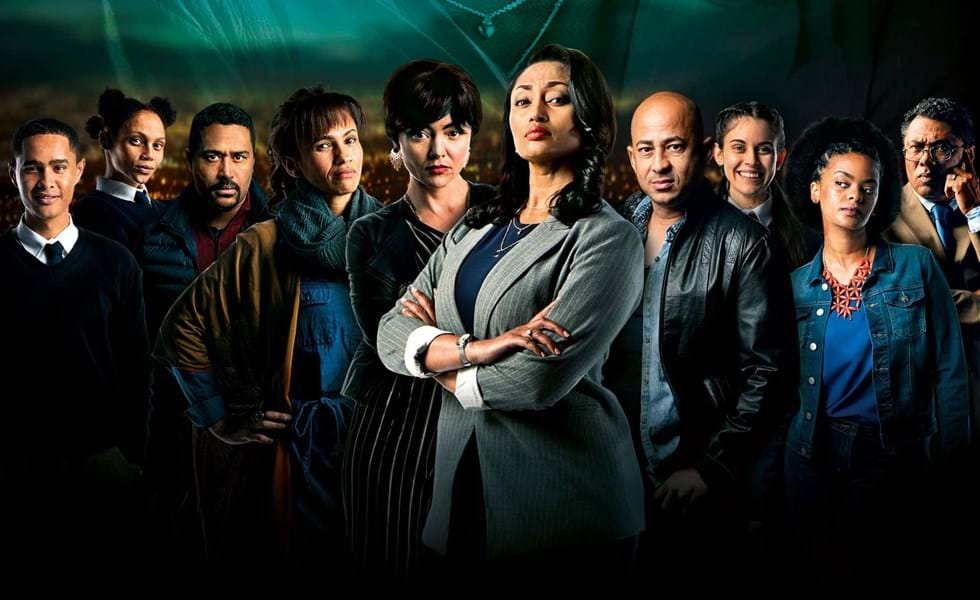 Arendsvlei revolves around the Cupido family and the school they build from the ground up called Hoërskool Arendsvlei, which is a pillar in the community and gives its learners opportunities they thought they could never have.
The Cupidos' arch nemesis is the evil and disturbed Wendy Newman/Ingrid van Schalkwyk (Rehane Abrahams) who makes it her life's mission to undermine them at every turn.
Did you know? The stories are fast paced, but the big lesson from both soaps is that even though it looks like it will never happen, the truth always comes out and justice will be served.