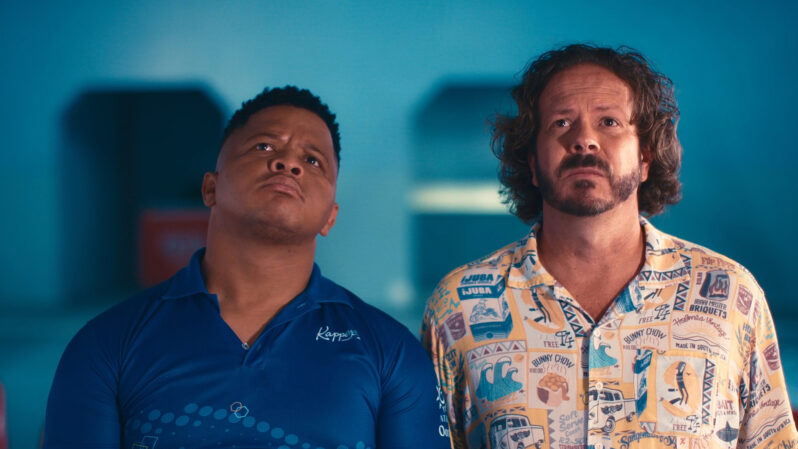 By Stephen Aspeling on 27 December 2022
9 Afrikaans short films to stream for bite-sized entertainment
Browse all movies
Clocking in under 60 minutes, short films are charged with crafting compelling characters, immersing you in their worlds and creating emotional resonance with absolute efficiency when it comes to filmmaking and storytelling.
Running the length of a TV episode, yet packed with enough story for a feature film, these productions have to be short, sharp and streetwise. Showcasing the next generation of local filmmakers, from nostalgic comedy drama to brooding suspenseful thrillers, here's a selection of homegrown Afrikaans language short films now available to stream on Showmax.
When she loses her job at a salon, an alcoholic mother finds herself at risk of returning to old ways in Op Straat (On the Street). Struggling to get her life back on track to help look after family, dark secrets threaten to overwhelm them all. This gritty and layered coming-of-age crime drama hovers on the line between running the proverbial rat race and falling into a state of homelessness.
A steady spiral about a mother's disintegration, Op Straat colours its taut atmosphere with both heartrending and uplifting moments of humanity through forgiveness and healing. Directed by Nicola Hanekom (Cut-Out Girls), this intense and vivid tale features nuanced performances with a solid lead in Amalia Uys (Sy Klink Soos Lente), who's ably supported by Andre Odendaal and Izel Bezuidenhout.
Op Soek na Reënboë (In Search of Rainbows) is a nuanced and sentimental marriage portrait drama about a crisis of faith. This moving story about love and loss captures snapshots of a married couple's journey as a farmer puts everything on the line in order to yield a crop and his wife struggles with her tendency to overprotect their only son.
Written and directed by Stefan Enslin, Op Soek na Reënboë is a timely drama that echoes Faith Like Potatoes with its hopeful message. Driven by artful filmmaking and thoughtful storytelling, it's brought home by earnest performances from Gerhard Steyn (Reyka) and Izel Bezuidenhout (Flatland).
Following the trials and tribulations of several classmates at an all-girls high school, Die Klas van Nellie Welgemoed (The Class of Nellie Welgemoed) gets to grips with teenage growing pains. A film assignment on the life of a teenager spirals out of control as the crushing realities of peer pressure and the challenge of finding one's true purpose take centre stage.
Soft lighting and a nostalgic mood underpin this edgy and haunting drama about boundaries, friendship, inspiration and swimming upstream. Directed by Johannes Pieter Nel (Sak en Pak, Altyd Pa), Die Klas van Nellie Welgemoed features the fresh talents of Melissa Myburgh, Dane De Waal, Celeste Loots, Hannah Borthwick with Susanne Beyers.
Set in and around the small coastal village of Hartenbos comes Hart in Bos, a summer romcom in the style of Love, Actually. The upbeat holiday movie journeys with a number of Hartenbos couples and oddballs, as they do life, love and everything else. With settings ranging from a radio station overhaul and seaside camping to a hot dog eating contest, this fun and playful short film has an offbeat charm.
Keeping things light, bright and breezy, Hart in Bos does scratch the surface to explore some more introspective and heartfelt moments but is never far from the summer fun. Directed by Lika Berning, this cheerful and heartwarming jaunt stars Nadia Valvekens (Alles Malan), Anton Treurnich and Hannes Muller (Die Kasteel).
A period horror mystery drama, Nagval op Donkerdraai (Nightfall on Dark Bend) tells the haunting story of a young woman who returns home to her authoritative widowed father in the countryside. When she's bedridden due to a sudden deterioration of health, a dark veiled silhouette appears to her at night.
An uneasy father-daughter relationship plays out against the ominous backdrop of an old world farmhouse. A moody and beautifully shot film, the creepy environment and oppressive spirit of the age offer a curious yet contemporary reflection. Directed by Andre Velts (Raaiselkind), this unsettling drama stars Deon Lotz (Axis Mundi), Liza du Plessis and Zack Mtombeni.
Tensions rise in a small Karoo town struggling with an ongoing drought as farmers and residents begin to feel the pressure of water quotas in Moordenaars Karoo (Murderers Karoo). Turning to the church for prayer and hiring the services of a water diviner in an attempt to find groundwater or summon rain, the townsfolk come to blows as the precarious situation is further complicated by murder.
Set against a dry desert landscape, the moody Moordenaars Karoo takes on a western vibration as the arrival of a stranger stirs up emotions and creates an unsettling atmosphere. Directed by
Anton Treurnich, this slow-boiling crime drama stars Eric Nobbs, Jason "Hakkiesdraad" Hartman, Dania Gelderblom, Tanita de Silva and Jaques Van Jaarveld.
Die Sonversamelaar (The Sun Collector) is a sentimental drama about Gert, a man who loses everything, only to become a car guard. After his wife's passing, he and his son Fred struggle to make sense of their new lives. When Gert discovers his son wants to quit school and follow in his father's footsteps, he decides to re-examine his own life's ambitions.
This tender coming-of-age drama deals with grief, loss and trying to pick up the pieces. Directed by Francois Jacobs, Die Sonversamelaar features a stellar local cast, led by Neels van Jaarsveld (Sonskyn Beperk) and features Albert Maritz, Eloise Clasen and Zak Hendrikz.
Patat (Potato) is a coming-of-age romance drama about a young woman who bumps into a charming guy while preparing to say her final goodbyes to her beloved grandmother. Having been raised by him, the heartbroken Lize is startled and then relieved to learn a long held and life-changing family secret – her gran's final words.
Set at a hospital, this gentle, nostalgic and touching dramedy deals with cherished memories, family politics, crocodile tears and new beginnings. Patat is directed by Frederick Louw and stars Augusta Zietsman (Ongepoets), Woutrine Theron and Pietie Beyers.
In the vein of Gone Girl comes the domestic mystery thriller 'n Man se Plek (A Man's Place), centred on a dysfunctional marriage, as an overbearing, manipulative and violent husband discovers his wife has disappeared overnight. Tracking the story as the hours rack up, "till death do us part" takes on much more sinister undertones after the two unexpectedly reunite.
'n Man se Plek tackles timely social issues relating to abuse, marriage and gender relations as intense crime drama ratchets up the suspense. Written and directed by Lara Lourens, this slowboiling short film stars Luandri Lourens (Binnelanders), Pietie Beyers (Wesens) and Kaz McFadden (Strikdas).