Bianca Flanders on the bravery needed to play Abi in Troukoors (Wedding Fever)
Watch all of it now
Her role as Abi in Showmax's Afrikaans romantic comedy series Troukoors (Wedding Fever) is a professional milestone, says the actress, Bianca Flanders. Flanders, known for her turn in David Kramer's award-winning musical District Six – Kanala, and more recently as Chrissie in Nêrens, Noord-Kaap, is one of the show's leading ladies, an experience she likens to Charlie's Angels, but without the action scenes.
Watch: Troukoors Season 2, streaming from 5 May 2022
After her roles in the movie Krotoa and the short film Address Unknown, among others, Troukoors presented unique and exciting challenges to the actress. As Abi, she is the main character Jessica's bisexual best friend, and we follow her romantic journey as she seeks love and intimacy. Her love interests in the series are portrayed by Laudo Liebenberg, Danny Ross, Emma van Heyn, Marlo Minnaar and Carla Smith. Her dad is played by Kevin Smith, with Melt Sieberhagen as her father's partner.
How did you get the part?
I initially auditioned for a different part, and then they asked me to read for the role of Abi. It was exciting because she was so vivacious and loving. She is a little bit alternative, in a way she's the opposite of the girl next door. There are many aspects of Abi I can relate to, especially in terms of struggling with being in your thirties, and what that means for your life.
Where are you supposed to be? It doesn't necessarily fit society's idea of where you should be and what you should be doing. That complexity really resonated with me. The best part of Abi is definitely her capacity to love. She has a seriously big capacity for love, it almost boils over. The most fun part to play is her quirky sense of humour. She's a little spicy, a bit sarcastic, and sometimes very funny.
What does this role mean to you?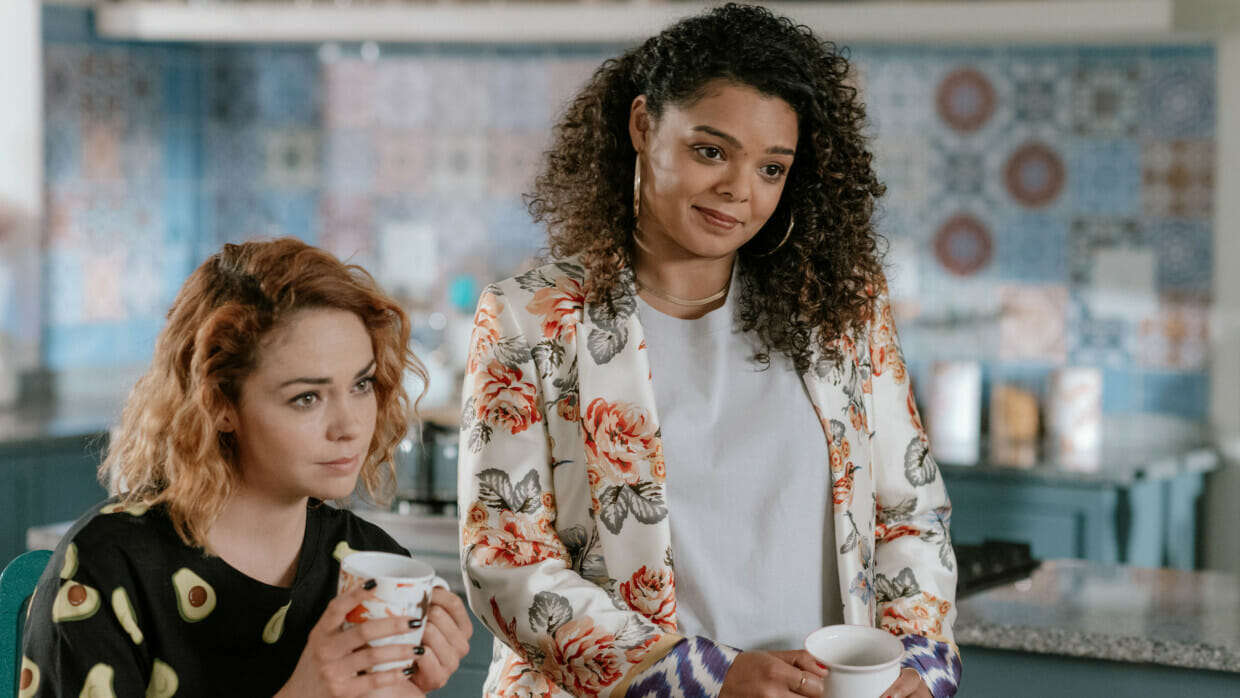 To me, this part is a milestone in my career. I've never done intimacy on camera before, and it's definitely the sexiest character that I've played to date. It demanded a level of bravery, which I've never needed on-screen before. Also, it's a big part to play in my second language, and the fact that I did it, knowing it's possible, is a highlight to me. And the more you do it, the more comfortable you get.
How does the series approach relationships?
What I found really interesting is that it represents alternative relationships, or a different way of being. I think the world is moving in new directions, especially in terms of how we think and talk about sex and sexuality. As South Africans, we are often inclined to be conservative when it comes to the relationship types we represent on TV. Abi's relationships reflect a lot of the relationships I see around me. It shows the real issues people experience.
What was the impact of having an intimacy coordinator on set?
It was a wonderful experience. It was my first time working with one. It's unbelievable. I found it really helpful, and I felt very safe. Everything is very technical, so it almost becomes like just blocking scenes. I think my character might have the most intimate scenes. She's very loose! (jokingly) But with the intimacy coordinator, it becomes much less of a big deal.
What was it like to work with director Nina Swart?
Nina is fantastic! She is just a pleasure to work with. What I really enjoyed about her directing is that she maintains a balance between the technical aspects of directing and the creative work with actors. That's quite nice because you never feel like you're just a body in a space. You can feel that she cares, and she is very supportive. I also think she's very clever in how she treats every actor differently. What works for one doesn't necessarily work for another. It's a very one-on-one approach, which I really appreciate. The same goes for Albert (Snyman), he's a treat to have on set.
You play one of three best friends. What was the camaraderie like on set?
Ilse-Lee (van Niekerk) and Blyde (Smit) are just the best. We're a little like Charlie's Angels, just without the action scenes! It was a wonderful experience and the three of us got along straight away. I think we were all quite nervous at the beginning, especially at the read-through, because none of us had worked together before.
Filming the series is a long process, so I was just hoping things would go well. But we connected immediately, and a true friendship formed, which I hope will be visible on screen. It's also great to have other women who are going through the same things you are. It's quite refreshing.
Bianca vs Abi?
I understand love. It's an emotion I understand. Maybe there are some things I would do differently from Abi, but it's my job as an actor to try and understand why she does certain things – and also in the way she does them. I can lean on my understanding of love and my understanding of emotion, how it feels to be in a family and to have friends, to then place myself in her shoes as gracefully and with as much integrity as possible. We have a lot in common, but we're also completely different. Still, it's nice to open up certain parts of myself again and at the same time discover new parts and delve deeper. To be able to play a character for such a long time … in theatre, you can play a part for a long time, but the journey is already mapped. This is a lovely, continuous journey of discovery.
I have no idea how my character will be received. She is definitely not everyone's cup of tea, but I tried portraying her with as much integrity and love as possible, and without judgement, and I hope people will see that love. The way she lives her life is very brave, but might clash with what many conservative people see as "right". But maybe that is a good thing – it might make people question their own prejudices, as well as their ideas about conventional relationship types. Especially in this time, where sex positivity is increasing, it poses questions people should be asking.
What were the challenges?
Well, I'm English and Afrikaans is my second language. I regularly work in Afrikaans, but it always takes a bit more effort to prepare and ensure I feel comfortable in a scene. We're also shooting a number of episodes at the same time. So it can be challenging to keep up with where your character is on their journey. When you're shooting eight to ten scenes per day, but also jumping around, it's challenging to keep up.
What was different about working on a Showmax production?
Definitely the content. It's more timely, subtle and complex and a much more accurate representation of how people live their lives, especially in terms of love, relationships and friendship. It feels real.
Why should people watch?
It's fun! It's heartwarming and heartbreaking at the same time. To me, it also offers a beautiful alternative to how South Africa could look. We have a lot of stuff, a lot of issues to work through and in a way the series shows you how things could be.