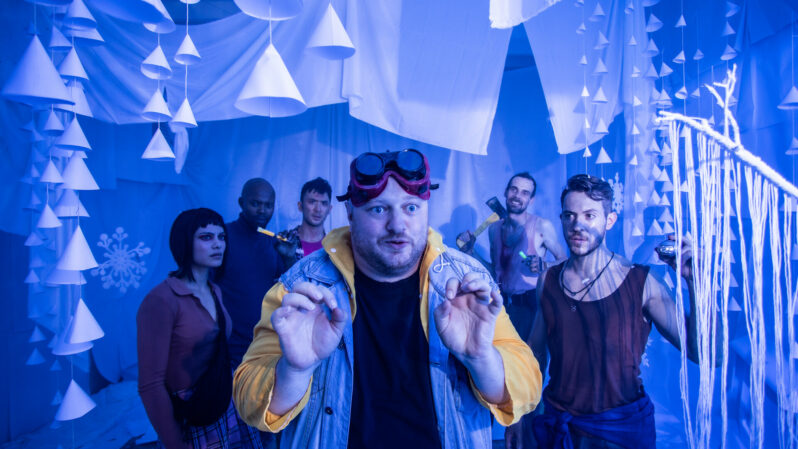 "Horror is about human stories." Albert Pretorius on playing Denny in Pulse
Watch all of it now
In the Showmax Original horror series Pulse, now streaming, a group of game creators discover that survival is no longer just a game when an electromagnetic pulse bomb fries every electrical circuit in their office high-rise – and people's heads.
Sam Wright caught up with Albert Pretorius, the multi-award-winning Nêrens, Noord Kaap and Johnny Is Nie Dood Nie star, to find out more about his role in the show, which was picked by The Hollywood Reporter as one of the 25 buzziest series at this year's MIPTV, a leading global TV market in Cannes, France.
What attracted you to Pulse?
I've worked with the director before [multi-award winner Sallas de Jager of Dominee Tienie and Free State fame] and I get along with him really well. It's such a pleasure on set. He gives you a lot of freedom and space. It's always a fun environment.
When I read the scripts, my favourite character was the character I'm playing, Denny. I really loved him, but the show is full of crazy characters.
I've never done anything on this scale. The sets were enormous and the story is vast. So that was what attracted me to the project.
How would you describe your character, Denny?
I love the way he is. He works in the audio foley side, the production of sound effects. So if there is a zombie, he'll take celery sticks and do the crunch and then that's the crunch sound effect in the game. It reminded me a lot of when I used to do a lot of radio in Drama school, and we created our own little sounds. Denny is a sweetheart. All he wants is a little bit of recognition because I think sound guys don't always get the credit they deserve.
Do you play video games?
I started gaming three years ago. My girlfriend at the time had moved to Pretoria and we were long-distance, so I bought myself a PlayStation 4. Just to kill time, not as a replacement for the girlfriend! I game a little bit, but I'm so far behind and have a back catalogue of all the games I want to play. I enjoy open-world games. The first one I played was Horizon Zero Dawn and I loved it, so I'm very excited for Forbidden West. I'm a big fan of The Last of Us franchise and I think the last game was excellent.
Why do you think we're seeing so many gaming-focused storylines and narratives in television and movies with gaming being written into shows or being the focal point of shows, like Pulse?
Because there is such a huge fan base. There is The Witcher and now they're making The Last of Us. I think it is a nice device to portray a lot of human traits, much like the horror genre. The horror genre these days isn't just about scares: it's about human stories. If you look at Hereditary [the 2018 horror starring Toni Collette], for instance, that's a movie about loss; it's not about the devil. If you look at the Witch, it is about finding your tribe, not anything else. I think all these things are being used as vehicles for us to tell stories in a more interesting manner.
What was the highlight of shooting Pulse for you?
The people on set were so cool. We were shooting in a foreign country [Mauritius] and the people just welcomed us with open arms and love. There was not a single person on set that I didn't get along with. The highlight was definitely the really good people.
What was the most difficult part of shooting?
The heat. I'm a sweaty Betty. Shooting in that humidity in a building without ventilation was rough.