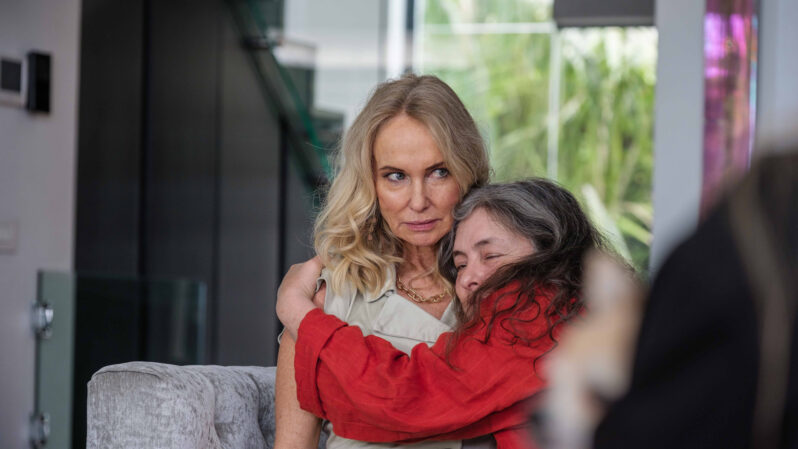 Kate Normington on her SAFTA win, midlife crises and Tali
Watch new episodes now
Tali's Joburg Diary, the third instalment of the first-ever Showmax Original, is now streaming on Showmax, with new episodes every Friday. Tali's Wedding Diary and Tali's Baby Diary were the most awarded comedies at the 2019 and 2022 SAFTAs, winning five SAFTAs at each awards, including Best Comedy.
Having shared her wedding in Tali's Wedding Diary and then her pregnancy in Tali's Baby Diary, Tali (Julia Anastasopoulos, aka SuzelleDIY, in a two-time SAFTA-winning role) is moving back to Joburg in Season 3, determined to get Jayden into the premium preschool, Little Angels Hyde Park, and reclaim her crown, or at the very least the title of Class Mom.
We caught up with Kate Normington, 2022 SAFTA Best Supporting Actress: Comedy winner as Tali's mom, Michelle, to find out more about the new season, which is already getting five-star reviews.
What was it like to win your first SAFTA earlier this year for your role in Tali's Baby Diary?
I must say I was really surprised because I had reconciled myself to the fact that I wouldn't be getting it. So I didn't even watch. At three o'clock that afternoon, I'd forgotten that the SAFTAs were on. And then I got an SMS from Anton Taylor [who plays Darren on the show] saying congratulations. Initially, I thought, 'What's he going on about?' and then I realised. I couldn't believe it. Because the nominees were an amazing group of people, it could have gone either way. But I was really chuffed.
Where do we find Michelle Shapiro at the start of Tali's Joburg Diary? 
Michelle is having a bit of a midlife crisis. Let's face it, Michelle is always having a bit of a midlife crisis, but she takes it to an extreme this season, trying to relive her glory days in musical theatre. She's set up a studio at home and she's determined to make it, even at the cost of her relationship with her daughter.
How much do you identify with Michelle in the season?
As a middle-aged actress, I relate to her on a frightening level.
Do you think she's happy to have Tali home in Joburg?
Yes, I think she loves having Tali around. Because it's never boring. And, you know, in a strange way, Michelle can act out when Tali is around. In a strange way, she is the child and Michaela and Tali are her parents. It's hugely dysfunctional but really good for comedy.
You've had a successful career in both theatre and TV. Which do you prefer? 
Wow, that's a tough question. They're equally as appealing in such different ways. TV takes an inordinate amount of time and tedium but when it finally comes out, it's so satisfying to watch and is such an extraordinary thrill in retrospect. Theatre is more immediate, and the gratification is more immediate.
Is the set of Tali as funny as watching it? 
I have never had as much fun on a set as I do in the Tali trilogy. Ari Kruger and Julia Anastasopoulos engender that feeling. So every day is an adventure and you don't know what's going to happen and that's part of the excitement.
Do you have a favourite moment this season? 
We had a wonderful moment where Michelle breaks into the auditioning process and she pushes these young children aside so that she herself can audition. I mean, the outrageousness of that is just appalling. During the sequence, we had to stop a couple of times because we laughed quite a bit. It was just lovely, and the kids are also just amazing. You know, the extraordinary things that they come up with.
Do you have children of your own? 
I don't. It wasn't meant to be. But I have a beloved nephew. So I live vicariously through him.
Tali moves back to Joburg this season. What's your favourite Joburg spot? 
It's terrible. I go to three places because I know what I'm gonna get: Glenda's, and Olives and Plates, and Tasha's. I should be more adventurous but Hyde Park is just so lekker.
I also like Nice and all those little breakfast nooks along Fourth Avenue in Parkhurst.
Why should people watch Tali's Joburg Diary?
It's just a clever, slick, funny, well-written series. It's fun. Huge fun.
Watch the trailer for Tali's Joburg Diary:
Stream Tali's Joburg Diary on Showmax – new episodes drop every Friday.