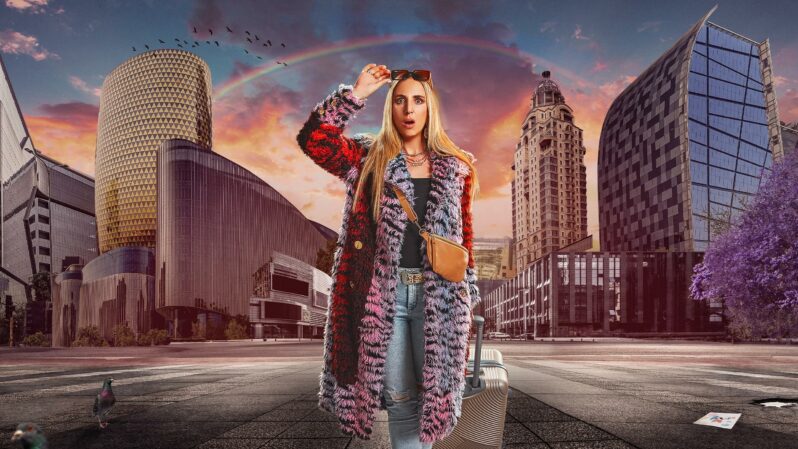 By Bianca Coleman on 22 November 2022 /
Comedy
Reasons to binge-watch Tali from the very beginning
Watch Tali's Joburg Diary
I always knew I would love to hate Tali, even before I'd watched Tali's Wedding Diary, Tali's Baby Diary or the latest instalment, Tali's Joburg Diary. And that is a huge compliment to Julia Anastasopoulos, who created and performs Tali so superbly.
But after watching the first and second seasons, plus the first episode of the third, I have to admit that not only do I love to hate Tali – I also hate to love her.
And not only have I developed warm feelings for Tali, but I've also become fond of the rest of the cast. Heck, I even caught myself doing that thing where you start talking like the characters in a TV show (it's way more common than you think; the internet knows all about it). People who don't get the reference look at me a bit strangely when I add an "ah" at the end of some words – like "oh, no-ah!", or say "What. The. Actual?" But I guess that's just something I'll have to live with for now.
Tali is not meant to be immediately likeable, or relatable. Goodness, no. We don't want to be like her – rich, spoiled, entitled, tone-deaf, vain, an influencer … the list goes on.
Television series are rife with antiheroes, the ones that make us recoil but still feel sympathy for, especially when they get their comeuppance. And so it comes to pass that many of the shows' funniest moments come at Tali's expense.
My favourite in Tali's Wedding Diary was set up over a few episodes and revolved around the creative agency brought on board to design Tali and Darren's (Anton Taylor) invitations and logo. Tali decided the theme would be butterflies, which she had some trouble initially conveying even with flapping hands and the "butter…" cue. Butternut? asked one of the team, most sincerely. I snorted. The artistic director reached the end of his patience some time previously and he relished in a little revenge, which is revealed on the wedding day.
It's interesting to note that although some of the gags appear to be unsubtle, there is much that is delicately nuanced in a blink-and-you'll-miss-it style. In Tali's Baby Diary, Will Hobson reprises his role as Mushroom Guy (introduced in Tali's Wedding Diary when Tali ends up at her half-sister Ruth's – Caroline Midgley – hippie birthday party and partakes of the fungi).
Tali enlists his help to solve the problem of her "best" friend Gabi (Lara Lipschitz) who has named her rescue dog Jade, the name Tali had chosen for her unborn child. Her staff members subsequently steal the dog. The funny throwaway line was Mushroom Guy's "this dog is f**ked up", referring to Tali's own dog, Marc Jacobs. Reading that, it doesn't scream comedy, but it's all in the delivery, the tang of mustard in the sandwich, with no one hanging around to explain the joke.
Same with Tali's deadpan father Les (Guy de Lancey), whom I adore. When Tali is planning the gender reveal party, rumours spread like wildfire, including that Les and Tali's mom Michelle (hilarious Kate Normington) are swingers. It seems to come as news to Michelle too but she is delighted to "discover" Les is open to it. "I've always wanted a unicorn!" she tells him. "What is that going to cost me?" he wonders. Again, you get it or you don't. If you don't, watch Sex In Afrikaans.
Fast forward a few years to Tali's Joburg Diary; the child looks about medium-size (don't ask me to put an age on it), Darren has gone full hippie – his lockdown pivot – complete with tie-dyed clothes and a dreadful fake beard, and Tali suddenly realises how much milk costs.
"Have I been living under a rock?" she asks Ashley (Lucienne Bestall). "Yes," replies Ashley. "What?" shrieks Tali. "Hmmm?," responds Ashley. Perfect comedic timing. It's wonderful too, to see how her timid character has evolved over the seasons and it's these story arcs for all of them that gives the series so much appeal, and allows them to grow on you – even if you'd never meet them for a chai latte at the Waterfront.
That's another thing: for Cape Town viewers, it's a treat. There's little we love more than seeing our beautiful city showcased on the screen, unless it's talking about the weather. I hope they do the same for Joburg now the Shapiros are moving home. We've seen one episode so far, in which Tali insists they cannot live on bread and vegetables that Darren bakes and grows, they will starve, and not doing particularly well at her first real job in the real world. The lights are off; it's not load shedding, it's poverty, so it's time for Daddy's girl to head north. Fingers crossed for another slew of heavyweight guest stars as well.
At the 2022 SAFTAs, Tali's Baby Diary was named Best TV Comedy, with awards for Best Actress (Julia Anastasopoulos), Best Supporting Actress (Kate Normington), Best Directing (Ari Kruger & Daniel Zimbler) and Best Editing in the TV Comedy category, and a further six nominations, including Best Actor for Anton Taylor, and Best Supporting Actress for Kate Pinchuck (Taryn Wiener, Darren's cousin who comes to work at Goldprop). Tali's Wedding Diary similarly won five SAFTAs, including Best TV Comedy and Actress (Anastasopolous).
Binge-watch Tali's Wedding Diary and Tali's Baby Diary, and new episodes of Tali's Joburg Diary every Friday, exclusive to Showmax.