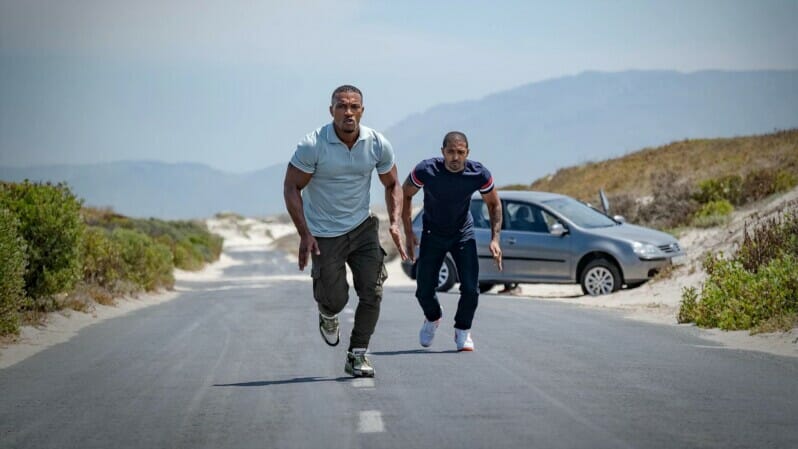 The most hair-raising moments in Bulletproof Season 3
Watch full episodes now
You know that meme of Leo DiCaprio from Once Upon A Time In Hollywood where he's holding a beer pointing at himself on the TV? That's you when you stream British cop show Bulletproof Season 3. Because the three-episode series was shot in the Mother City and you won't just see mense like Kim Engelbrecht onscreen, you're going to be spotting loads of Cape Town landmarks that we see everyday living in Mzansi.
But first, here's a hit list of the 5 most hair-raising moments you're checking out…
Right at the beginning. That's where we're starting. Detective Aaron Bishop (Noel Clarke) is on a building rooftop with a jumper. Bishop is cool, calm and collected, and coldly tells the guy, "You gonna jump or what, mate? I've got things to do," talking about the fact that he's heading to SA on holiday with his partner Ronnie Pike (Ashley Walters).
It's this dry humour that hits hard, because this isn't a situation for jokes. Wait 'til you check the guy's eyeballs – they almost pop out his head when Bishop tells him that he'll jump with him. They're on top of a building, there are people down below, one small slip and they'll both go splat on the pavement. Except Bishop's got a plan when he pushes the man off the edge… letting him fall safely into the giant inflated balloon mattress below where he can be arrested. Cue the next scene with the boys sunning themselves with those famous colourful Muizenberg beach huts in the background.
Not even 10 minutes in and the guys have sniffed their way into trouble. After a quick meet 'n greet with local couple Megan and William (Kim Engelbrecht and Thapelo Mokoena) and a chit chat, there's panic when the two can't find their daughter, Kayla.
Human trafficking and child kidnapping are two of the biggest crimes in SA at the moment, so you'll get chills down your spine when you realise that the girls might've been snatched by guys who want to hurt them. Kim's mom-in-distress character is so realistic that you'll be screaming "find them and klap them, aunty!" as she runs around the beach screaming for her child. And then William gets the phone call with a ransom demand…
The tjookie is not a fun place to be. And South African prisons are among the world's worst. Overcrowding, gang violence, inhumane conditions, corruption, HIV, murders and worse are commonplace. So Bishop and Pike are in a tight spot when they're arrested at the start of the episode and thrown in the back of a prison transport truck.
They don't speak the language, they're foreigners, they're cops who're used to being on the other side of handcuffs, and they've been arrested in a case of mistaken identity as they're hauled into the fictional Msitu Prison. And sure, they're coppers and they've been in uncomfy situations in the previous two seasons… but you can check they're not sitting nicely when their "fellow" criminals start getting rowdy.
And it's going to get so, so, so much worse when they're actually thrown into gen pop – if this doesn't scare you off going to prison, you're in serious trouble.
You're being watched – episode 2
Bishop and Pike aren't out of trouble just because their boss flew in, threw around some fancy words and rescued them from prison. Because they've still got to solve the kidnapping from episode 1 (it's the main season arc). And it's taking them to a local informal settlement. You know the kind of place where people know you're not from around these parts just by the way that you smell.
And sure, it helps that there's an ominous melody playing to set the atmosphere, but there's actually no need for the tune – because the boys are being watched from the shadows and their would-be attackers mean business. Bishop and Pike know that they're in trouble, but they can handle things when it gets real… in the UK. When it comes to Mzansi's tsotsis, the pair are going to find out the hard way.
The baddie is on the run and that means one thing in a cop action show: CAR CHASE! And there's not a Metro cop in sight looking for a bribe as Bishop and Pike put foot in their hired VW Golf. Forget about silly Fast & Furious driving – this is realistic as they dodge in and out of traffic "at a reasonably fast speed" on a road that's half covered in beach sand.
There aren't any potholes (how unbelievable is that?!), but that's not going to stop B&P from getting a flat half-way through the chase, yet they're still able to get their guy after a hectic car roll and a gunfight.
Mzansi, it's been lekker!
Iconic Mother City landmarks you'll see
Muizenberg Beach
Table Mountain
Lion's Head
Monwabisi Beach
Local stars to look out for
Kim Engelbrecht (Megan)
Thapelo Mokoena (William)
Paul du Toit (Dewald)
Ruben Engel (Imari)
Katherine Neethling (Kayla)
Sechaba Morojele (Thato)
Mbulelo Grootboom (Kwadjo)
Sensei Ndlovu (Bonga)
Carmen Maarman (Thabisa)
Seasons 1-3 of Bulletproof are streaming on Showmax.