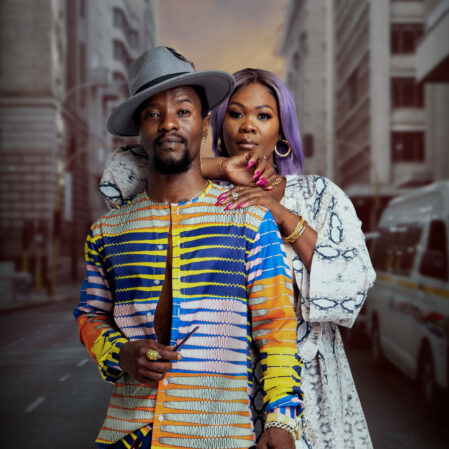 By Xabiso Ngqabe on 3 February 2022 /
Drama
The Wife: 5 reasons viewers love Nqoba and Mandisa
Watch all of it now
Update: Want to know more? Watch the behind-the-scenes special The Wife: Behind the Veil. Plus, binge all of Season 1 and 2 of The Wife on Showmax.
The Wife has undoubtedly earned itself a cult following and continues to keep fans enthralled with its gripping storyline. It comes as no surprise how this show has persisted to spark positive reviews since its premiere. One of many reasons for its success is Abdul Khoza and Zikhona Sodlaka's brilliant chemistry on-screen portraying the couple Nqoba and Mandisa.
Trending: Hlomu The Wife, where Zandile takes her place in the Zulu family
Meet Abdul Khoza
Abdul got his career breakthrough in the reality competition show Class Act. After winning the second season of the competition, he starred in numerous productions including Isibaya and Nqobile. He currently plays Nqoba Zulu, one of the more flamboyant Zulu brothers on The Wife. He loves running his mouth and is quite impulsive in nature.
Zikhona Sodlaka
On the other hand, Zikhona has solidified her career as one of the most amazing performers with a career spanning over 15 years. She has starred in hit shows like Igazi, Housekeepers, Grassroots and Diep City. She currently plays Mandisa, who is Nqoba's partner and mother of his children.
Now, let's dissect the 5 reasons why viewers love this couple.
1. Amazing chemistry as a couple
There are a couple of elements that make a story captivating, one of those is chemistry, and that's certainly the case with Mandisa and Nqoba. They've got such a great vibe that we haven't seen on screen in such a long time. Every time you see them appear on screen, you can't help but want to see more of them in each episode. Since the premiere of the show, viewers still can't get enough of the on-screen couple.
2. Drama galore
We just can't help but appreciate the drama that keeps us at the edge of our collective seats. From the day Nqoba got tricked into paying lobola to Mandisa's family to a recent moment when she asked to leave the country with Nqoba and go to Swaziland to watch Ringo perform.
In the latest episodes, we see Nqoba cheating with Palesa, the Commissioner's wife, and together they also pull off a heist that involves millions. It's only bound to give us more drama should Mandisa find out that there's another woman in Nqoba's life who's determined to flee out of the country with him. We get why so many viewers are in their feelings, wanting Nqoba to get caught by Mandisa so we can see the side of Mandisa we all love.
3. Award-worthy performances
We have enough reason to believe that the two thespians deserve awards for the way they are nailing their roles. Abdul Khoza already has a SAFTA win under his belt, and his role on Isibaya has garnered him much praise and attention.
On the other hand, Zikhona Sodlaka is a SAFTA nominee for her role in After 9 and also features in the upcoming Showmax Original epic series Blood Psalms.
4. Best one-liners
Another thing that has got viewers talking every week is their hilarious one-liners. Below are some of the funniest lines and the times when Nqoba and Mandisa left viewers in stitches:
5. Peer love
Their work has not only been positively received by audiences, but by fellow actors in the industry. There comes a time in any actor's career where one gets the right role and all they do is just shine, and that's exactly what we are experiencing with these actors.
Binge The Wife now streaming on Showmax. Season 3 landing on 10 November 2022.