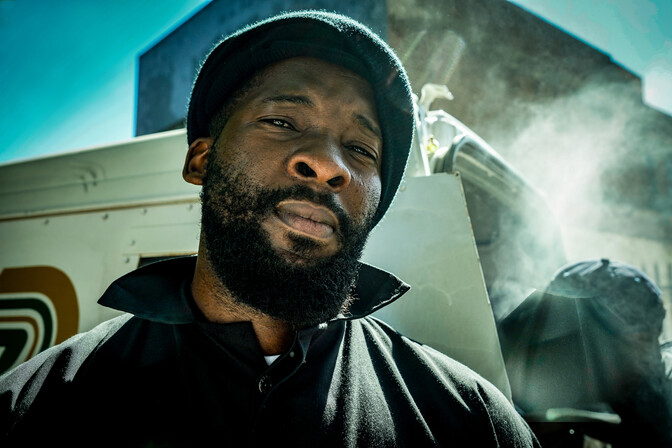 By Xabiso Ngqabe on 6 May 2022 /
Drama
The Wife Season 2 episode 34-36 recap: The Zulu brothers exposed 
Watch all of it now
A shocking end to yet another wild ride for the Zulu brothers.
If you're wondering if the biggest heist gang in town will once again get away with all their sins, best believe you're not alone. A great show is nothing without a shocking finale, and The Wife Season 2 episodes 34 to 36 didn't disappoint.
This season has had many unexpected twists and turns. But with all its uncertainties, this season was nothing short of entertaining. Let's unpack the last three episodes bringing us to the end of Season 2:
Episode 34 – Lux gets close to exposing the Zulu family's secrets
Mqhele tells Hlomu that her boss, Lux, is sticking his nose in their business. Lux has always suspected that the Zulu brothers are a troublesome bunch but never had the evidence to prove it, although he did try by all means to catch them red-handed.
Remember when Lux asked Bontle to take Hlomu's phone back at the funeral? Well, he cloned Hlomu's phone so he could hear all the conversations. He hears a conversation and starts piecing together all the information, which makes him believe that he has got the Zulu family.
Meanwhile, Hlomu reassures her husband that she knows just how to deal with Lux. But Mqhele plans to solve this the only way he knows how – through murder. He calls his brother Qhawe, and tells him that they have a huge task at hand. It's time Lux meets his maker.
Nomusa dies in jail
Meanwhile, Nomusa's cellmate has been suspecting that Nomusa is hiding something from her. When Nomusa is called to attend her usual meet-up with Nkosana, her cellmate pulls out a knife and stabs her in the neck.
Just like that, Nomusa is no more, leaving behind her son and mother.
Episode 35 – Qhawe and Naledi take their relationship to the next level
Qhawe reaffirms his love for Naledi in the most romantic of ways – sweeping the girl off her feet at every opportunity. They spend time at her place, one thing leads to another until they find themselves in a hot and steamy moment that had social media talking non-stop.
Qhawe's attempts to kill Lux backfire
Just like they always do, the Zulu brothers solve their many problems by killing. It's not a secret that anyone who threatens the Zulu family ends up dead.
Qhawe took Mqhele's word and waited for Lux at his workplace. When he sees him, Qhawe runs Lux over with his car and shoots him a couple of times but Lux still made it to the ICU.
We're not sure if Lux has nine lives or it's simply a fact that Qhawe needs some shooting lessons from Sambulo. Either way, they both go to the hospital in an attempt to finish him off. Qhawe goes inside the hospital ward, only to be interrupted by Naledi, who works in the same hospital.
Mqhele took it upon himself to go and finish the job he started and just like that Lux becomes the least of their problems – which begs the question, will someone at the office get a hold of the USB containing the backup of the article Lux penned before he died? 
Episode 36 – Bontle gets hold of an important piece of information
One of the detectives working on Lux's case brings his belongings to the office and Bontle gets hold of a USB that Lux used to save the article with all the information that exposes the Zulus brothers' secrets. She takes a closer look at it and is shocked with every revelation.
She wasn't aware of the type of family that Hlomu has married into. Meanwhile, Mqhele tells Zandile and Nkosana that Lux is dead and he's the one that killed him.
They toast to the end of their problems, but is it really the end?
Just as they think they're in the clear, a front-page story is printed about their involvement in many heists comes. Will the Zulu brothers get away with everything they've done? From the CIT heists down to all the people they have killed?
This could be the last nail in the coffin for the Zulu brothers and we're here for it.
Naledi gets kidnapped
One thing we've come to understand about the Zulus is that when they love, they love hard. First, it was Mqhele and Hlomu, then Nkosana and Zandile, and now Qhawe's ready to take the next step with his love, Naledi. He went out of his way to decorate Naledi's place with a romantic setup full of flowers, and proposed to her. 
Naledi wants to tell Qhawe something, but before she can do that, a group of guys storm into her house, and an intense fight breaks out.
Qhawe tries to fight them alone but they defeat him and get away with Naledi. Knowing Qhawe's brothers, this is a declaration of war as they fight tooth and nail for their own and best believe this won't go down well come Season 3.
Binge-watch Seasons 1 and 2 of Showmax's riveting telenovela, The Wife.