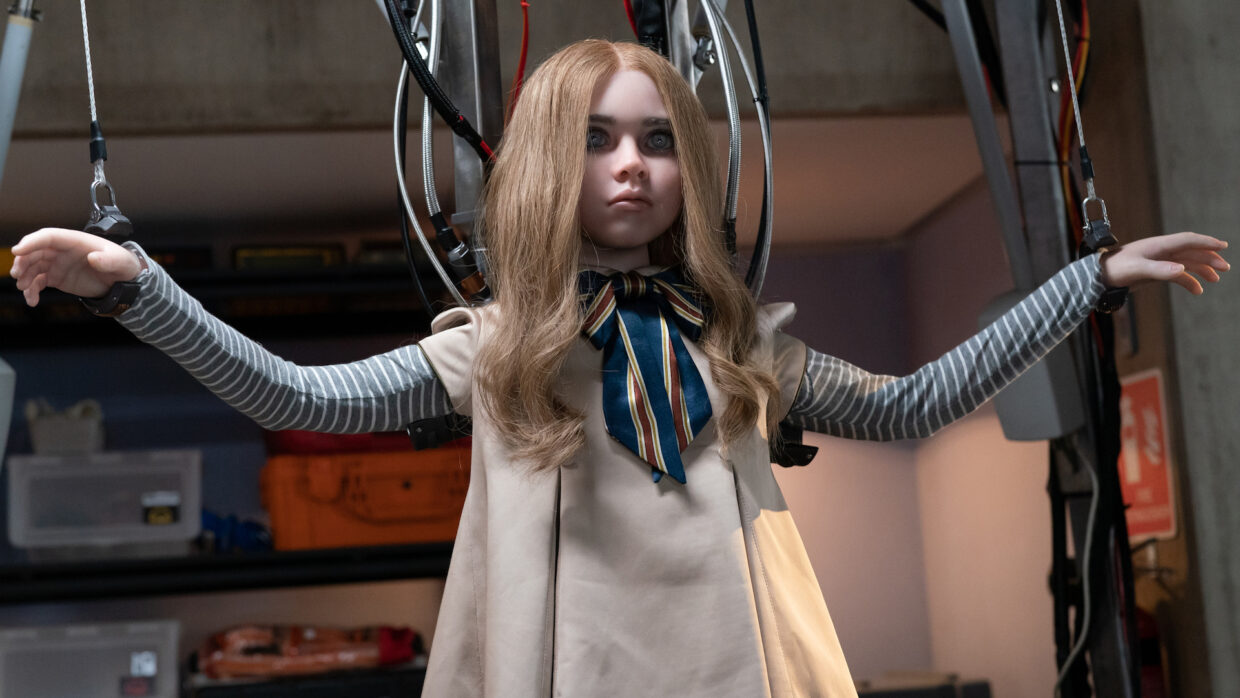 By Gen Terblanche15 September 2023
Be iconic for Halloween: get your outfit inspiration from these shows and movies
To stand out in the crowd at spooky season, you have to be specific. This year, zombies are mould, but Clickers are gold. And the Yellowjackets will eat lazy soccer players and leave no crumbs. So whether you're a squad, an inseparable trio, a power couple or a lone wolf, Showmax has loads of looks that are just too fun to ignore. Here are 10 suggestions to lure you into our haunted house.
Our Halloween hot tip! Paint a body suit, not your body.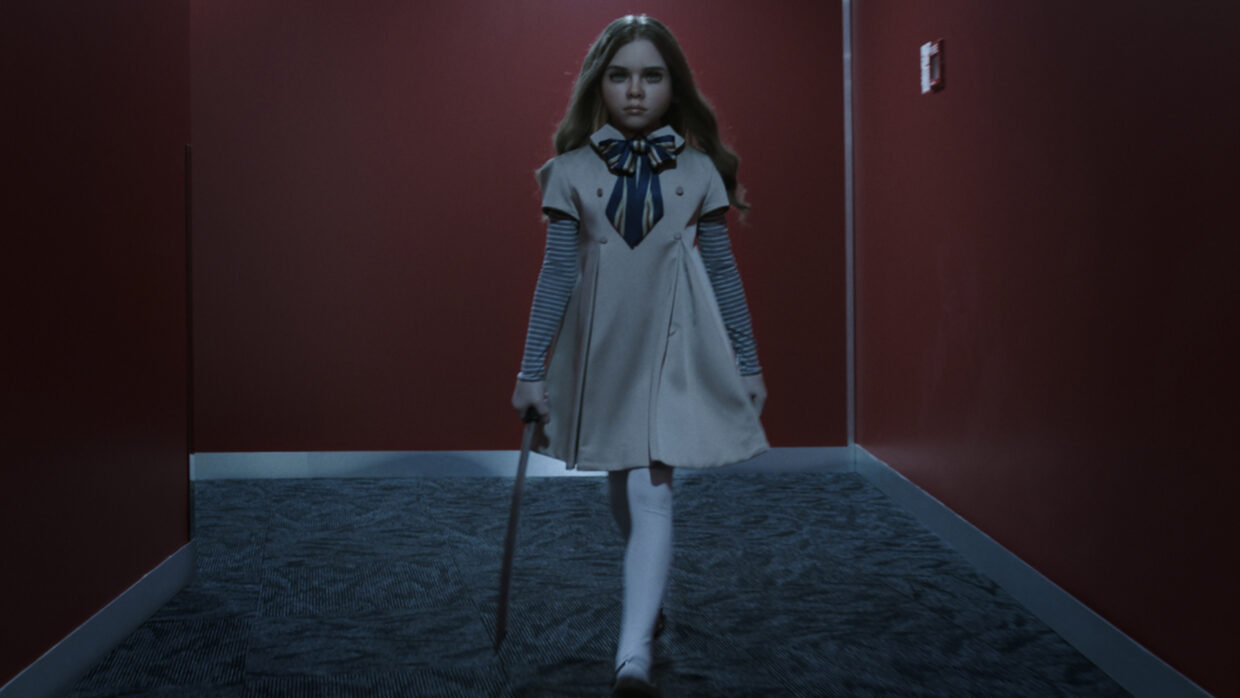 Looking for a doll outfit that slays? Be a M3GAN in a Barbie world. This techno thriller about a killer android in the shape of a tween girl had the world obsessed. And if you want a couples costume, why not make it doubly deadly with M3GANHeimer? Check out the real Oppenheimer's looks in the documentary To End All War: Oppenheimer & the Atomic Bomb.
Practise: Running on all fours, a stiff, determined walk, and The Dance.
You will need: A camel-coloured babydoll dress with a peter pan collar, and a huge striped bow to tie under the chin, cap sleeves and double row of buttons on the chest, long-sleeved grey and white striped undershirt and white tights, classic black school-shoe-style with the strap and buckle over the top of the foot. You will also need the blade from a paper guillotine, a blonde wig and a silicone face mask (or mimic the face mask look with makeup). Order now and you can probably get this whole outfit online.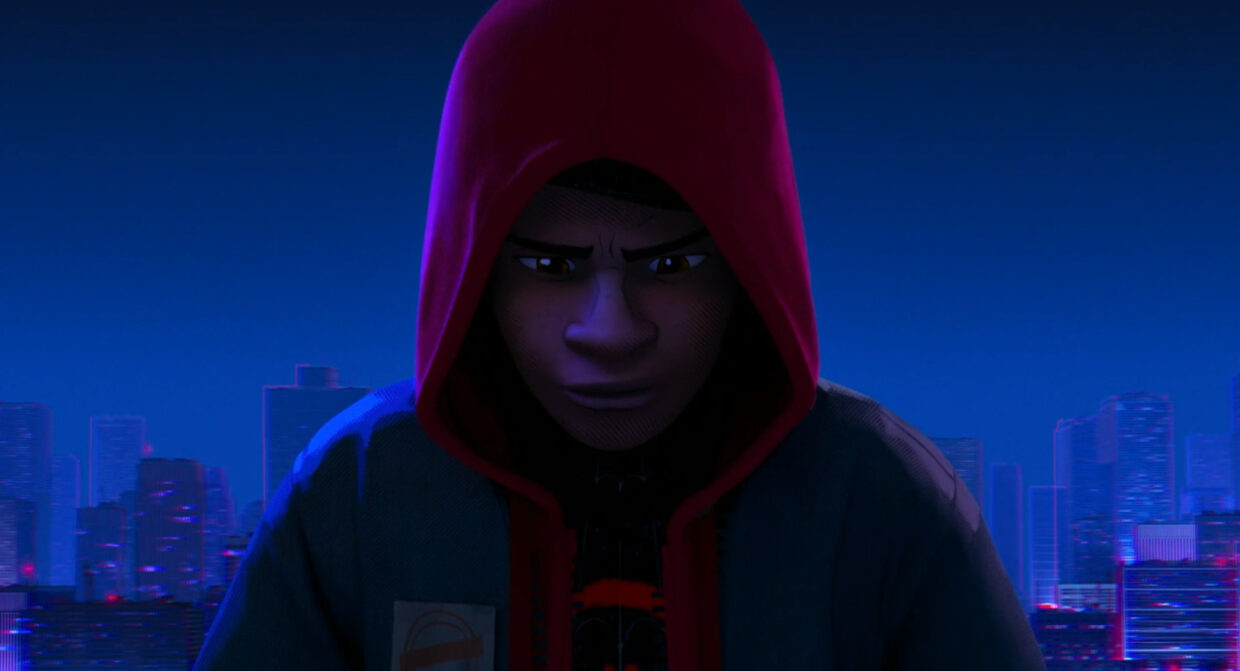 The world goes into mourning when Spider-Man dies in the animated film Spider-Man: Into the Spider-verse. So when Miles Morales is bitten by a radioactive sewer spider he tries to honour his hero by whipping up his own Spider-Suit as he hits the street. And because in this world, anyone could be Spider-Man under the mask, the film includes options for everyone including the Gwen Stacey/Spider Woman white, black and pink suit, and multiple universe Spider-Men including Spider-Man Noir, Peni Parker and Spider-Man 2099.
Practise: Leaping around, sticking your superhero landing, and squatting like a spider.
You will need: Civilian clothes to wear over your spidey suit: a blue fleece windbreaker, red zip-front hoodie, white T-shirt, too-short blue joggers (Miles struggles with pants length), white sport socks with two red stripes at the top, and Nike Air Jordan 1 Retro High OG Sneakers (or swoosh a pair of high top red and white sneakers yourself). Then make Miles's iconic black and red Spidey suit by painting the pattern in white fabric paint (which you'll then cover in red) on top of runner's black compression tights and long sleeved top with running gloves and a full-face ski mask. Wear with a sock boot – just paint the mid-sole red.
Watch Spider-Man: Into the Spider-Verse now »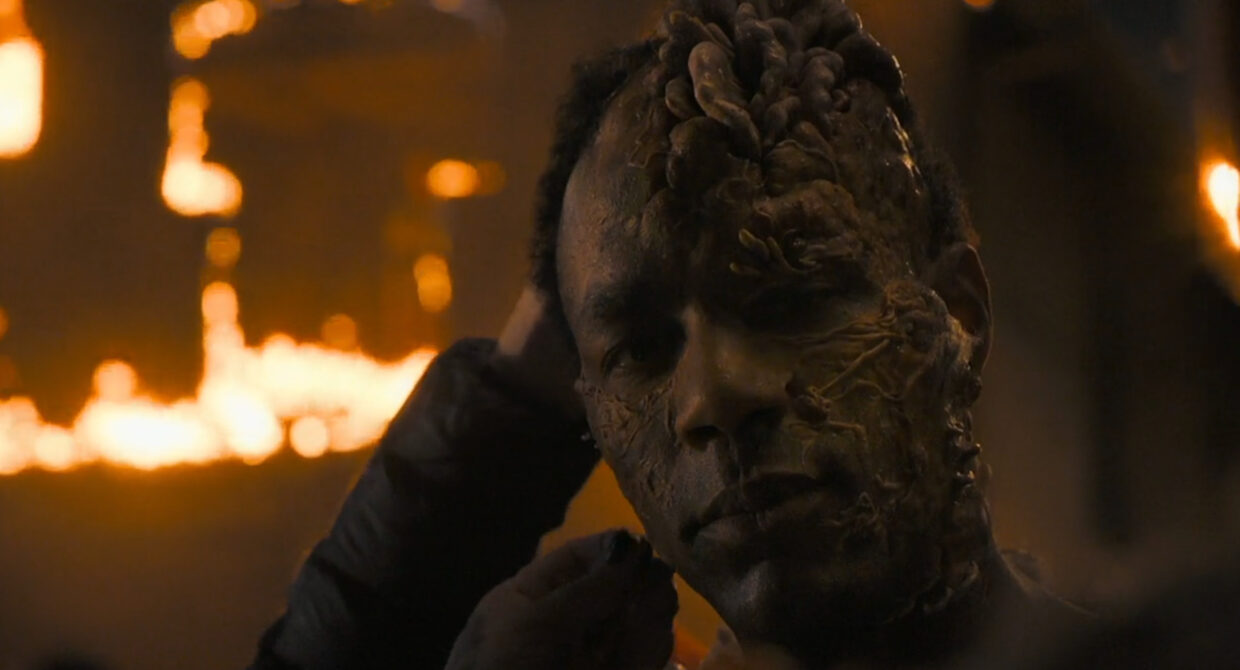 Sure you could put on your best post-apocalyptic road clothes and walk across your city as Joel (Pedro Pascal) or Ellie (Bella Ramsey) on a mission, but don't you want to go all out for Halloween? We're in the midst of a cultural mushroom craze and there's never been a better time to join the mycorrhizal network. Anyone can become one of the zombie-like Infected, just pick your fungal phase, from Stalker, to Clicker, to Bloater.
Practise: Communicate in rasping noises, shrieks, and clicks, walk with sudden lurches, or shamble relentlessly, or just stand there until you blend into the wall.
You will need:
Stalker: Your best I"m dead" face makeup, dirty clothes, a little icky webbyness, and some mushroom-like fungal growths on the face and body (make your own from light-weight paper mache or silicone and attach with body-safe glue). Paint as much on a bodysuit under-layer as you can.
Clicker: Full-on, glorious mushroom in bloom. Build up your face mask and mushroom crown with paper mache, and shred your dirty clothes down until they're barely clinging to decency. Then build up texture with latex or hot glue on a body suit, and paint everything with fabric paint so you don't need a six-hour shower later.
Bloater: Get your hands on a foam mattress and stuff as much of it as you can down a painted bodysuit. Lumpy and bumpy is beautiful. Really build up the layers on the outside of the suit, too. Your head/face should have no human features. You want to look like a drunk, sick version of The Thing from The Fantastic Four.
And go in-depth on the costumes in Making of The Last of Us.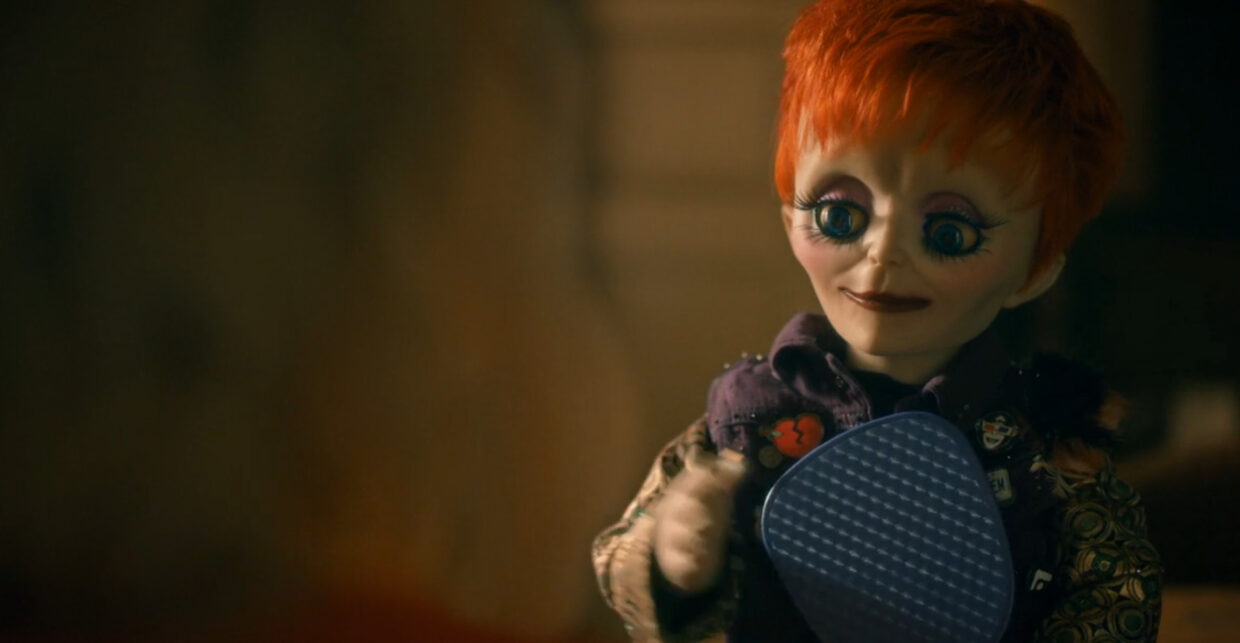 Great for adults, hilarious for toddlers (especially if you let them wave a knife around)! The serial killer-possessed boy doll from the Child's Play movie franchise and Chucky TV series has been a Halloween classic since 1988. You can put together a couples costume with Chucky's greatest frenemy, Tiffany, and if you're a merry trio, toss in Chucky and Tiffany's child, Glen/Glenda or GG. If your squad dresses as Chucky, you'll echo his plot to take over the world with a horde of Good Guy dolls at the end of Chucky Season 1.
Practise: That mean, crunched up little smile with evil arched brows. And for GG, a British accent.
You will need:
Chucky: Blue denim bib overalls, a colourful striped long-sleeved shirt, and red Converse-style sneakers. Team it with a chunky ginger bobbed wig, a stabbin' knife and lay down some thin black thread and skin-safe glue to give yourself puckered facial scars. Use dark makeup around your eyes and really arch those eyebrows.
Tiffany: A black biker jacket over a 1950s-style, tea-length wedding dress, paired with a black velvet choker, a bouffant blonde wig with dark roots and big, black boots. Goth makeup and skinny brows.
GG: A cropped ginger wig styled by a drunk baby, with a colourful long-sleeved dress shirt under a dark blue puffer vest, paired with a black tulle skirt. GG favours full drag makeup with masses of purple eyeshadow, pink blush, false lashes, with dark red lipstick and black nail polish. The necessary accessory is a licence plate-style lapel pin with GG's pronouns they/them on it.
Jordan Peele squad in Us, Nope and Get Out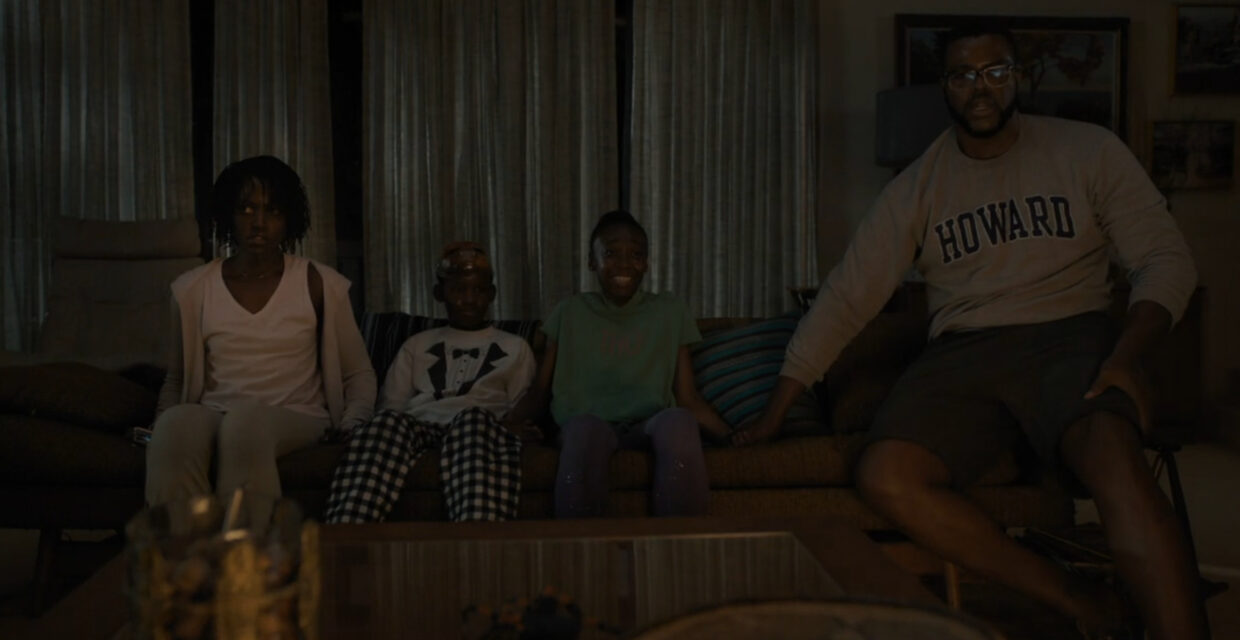 BFFs could pull off the ultimate triple threat as characters from Jordan Peele's horror trilogy, Us, Get Out and Nope. Us delivers a soulless underclass of tunnel-dwelling clone doppelgangers who mimic their counterpart's every movement (making it a brilliant if creepy couples costume). Nope's alien invasion story centres on Black siblings running a horse training ranch and wardrobe is pared back but it does give us Emerald Haywood's (Keke Palmer) outfit for her heroic motorbike ride. And Get Out would be the mixed-race couple's outfit of the night if you like to make people squirm – or your BFF could play TSA officer Rod (Lil Rel Howery), who rescues his best friend Chris (Daniel Kaluuya) from his white girlfriend Rose's (Alison Williams) bodysnatching family.
Practise: Saying "Nope!" and leaving situations you aren't into at Halloween, yelling at people to Get Out, or staring creepily and mimicking actions while gurgling.
You will need:
Us: A red overall that stops above the ankle, with leather sandals. And, for the most eye-catching tethered, wear it with a white ski mask, tan leather driving gloves, and a pair of scissors.
Nope: Keke Palmer's biker outfit rules! Attach some yellow crime scene/caution tape at the chest and arms as if you just rode through it. The look is hand-me-down chic in a yellow bandana, a green and yellow soccer player's shirt with the number 2 on it (a short-sleeved Springbok shirt would work if you add 2 yellow stripes going in the shoulder), worn with tan cargo pants and desert boots.
Get Out: For Chris, his "cosy clothes" are a light grey T-shirt with blue chambray collarless button-up and casual black pants or dark wash jeans (carry a camera). For Rose, a white poloneck top or fitted white collar shirt with tan skinny jeans and hair pulled back in a ponytail (carry a glass of milk with a straw and a pack of photos of yourself with Black "boyfriends"). And for Rod, an airport security officer's uniform and glasses, and an aura of constant suspicion.
Watch Us, Nope and Get Out now.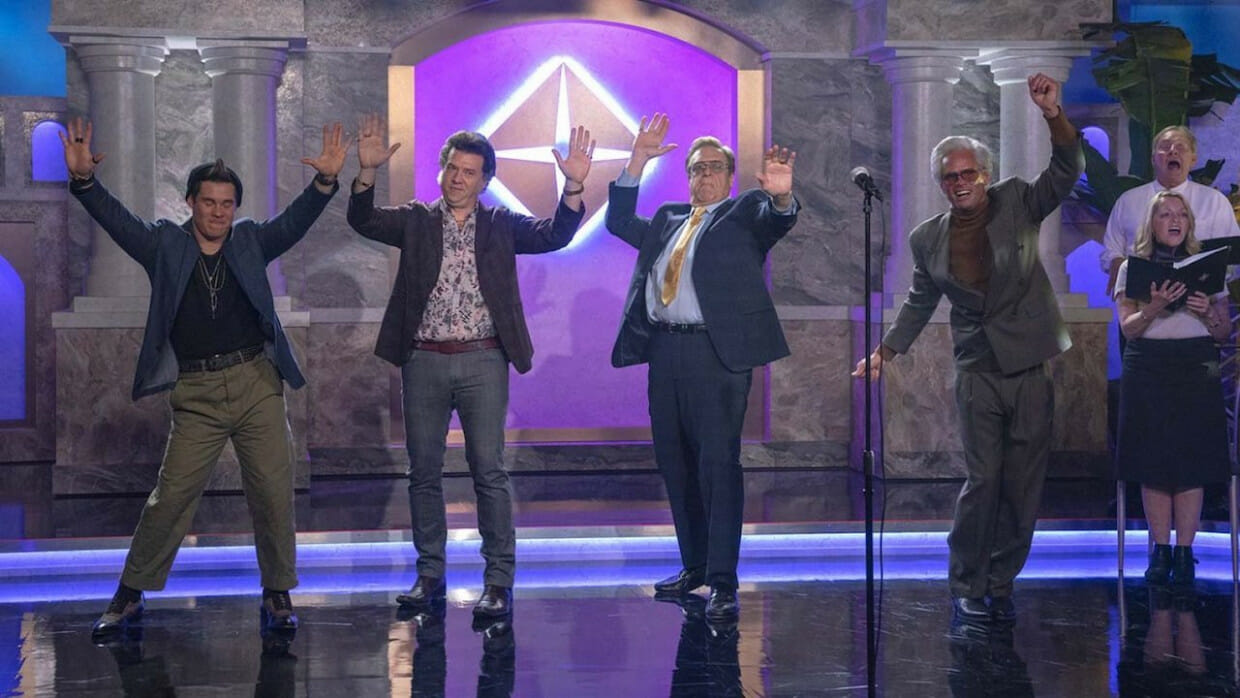 From the moment we saw televangelist Baby Billy (Walton Goggins) – host of the Baby Billy's Bible Bonkers game show – at the start of The Righteous Gemstones Season 3, episode 3, we saw the light. For his musical performance at the Gemstones family's Christian beach resort, Zion's Landing, Baby Billy wears a sparkly blue suit with a giant oyster shell behind him (designed by Christina Flannery), and it's a revelation.
Practise: Baby Billy's song Pay Day, and a flirtatious little hand-wave as you sway to the music. Tell people, "Baby Billy loves you so much!".
You will need: An aqua-blue cropped, beaded jacket with a spread collar, with matching high waisted bootleg cut pants and a cummerbund. A peach satin undershirt with a turtleneck and flounced cuffs. A white men's wig, gold microphone, multiple gold signet rings, blue tinted Aviator-style glasses with a clear plastic frame, and white leather shoes. Then you'll need to velcro a giant, lightweight white oyster shell with blue edges to the back of the jacket as if you're an extra fancy ninja turtle.
Watch The Righteous Gemstones S1-3 now »
There's a great range of 1950s styles for couples outfits for everyone in Don't Worry, Darling. It's the Harry Styles-Florence Pugh horror-thriller film about a neighbourhood named Victory where the ladies all stay home like glamorous house-cleaning robots while their husbands drive off for top secret jobs. You can choose from his and hers grownup glamour, or grubby hospital gowns with filthy, bruised faces and stringy hair. Or why not one of each? It's all about how much effort you want to put in, darling.
Practise: Your Stepford smile, baby voice and cocktail mixing skills, or a patronising tone and drinks with the boys. Gaslight, gatekeep, guy boss!
You will need: The film has some fun casual styles, but you need to lean into its studied perfection. So it's a slim-fit 1950s-style suit and tie for him (most modern suit cuts will work) with a pocket square and polished shoes. The hair must have short back and sides and be tightly controlled. For her, build up from shape-wear that nips your waist and smoothes your silhouette. On top of this you'll need a white fit-and-flare cotton sundress with narrow shoulder straps, a close-fitted bodice with a sweetheart neckline, and a skirt that ends just below the knee. The dress has a lot of texture, but the real eye-catching detail is the giant bloodstain on the centre right hand side. With such a bold look, the hair is simple, worn down aside from a section that's drawn back from the face with a black ribbon or grip clip. If you wear shoes, choose plain, black high heeled pumps … but you can run faster without them.
Watch Don't Worry Darling now »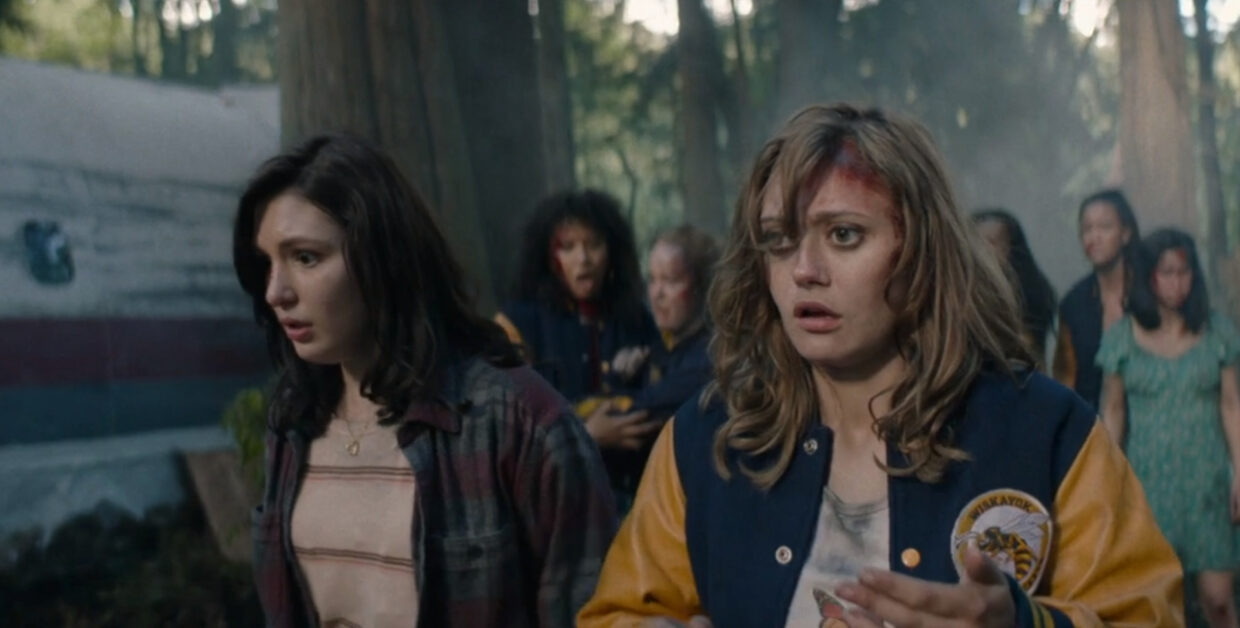 A girl's soccer team turns to cannibalism when they're stranded in the wilderness for two years after a plane crash. So what we're hearing is it's the girl squad costume of the year!
Practise: Hunting people as a pack while screaming and baying for blood.
You will need: For the base costume, blue women's soccer uniforms with blue and yellow collars and yellow player numbers, worn with white socks and 3 blue stripes. Then make over each player in your team with a Yellowjackets injury: Van with half her face torn open by wolves and partially burned hair (one of those furry wolf hats could make the look). Jackie (Ella Purnell) with "frozen" makeup and a sign on her that says Eat Me. And Laura Lee (Jane Widdop) looking burned and carrying a burned teddy bear. You can also include surviving players like Shauna (Sophie Nélisse) with a baby doll, Nat (Sophie Thatcher) with a toy rifle and a syringe, Lottie (Courtney Eaton) with an antler crown, Taissa (Jasmin Savoy Brown) with her face covered in blood and dirt, and Misty (Samantha Hanratty) with a rat, a waste bucket and an axe (but modern-day Misty is even more fun if you can track down a garish 90s tracksuit).
Watch Yellowjackets S1-2 now »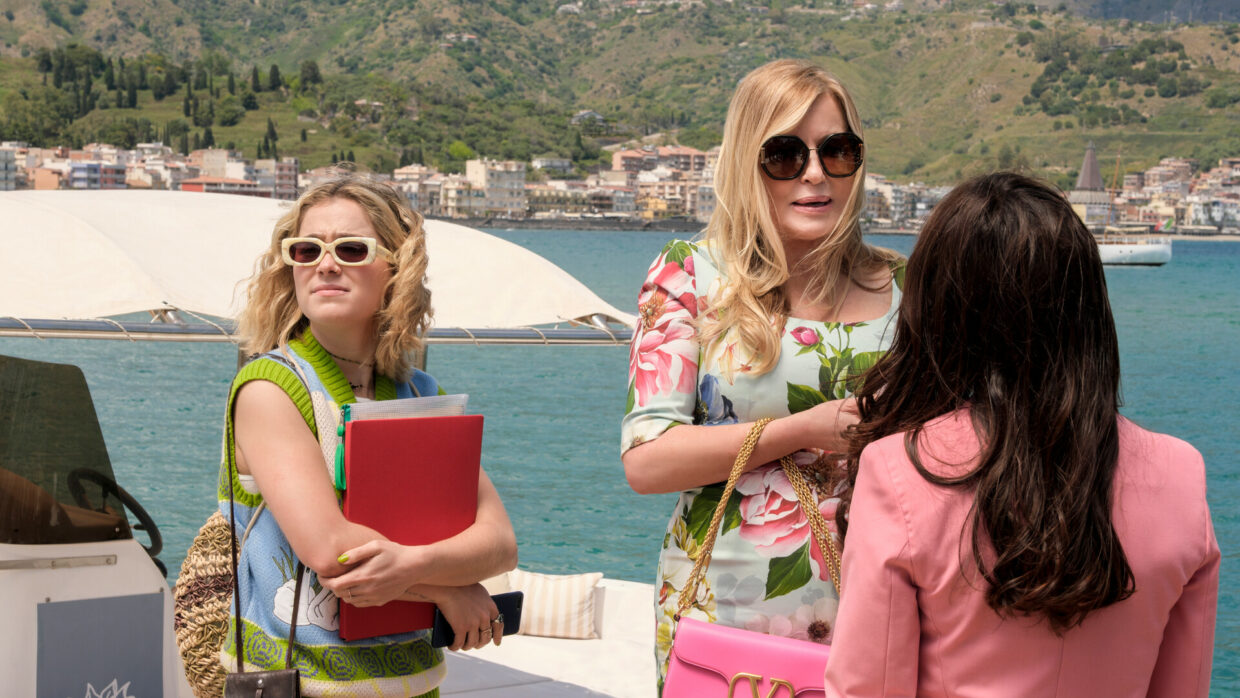 Float through Halloween causing chaos for everyone else when you dress as crazy-rich Tanya (Jennifer Coolidge) from The White Lotus. She's the world's most eccentric, oblivious, demanding and self-centred luxury resort hotel guest. She might look like Italian screen legend Monica Vitti, she might not, but don't mistake her delusion for stupidity, because she will end you.
Practise: Aside from your best Jennifer Coolidge squint and slur, pack in some of those iconic quotes like "Please, these gays! They're trying to murder me", "Death is the only immersive experience I haven't tried", or "I only have four hands".
You will need: An urn with someone's ashes in it and giant statement sunglasses. The hair is big and blonde and dry as straw under a billowing scarf. Then there's the dress. We're looking for a plunging neckline, bold pattern, something weird going on with the sleeves, cinched under the bust, and then the skirt ends somewhere unflattering, like mid-shin. If you wear a billowy caftan over a little black dress that also works, but there must be loads of loudly feminine fabric to swish about so you can feel your fantasy.
Watch The White Lotus S1-2 now »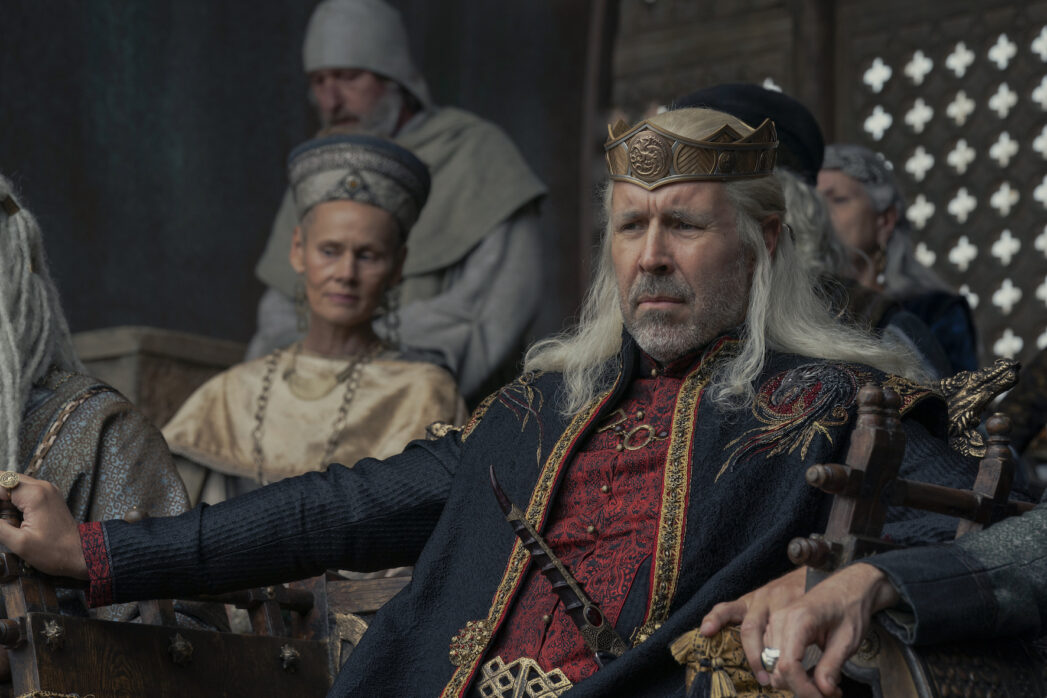 You have so many characters to choose from in the Game of Thrones prequel, House of the Dragon. Favourites include Craghas Drahar, aka The Crabfeeder (Daniel Scott-Smith) with his stringy hair, scabby skin and hammered gold mask. There's Corlys Velaryon the Sea Snake (Steve Toussaint) in all-black tunic, leggings and overcoat with white dreadlocks, and Daemon's (Matt Smith) dragon tournament armour. But for Halloween if you're looking for something rotten and nasty, look no further than the face of King Viserys (Paddy Considine) himself, after cuts inflicted by the Iron Throne refuse to heal.
Practice: Solve disputes wisely and shuffle up slowly to any chair at a house party while proclaiming, "I will sit the throne today."
You will need: A long white gentleman's nightgown, a sparse, stringy white wig with bald cap and wispy, patchy white beard. Visible facial skin should be grey, dry and flaking, while a gold half-face mask that matches your crown covers the rest. It's worth putting the work into both the crown and mask using paper, foil and paint, as they were huge fan favourites on the show. Then go to town on the effect makeup for a rotting arm, and a ghoulish reveal under the mask. Losing an eye is the Targaryen way.
Watch House of the Dragon S1 now »
BONUS
Taylor Swift flop era: Cats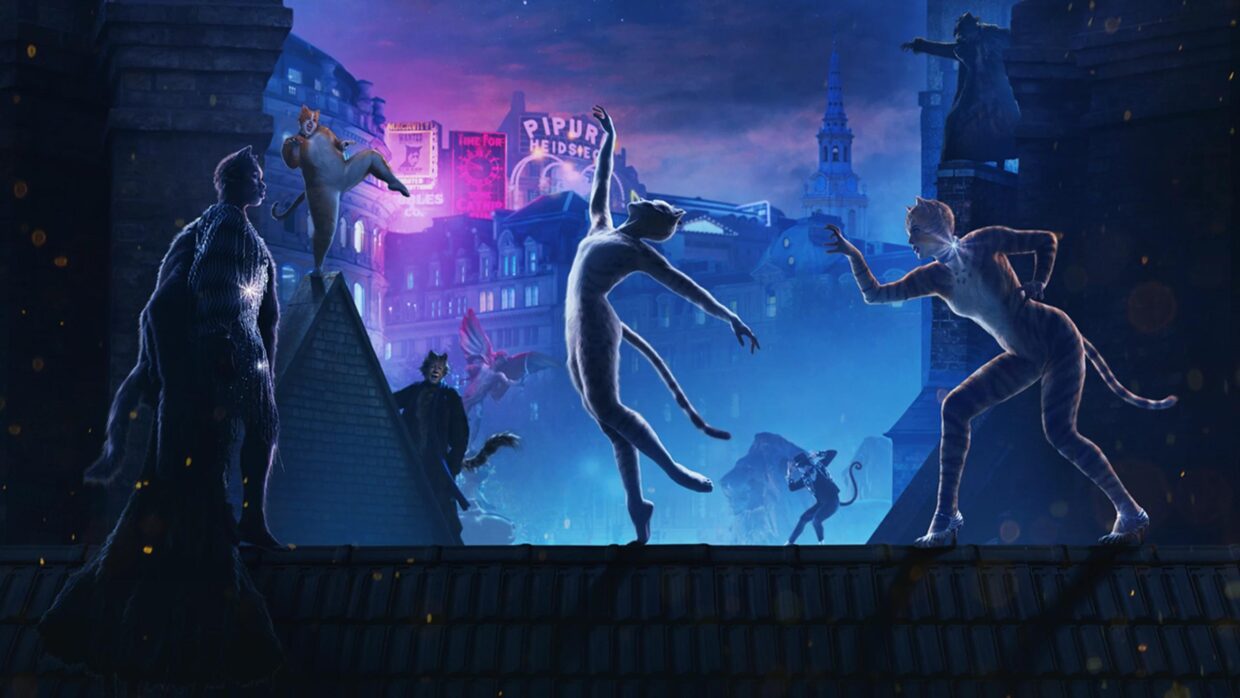 Everybody is going to be doing Eras this year, but Swifities, it's Halloween,how about some horror? We're going full furball into Cats – not Tayor's darlings Meredith Grey, Olivia Benson and Benjamin Button, but Bombalurina, Taylor's flirtatious ginger moggie character in the Cats musical movie.
Practice: Taylor's version of Macavity: The Mystery Cat now, sprinkle that glitter dust in the air, and be prepared to go up to random people to yell "He's got soul!"
You will need: A pair of strappy silver dance heels, diamante choker, a sparkly canister filled with catnip and glitter, skintight white or orange bodysuit, black, orange and white fabric paint, a white swimming cap, a pair of novelty furry kitty ears and a flexible tail. Bombalurina barely has fur, so don't fret too much about texture. The worse you make this outfit, the funnier it'll be.
Quick and fun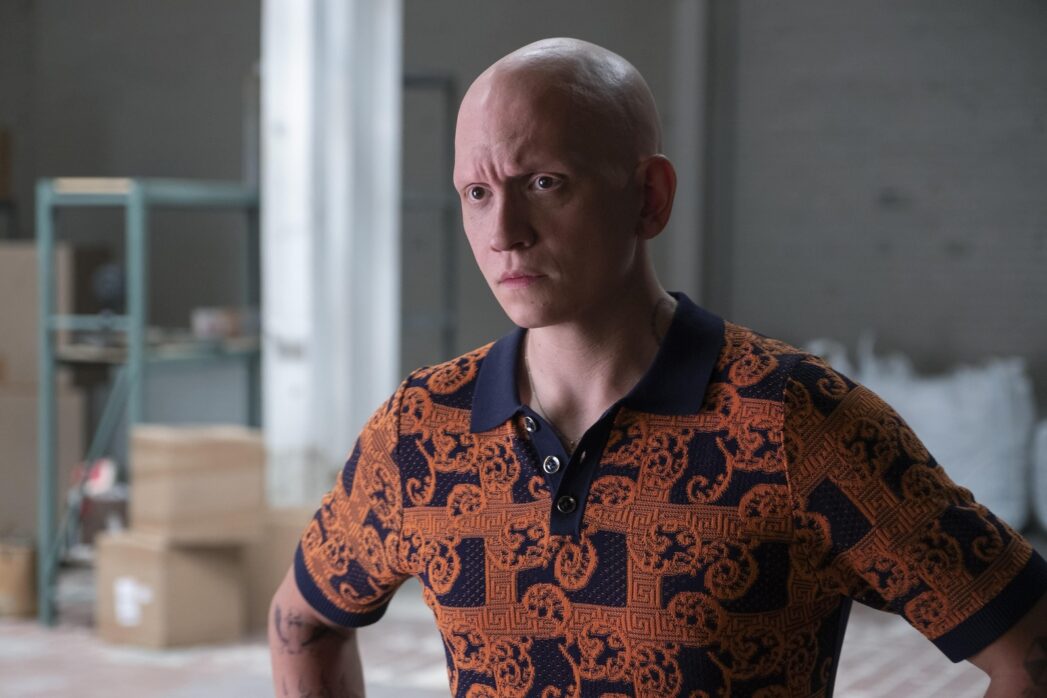 Blonde, blue and red pigtails, a red tulle dress and combat boots, and carry a javelin for classic chaotic Harley Quinn (Margot Robbie) in Suicide Squad.

Skinny black suit, white shirt with the collar up and no tie for Ah Sahm (Andrew Koji) or any of the sharp-dressed Hop Wei fighters from Warrior S1-3.

An slim-fit all-black three-piece suit and shirt with the right hair and attitude, plus your weapon of choice, and you're the assassin John Wick (Keanu Reeves).
Full warrior nun chic from Mrs Davis S1.

A pair of mint green women's workout shorts with a purple and white floral shirt and a short blonde wig on your bald head as a guy, and you're NoHo Hank (Anthony Carrigan) from dark hitman comedy Barry S1-4. Or go for the poncho, sunglasses and wide brimmed brown felt rancher hat with gold chain look for the iconic Season 4 New Mexico NoHo Hank look.
Cop-out costumes of the year
Wear business casual and claim it's "quiet luxury" from Succession S1-4. Designer labels are for peasants, apparently, so a privileged and entitled attitude will really sell the idea.

OR, dress way down and carry a protest sign to support the Hollywood talent strike. Solidarity!
Read more about horror stories on Showmax.
And see what else you can find on Showmax.