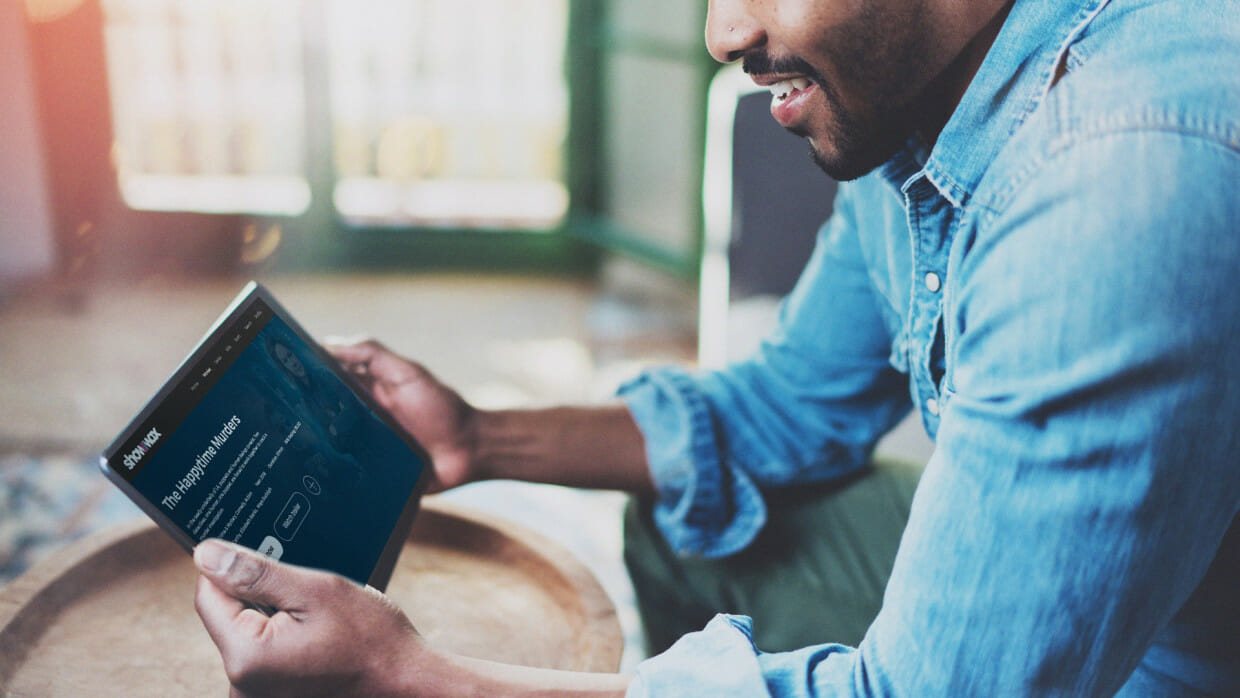 24 March 2021
How to pay with Showmax vouchers
If you don't have a cheque or credit card or are hesitant to make online payments, you can pay using Showmax vouchers. They're completely safe, quick and easy to use, and are available through a number of channels. Prepaid vouchers can be purchased at various physical and online retailers or through banks' loyalty schemes.
All you have to do is buy your prepaid voucher from any of these channels and then enter your unique voucher code at www.showmax.com/voucher to redeem it.
Here's a breakdown of the different vouchers available, with instructions on how to use them.
Prepaid vouchers from retail stores
Showmax prepaid vouchers can be purchased at selected Pick n Pay, Builders Warehouse, CNA, Dis-Chem, Game, Makro, HiFi Corp and Incredible Connection stores.
Choose Showmax standard and buy a one-month voucher for R99, a three-month voucher for R297 or a six-month voucher for R594.
Choose Showmax mobile vouchers, from selected partners, and get a one-month voucher for R39, a three-month voucher for R117 or a six-month voucher for R234.
Once you've bought your voucher, enter the unique code at www.showmax.com/voucher to redeem it.
Buy vouchers online from these stores
From 24 March 2021 to 31 December 2021, Sanlam Reality members with Wealth Bonus, Reality Club, Reality Core, Reality Plus and Reality Health memberships will be given free Showmax vouchers.
Once they've redeemed their free Showmax voucher by signing up to Showmax and selecting a payment method (which will be used only once their voucher is no longer valid), will get unlimited access to Showmax streaming for a certain number of months before they will start being billed, depending on their Reality membership.
Reality Health and Plus members will receive a five-month voucher from Showmax before being billed, Reality Core members will receive a four-month voucher, while Reality Club members will receive a three-month voucher and those with Wealth Bonus Lifestyle benefits will receive a two-month voucher.
Here's how to redeem your Showmax voucher from Sanlam Reality:
Login to the Sanlam Reality site and click on "Available vouchers".
Select "Redeem now" on your Showmax voucher.
You will be redirected to Showmax.com.
Sign up if you're new to Showmax, or sign in if you already have a Showmax account.
Your voucher will be applied so you can enjoy Showmax free of charge. You can also choose to redeem your voucher later. It will be emailed to you with a link to click on when you're ready to redeem it.
Find out more at sanlamreality.co.za.
On the eBucks Store page, select Vouchers, then e-Vouchers, and scroll down for the three different values of Showmax voucher you can buy – for one, three or six months. Depending on your eBucks reward level, you could save up to 40% on a six-month voucher. You can also buy the six-month voucher using FNB's banking app. Once you've bought your voucher, enter the unique code at www.showmax.com/voucher.
Go to the UCount Rewards Online Mall. This will give you two options – to either buy the voucher Prepaid or to Recharge your Showmax subscription directly using your email address that's captured on the UCount site.
If you choose to recharge, you won't have to capture the voucher code, making the process much simpler and easier.
Choose to use your credit cards or rewards cash to purchase the voucher. If you choose Prepaid, you'll follow these steps: click "Add to cart" and "Checkout". Then follow all the prompts (Contact details, Payment then Confirmation). You will receive an order summary to show that you have placed the order successfully. You will then receive an SMS with the voucher code and an email with the steps on how to redeem your Showmax prepaid voucher at www.showmax.com/voucher.
How to redeem vouchers
Purchase your voucher through one of the channels mentioned above.
Once you've received your Showmax voucher code, go to www.showmax.com/voucher
Enter your code in the text field and click the pink button to redeem the voucher.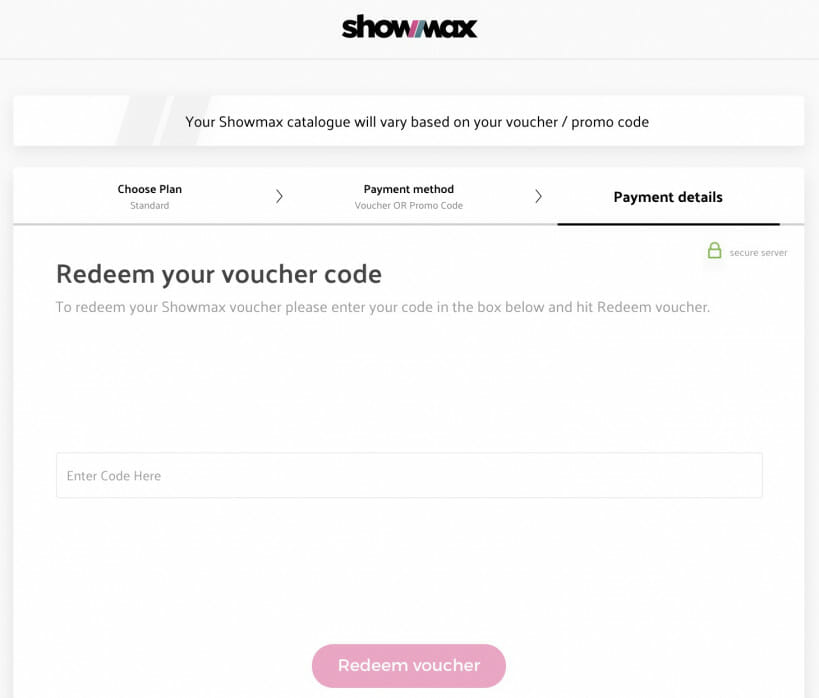 And now you're all set to enjoy a massive line-up of movies, series, kids' shows and documentaries on Showmax wherever and whenever.
For more on using Showmax vouchers, go to www.showmax.com.