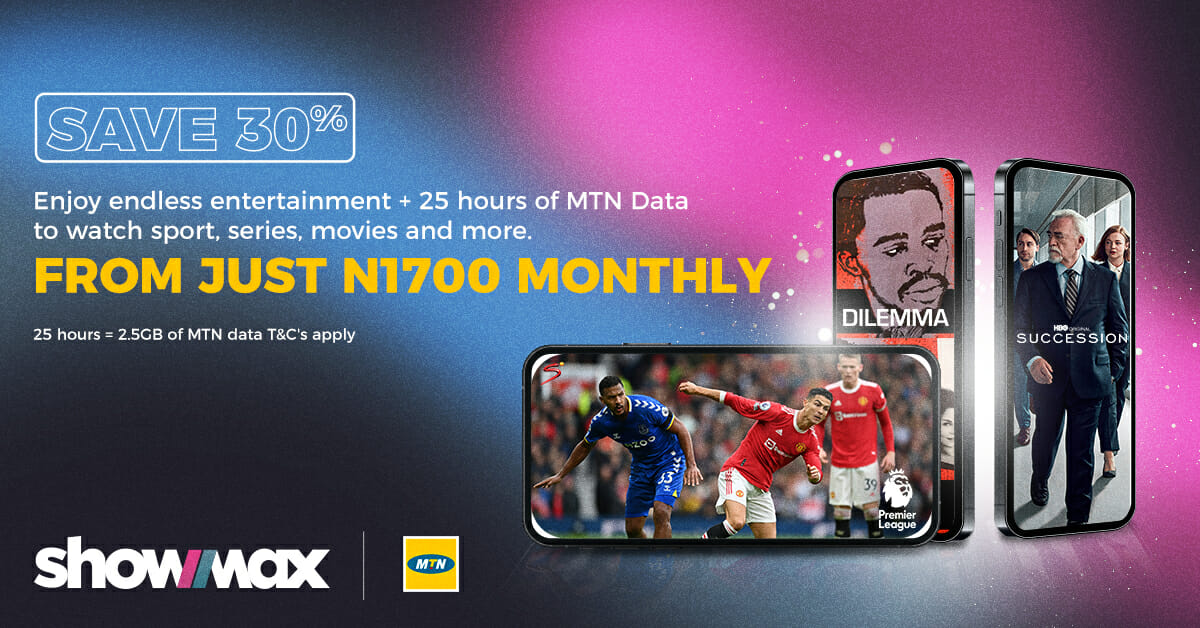 19 October 2021
Get a Showmax bundle deal from MTN Nigeria from N1,700 a month
Good news for streaming fans in Nigeria. Showmax has partnered with MTN to offer a great deal: buy your MTN data bundled together with a Showmax Mobile or ShowMax Pro Mobile subscription at one low price point.
How it works
Go to www.showmax.com/mtn.
Select your bundle:

2.5GB + Showmax Mobile or 2.5GB Showmax Pro Mobile, OR
5.5GB + Showmax Mobile or 5.5GB Showmax Pro Mobile.

Create your Showmax account, or if you are already a Showmax subscriber, sign in.
You will receive an OTP via SMS. Enter the OTP to verify your purchase.
Next, you will receive a pop-up to confirm that this is a once-off transaction. Choose Accept.
Start watching Showmax.
Payment is made using your MTN Nigeria airtime. You will receive your data bundle after the transaction.
This data is only valid for watching Showmax, and not other online activities. If you run out of data, dial *131# /*447# to purchase a new data bundle.
Your Showmax Mobile or ShowMax Pro Mobile subscription is valid for 30 days.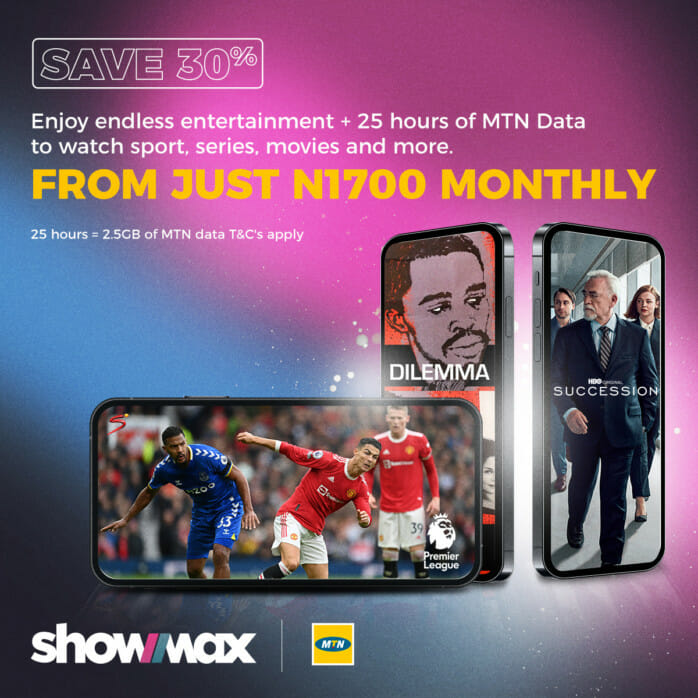 Terms and conditions
Once a customer subscribes to the offer they will receive a bundled data allocation for 30 Days as long they have a valid subscription.
Showmax bundle is only available to active MTN subscribers.
Showmax bundle is also available to new and existing Showmax subscribers .
Once a customer purchases a Showmax bundle, they will be awarded their data allocation and Showmax subscription valid for 30 days.
The customer will receive their data allocation bundled with the Showmax subscription service.
Unutilized daily data resources will not rollover to the month.
The Showmax data bundle is restricted to only the Showmax app, except for binge bundles which provide an additional data allocation for the internet.
A customer cannot subscribe to a bundle multiple times for as long as they have an existing active Showmax bundle
Upon exhaustion of their daily data allocation (from the Showmax bundle) customers will be required to subscribe to existing bundles to enjoy browsing.
Streaming or downloading of Showmax content will deplete the data from the internet connectivity that is being used to access the service. Data will be charged at standard data rates as per the subscriber tariff plan.
Data from the bundle will be used first in order of the date it was purchased.
Trial periods
Customers who sign up for this deal will not be eligible for a trial period.
Changes to Subscription Packages
If a customer switches from the Showmax Mobile or Showmax Pro Mobile package allocated to this deal, the New Showmax subscription package will be billed from the start and a subscription credit will be created for any remainder Showmax Mobile or Showmax Pro Mobile subscription days to be used at a later stage determined by the subscriber.
When a subscriber changes from this deal subscription to any other Showmax subscription, no additional data will be provisioned.
Technical Parameters for Showmax Mobile
The Showmax Mobile and Showmax Pro Mobile Subscriptions are subject to the following product features, that are unlike that of the Showmax standard package subscription:
Only 1 device can be registered;
Only 1 concurrent stream only can be viewed;
Playback is on Mobile devices only;
Standard Definition (SD) quality streams only;
Casting and Airplay is disabled, but downloads of Showmax Content are enabled on the Showmax App.