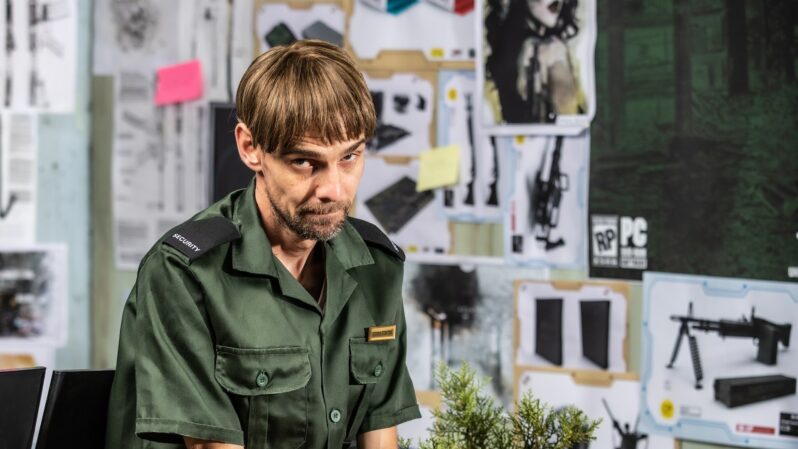 "I love playing really weird and out-there characters." Carel Nel on his creepy new role in Pulse
Watch all of it now
In the Showmax Original horror series Pulse, now streaming, a group of game creators discover that survival is no longer just a game when an electromagnetic pulse bomb fries every electrical circuit in their office high-rise – and people's heads.
Sam Wright caught up with Carel Nel, the two-time Silwerskerm winning Rage and Gaia star, to find out more about his creepy role in the show, which was picked by The Hollywood Reporter as one of the 25 buzziest series at this year's MIPTV, a leading global TV market in Cannes, France.
How did you get into acting?
I got into acting when I was at school. I was very bad at sport and tone deaf, so I couldn't sing in the choir. My English teacher said I should maybe try and do a play. On opening night, I thought, "Oh, well, hang on, I'm not bad at this." So I went on to study drama and theatre arts.
How would you describe Pulse?
A bunch of game developers are burning the midnight oil when there is an electromagnetic pulse bomb, which almost, in a way, puts them into their own game, almost like life imitating art. They have to figure out what the hell is going on and battle their way out of the building. Each level has its own challenges, just like a game.
For someone who is about to watch Episode 1, how would you describe your character?
Eddie is a security guard in the building. He is a massive gaming fan; he's like a Blue Bulls rugby fan to gaming. He loves this particular game very much and wanted to be as close to the game as he could possibly be. He is infatuated with the game creators and he has access to the CCTV cameras and can see what they're doing. They are making a reboot of the original and he isn't happy about it. He wanted them to be more creative, go further and make it even better. So he's quite disappointed about what they're doing with the game.
What attracted you to the show?
I've worked with the director [multi-award-winner Sallas de Jager of Dominee Tienie and Free State fame] before. He called me up about two years ago, somewhere in the beginning of the pandemic. He said he wanted me to audition for this show and he sent me through some of the scripts.
I looked at the character and it's really a fun, cool character to play. He's a bad guy, there are lots of twists and turns, and he is just cooked. I love playing really weird and out there characters. You can really have a lot of fun with it. I always look for characters who are different, where I can reinvent myself.
What sort of research did you do to help become an obsessive video game fan?
For me, to get the essence of Eddie was to understand him. His obsession with gaming, I understand. I play games myself and I'm a fan. The gaming obsession, for me, wasn't something I needed to research. You can have an obsession with anything. He has other psychological problems I did a lot more research on. He pulls his hair out of his head and he has issues with his mother. I tried to find the essence of who he is as a human and why he does what he does.
You mentioned you play games; what games do you play?
My favourite games over the past couple of years have been The Last of Us 1 and 2. I really love those. I play Warzone with my friends online. We also play FIFA. For me, gaming is great, especially during the pandemic. It's a way to socialise and a form of entertainment. 
Why do you think gaming has become such a focal point in the narratives of TV shows and movies?
I think it comes down to money at the end of the day. The gaming industry is bigger than the film and television industry combined, in terms of the amount of money it generates.
Also, the storytelling aspect of gaming has really improved in the past eight or nine years. The writers of the games are incredible. I know writers who play video games because of the storylines.
What was the hardest part of the shoot for you?
Working in a pandemic was difficult. There was the constant anxiety about getting Covid. We were all vaccinated but if you got it you'd have had to be isolated for ten days and it would have been a big issue. That was a big anxiety for me because you want to make sure you can finish the job.
What was the highlight of the shoot for you?
I love my job. I really love to work. One of my best friends, Albert [Pretorius, of Nêrens, Noord Kaap and Johnny Is Nie Dood Nie fame], worked on the show with me and it was great. We've been friends for twelve years and we've never worked together. This was our first time on set together so for me that was a personal highlight.