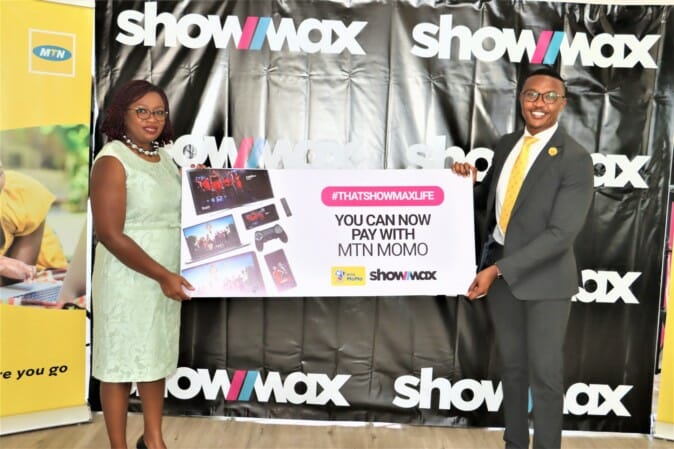 18 October 2021
Showmax adds MTN MoMo payments in Zambia
Get Showmax with MTN Momo
Showmax and MTN have partnered to make it easier for Zambians to pay for the streaming service.
Showmax, the streaming service that bundles the best of African and international entertainment with live sport from SuperSport, is simplifying payments in Zambia by partnering with MTN Mobile Money (MoMo).
As part of its local-first strategy, Showmax tailors the content, apps, packages and partnerships to what is most important to subscribers in different countries. The launch of MTN MoMo payments removes the need for a bank card to pay for Showmax in Zambia as customers can pay with their mobile devices. This follows the earlier rollout of the payment method in Ghana and Uganda.
"We're always looking at ways of improving the Showmax experience. Making it possible for Zambians to pay in local currency as well as using MTN MoMo is just one of the ways we're customising Showmax for the country," says Stephen Riome, Chief Expansion Officer for Showmax.
Mobile streaming is an important consideration throughout Africa, which is why Showmax offers a mobile-only version of the standard and Showmax Pro subscription. The mobile plan gives full access to all the content on Showmax or Showmax Pro for half the price. The Showmax app also includes data-saving settings that limit data usage while streaming to less than 100MB per hour. Sign up for Showmax here.
"MTN Mobile Money in Zambia continues to expand its networks and partnerships to enable our cherished customers to enjoy the widest bouquet of services. Entertainment and rich media services coupled with smart payment solutions remain key components of our offers and we are very excited to cooperate with Showmax to make our customers lives brighter," says MTN.
Showmax includes popular local content, like the latest seasons of Mpali, Zuba, Snakes & Ladders, Date My Family Zambia and Our Perfect Wedding Zambia, as well as Remembering Dr Kenneth Kaunda, the BAFTA-winning film I Am Not A Witch and Doin' My Drugs, a captivating documentary that follows the life of Zambian-born HIV activist Thomas Buttenschøn.
Showmax Originals like the reality series Temptation Island SA are already fan favourites with Zambian subscribers, while Showmax's first telenovela, The Wife, is sure to be a hit. Also look out for Famous, a drama set in Kenya's music industry, that's streaming first on Showmax, and the upcoming Showmax Original The Real Housewives of Lagos. 
International shows feature the best of HBO, like Succession, Insecure and Game of Thrones, and popular series like House M.D. Kids' favourites include Ben 10 and DC Super Hero Girls, which is first on Showmax. Hollywood blockbusters include Oscar winners like Parasite and Minari, the new Christopher Nolan action movie Tenet, and the animated family film The Croods: A New Age.
Showmax Pro features all Premier League, Serie A and La Liga matches plus a wide range of live sport from SuperSport including pro boxing, international marathons and IAAF athletics on top of the full Showmax entertainment catalogue.
What is MTN MoMo?
MTN Mobile Money (MoMo) is a fast, simple, convenient, secure and affordable way of transferring money, making payments and doing other financial transactions using a mobile phone.
How do you pay for Showmax with MTN MoMo?
When signing up for Showmax at showmax.com, first register with a valid email, select a password and follow the steps:
Choose your Showmax package
Enter your MTN number to receive an OTP (One Time PIN) on your phone
Enter the OTP to verify your MTN number
Click 'Pay with MTN MoMo'
Check your phone for payment request
Enter your MTN MoMo PIN (MM PIN) to approve payment
You'll receive an SMS or email confirming payment
Start watching your favourite shows.
Pricing for Showmax in Zambia
| | | | | |
| --- | --- | --- | --- | --- |
| | Showmax | Showmax Mobile | Showmax Pro | Showmax Pro Mobile |
| Zambia | ZMW 192 | ZMW 72 | ZMW 432 | ZMW 216 |