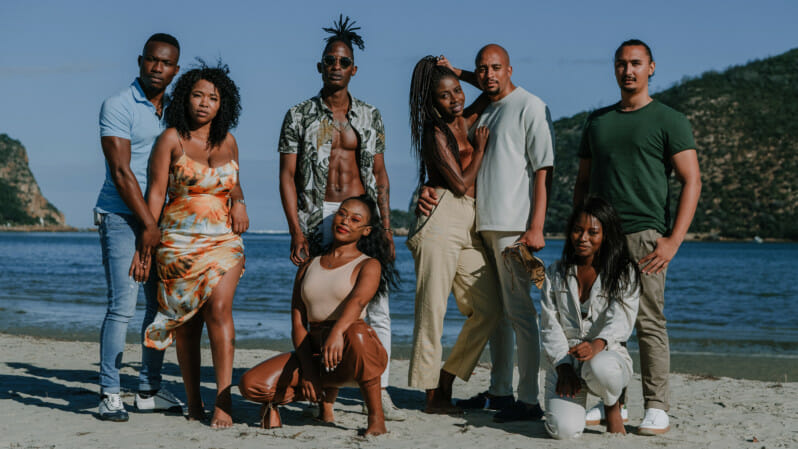 27 July 2021
What's new on Showmax in August 2021
While we're all glued to our screens watching the Olympics on Showmax Pro at the start of the month, there's plenty to keep you entertained after the closing ceremony. Kaley Cuoco will leaved you charmed in The Flight Attendant, while a Discovery of Witches fans will be doing some Olympic binge-watching themselves when Season 2 drops on the 1st. Then there are the latest seasons of Batwoman, The Flash, DC's Legends of Tomorrow and Supergirl, plus the horror smash-hit Midsommar to keep you on the edge of your seat.
---
Showmax Original
Temptation Island SA | Thursdays from 26 August
Showmax Originals' first international reality TV series format, Temptation Island SA, hits our screens this month, putting a local spin on the Teen Choice-nominated pop culture phenomenon, which has been adapted 25 times and counting.
The ultimate relationship test, Temptation Island South Africa follows couples at a crossroads in their relationship, where they must mutually decide if they are ready to commit to one another for the rest of their lives — or go their separate ways.
Together, the couples experience a luxurious holiday in paradise (aka Knysna), where they live separately – with 20 sexy single men and women who are looking for love. This last taste of the single life is meant to help answer their most difficult questions about their relationship, like, "Are we meant to be?" and "Is there someone better out there for me?"
Afrokaans Film & Television (Survivor SA) is producing the 12-episode Showmax Original, which is hosted by Phat Joe (The Real Housewives of Durban reunion).
---
International series
The Flight Attendant | Binge from 5 August
HBO comedy-drama The Flight Attendant stars Kaley Cuoco (The Big Bang Theory) as reckless flight attendant Cassie Bowden, who wakes up in the wrong bed, with a dead guy beside her, and no idea what happened.
The Flight Attendant was nominated as Best Comedy Series and Kaley as Best Actress at the 2021 Emmy, Golden Globe and Critics' Choice Awards. At the Emmys, The Flight Attendant is up for seven more awards, including Supporting Actress for co-star Rosie Perez.
The Flight Attendant has been renewed for a second season.
Adapted from Deborah Harkness's bestselling All Souls trilogy, A Discovery of Witches is a vampire-meets-witch story of forbidden love, starring Matthew Goode (Downton Abbey) and Teresa Palmer (Warm Bodies). In Season 2, the star-crossed lovers time walk from the present back to 1590, to hide from the Congregation while Diana learns to control her magic.
Season 2 has an 87% critics rating on Rotten Tomatoes, where the critics consensus praises the leads' "infectious chemistry" and the show's "visual splendour." James Purefoy (Rome) and Sheila Hancock (Unforgotten) join the cast this season.
Your Honor S1 | Binge from 5 August
Bryan Cranston (Breaking Bad) stars as a New Orleans judge who is forced to confront his own deepest convictions when his teenage son Adam (Hunter Doohan) is involved in a hit and run linked to an organised crime family. As a storm of vengeance, lies and deceit threatens to engulf the entire city, he faces a series of increasingly impossible choices and discovers just how far an honest man will go to save his son's life.
From the producers of The Good Wife and The Night Of, Your Honor also stars Emmy nominees Hope Davis and Michael Stuhlbarg, and Black Reel winner Carmen Ejogo (The Girlfriend Experience).
The Flash S7 | Binge from 13 August
With his wife Iris missing, Eva McCulloch on the rampage, and Barry fresh out of "flash", the team has their work cut out for them this season as they wrap up the dangling threads from the abruptly shortened Season 6, before taking on a new story arc kicked off by Abra Kadabra, hellbent on revenge.
The Flash has already been renewed for an eighth season.
DC's Legends of Tomorrow S6 | Binge from 13 August
DC's Legends of Tomorrow returns to the show's sci-fi roots in Season 6 when Caity Lotz (Sara Lance) is abducted by time-travelling aliens.
The series has an 89% critics score on Rotten Tomatoes, with Season 6 finally cracking that elusive 100% score. AV Club praises it as a "marvellous, irreverent, stupid-like-a-fox show," with "oh-thank-god-let's-have-some-dumb-fun energy," and says, "Punch aliens! Roll your eyes at Spartacus! Drink a cocoon! Talk about John Constantine's ass! Do whatever you want, Legends — we're just glad to see you."
Supergirl S6 | Binge from 13 August
Multi-award-winning series Supergirl is gearing up for its final showdown. The first seven episodes of the final season are available to binge now, with another 13 (!) due towards the end of the year, since not even superheroes are immune to the global pandemic.
Last season's cliffhanger means Supergirl (aka Kara Danvers, played by Melissa Benoist) will face her nemesis, Lex Luthor (Two and a Half Men's Jon Cryer), this season.
Batwoman S2 | Binge from 13 August
The second season of the superhero drama Batwoman swoops onto our screens this month, and with Kate Kane missing in action, a new heroine has to take up the mantle to bring hope to Gotham.
Actress Javicia Leslie (God Friended Me) makes history as the first black actress to play Batwoman in a live-action series, following Ruby Rose's exit due to a back injury. Javicia's Ryan Wilder is nothing like Kate Kane, bringing a whole new feel to the series. Athletic, raw, passionate, fallible and even goofy, Ryan is not your stereotypical all-American hero, but she could be exactly what Gotham needs.
Nominated for a 2021 Saturn Award for Best Superhero Adaptation, Batwoman also picked up nominations at the 2020 GLAAD Media Awards and the Queerties.
---
Movies
Midsommar | First on Showmax | 12 August
In Midsommar, a troubled couple travels to Scandinavia to visit a rural town's fabled Swedish midsummer festival. But what begins as an idyllic retreat quickly devolves into an increasingly violent and bizarre competition at the hands of a pagan cult.
Florence Pugh (Black Widow) stars alongside Jack Reynor (Strange Angel) and William Jackson Harper (The Underground Railroad).
Written and directed by multi-award-winning director Ari Aster (Hereditary), Midsommar won five 2020 Fangoria Chainsaw Awards, including Best Wide-Release Film, and 21 other accolades around the world.
Pinocchio | 9 August
Pinocchio, based on the beloved tale by Carlo Collodi, stars Oscar winner Roberto Benigni (Life is Beautiful) as the old woodcarver Geppetto whose puppet creation magically comes to life. Naive and curious, Pinocchio tumbles from one misadventure to the next as he is tricked, kidnapped and chased by bandits on his quest to become a real boy.
Directed by BAFTA-winner Matteo Garrone (Gomorrah), Pinocchio was nominated for two 2021 Oscars, for its costume design and makeup and hairstyling.
Freaky | 29 July
Less-than-popular teenager Millie unintentionally switches bodies with the middle-aged serial killer terrorising her town. As the body count rises and the clock ticks down, Millie and her friends have less than 24 hours to stop Murder Barbie before the change becomes permanent.
Starring Kathryn Newton (Big Little Lies) and Vince Vaughn (Wedding Crashers), Freaky's cast also includes Alan Ruck (Succession).
Freaky won Best Actor in a Horror Movie (Vaughn) at the 2021 Critics' Choice Super Awards, where the film was also up for Best Horror Movie. Newton was nominated for both Best Actress in a Horror Movie and Best Villain. Produced by triple-Oscar nominee Jason Blum (Get Out) and directed by Christopher Landon (who directed Happy Death Day and wrote four of the Paranormal Activity films).
Run | 23 August
Psychological thriller Run stars Sarah Paulson (Ratched) and introduces Kiera Allen as a homeschooled, wheelchair-bound teenager who begins to suspect her mother is keeping a dark secret from her.
The first female wheelchair-using actress to star in a suspense film since 1948, Allen won the 2021 Spotlight Award from the Hollywood Critics Association. Run also broke records to become Hulu's most successful original film on its release late last year.
Run has an 88% critics rating on Rotten Tomatoes, with The Hollywood Reporter saying, "Dueling excellent performances from a deranged Sarah Paulson and spunky newcomer Kiera Allen make it hard to look away from the screen, not that the pacing of Chaganty and Sev Ohanian's script allows much opportunity for distraction."
Becky | 26 August
In Becky, a teenager's weekend at a lake house with her father takes a turn for the worse when a group of convicts wreaks havoc on their lives.
Lulu Wilson (Sharp Objects) shines in the title role, with Kevin James (The King of Queens) playing against type as the neo-Nazi villain. Emmy nominee Joel McHale (Community) co-stars.
Also watch:
Watchmen | 15 August
The 2009 movie (and predecessor to the award-winning series) Watchmen is based on the graphic novel characters created by DC comic book legend Alan Moore. Directed by Zack Snyder (Justice League).
The Town | 16 August
Bank heist drama The Town is co-written and directed by Ben Affleck, who stars alongside Rebecca Hall, Jon Hamm, Blake Lively, Titus Welliver, and Chris Cooper. Jeremy Renner was nominated for Oscar for Best Supporting Actor, while Pete Postlethwaite was posthumously nominated for a BAFTA for Best Supporting Actor.
Blade boxset | 19 August
Production is due to start next year on Marvel's revival of Blade, with Mahershala Ali as the iconic vampire hunter. And what better way to celebrate than a weekend binge with Wesley Snipes as original in the cult comic book trilogy Blade, Blade II, and Blade: Trinity.
The Fugitive | 16 August
Tommy Lee Jones won an Oscar and a Golden Globe as Best Supporting Actor in The Fugitive, as well as Best On-Screen Duo with Harrison Ford at the MTV Movie Awards, where the thriller also won Best Action Sequence for its classic train wreck.
Life as We Know It | 16 August
Nominated for two Teen Choice awards, the charming comedy Life as We Know It stars Josh Duhamel and Katherine Heigl as two people who never plan to see each other again following a disastrous blind date… until they're suddenly tasked with raising a baby together.
Take the Lead | 30 August
Oscar nominee Antonio Banderas (Pain and Glory) won an Imagen Award for Best Actor in Take the Lead, the true story of a dance teacher who believed in the talent of a group of problem teens. Take The Lead was also nominated for two Teen Choice awards, for Best Drama and Breakout (Female) for Yaya DaCosta (The Kids Are All Right, Whitney), and a Black Reel Award for Best Soundtrack. Oscar nominee Alfre Woodward (Desperate Housewives, 12 Years a Slave) co-stars.
---
Local
Africa and I | First on Showmax | 5 August
Twenty-year-old Othmane Zolati had never left his home country of Morocco when he started his nearly four-year journey to Cape Town, South Africa, with just $80, a small backpack, and a borrowed cheap pocket camera.
Africa and I, a 90-minute documentary about his trip, is the story of how Othmane walked, hitchhiked, cycled and skateboarded over 30 000 km through 24 countries.
Othmane directs and executive produces Africa and I, using the 100s of hours of footage he taught himself to shoot along the way. He's collaborated with a team of award-winning South African creatives he met at the end of his trip: co-director Chris Green (writer and producer on the 2021 South African Film and Television Award [SAFTA] winner Chasing the Sun and co-showrunner of the two-time International Emmy-nominated MasterChef South Africa); Both Worlds, the production company behind the two-time International Emmy-nominated Puppet Nation ZA; and composer Daniel Eppel and editor Kirsten de Magalhaes, both SAFTA winners.
Five Tiger | First on Showmax | 5 August
In Five Tiger, a short film that played in competition at this year's Sundance Film Festival, a god-fearing woman (Ayanda Seoka) finds herself in a transactional relationship with a church leader as she tries to support her daughter and sick husband.
Five Tiger was written and directed by Nomawonga Khumalo as a stylistic proof of concept for her feature debut, The Bursary, which will be produced by South African Film and Television Award (SAFTA) winner and co-writer Brett Michael Innes (Fiela se Kind, Sink) and Paulo Areal (Ellen: Die Storie Van Ellen Pakkies).
Five Tiger was inspired by a conversation that Nomawonga had with a Johannesburg prostitute, who, after praying a blessing on her and her work, told a story about how her daughter had spent all the money that she made the day before on buying sweets for herself and her friend.
JAN S3 | Weekly, with new episodes every Thursday from 22 July
South Africa's first Michelin-star chef, Jan Hendrik van der Westhuizen, returns for a new season of his SAFTA-winning VIA show, JAN. Whereas the first seasons took viewers to France and Italy, with a focus on how Jan combined French and South African cooking in his Nice restaurant, JAN, Season 3 charts the launch of the chef's latest venture, KLEIN JAN, a new restaurant in the heart of the Kalahari.
Wesens | 5 August
When a strange object lands in the middle of nowhere in 1967, four South African Republican Intelligence Agents set out to investigate a mystery that will lead one of them on a life-changing spiritual quest.
A first-of-its-kind Karoo sci-fi mystery, Wesens stars Pietie Beyers (Skemerson) and Morné Visser (Die Stropers), alongside Randy Januarie (Die Sentrum), and ATKV Veertjie and Albert Maritz (Alles Malan).
Blending art-house and found-footage techniques, the film has drawn critical acclaim.
G.I.L. S1 | 2 August
kykNET mockumentary comedy G.I.L. is set at the middle-of-nowhere Grobbies 'International' Airport, where go-getter Barry Wiese lands the job of his dreams as the general manager of a less-than-stellar team.
G.I.L. stars writer-director Bennie Fourie (Hotel) as Barry, as well as Ashley de Lange (Kanarie), Frank Opperman (Dominee Tienie), Vele Manenje (Ring of Lies), Michele Burgers (Skemerson), Hendrik Cronje (7de Laan), Gershwin Mias (Noem My Skollie) and Ruan Wessels (Ekstra Medium).
Directed by Quentin Krog (Ballade vir 'n Enkeling), G.I.L is executive produced by Wikus du Toit (Dominee Tienie, Barakat) and Roberta Durrant (Krotoa, Projek Dina).
Huisgenoot: Ware Lewensdramas S1-7 | 2 August
From the Stander Gang to Oscar Pistorius, Taliep Pietersen to Baby Jordan, the SAFTA-nominated documentary series Huisgenoot: Ware Lewensdramas revisits the true-life stories that made the headlines, going behind the story with the people involved, talking to experts, and hearing from the journalists who originally broke the stories in one of SA's oldest and best-loved publications.
Karakter S1 | 9 August
Hosted by TV and radio legend Rian van Heerden, Karakter sets out to find South Africa's true "characters", those who live by their own rules and take life by the horns.
Van Heerden's guests include a former nudist who's marrying herself, a preacher-cum-crocodile farmer, a man riding a three-wheeled motorcycle with a coffin hitched to it, a wrestling legend who visits schools with his anti-bullying campaigns, and drag artist Manila von Teez, who helps Van Heerden get into "character" himself.
---
Kids
TrollsTopia S1 | 2 August
If your kids are hooked on the troll-ific Trolls World Tour movie from Dreamworks, we have great news: Trollstopia – the series – catches up with Poppy and the other enchanting characters for more hair-raising adventures.
TrollsTopia takes place immediately following the events in Trolls World Tour, when Poppy discovered that there are at least six different Trolls tribes, each identified by a different musical style – Country Music or Western Trolls, Techno Trolls, Hard Rock Trolls, Classical Trolls, Funk Trolls… Now that Poppy knows there are other musical trolls, she bottles up her endless positivity and invites delegates from every troll tribe in the forest to live together in harmony in a grand experiment she calls TrollsTopia!
Trollstopia has a 4/5 star rating and is recommended for ages 6+ on Common Sense Media, where they say, "Kids will love the fun characters from the new tribes and how they perform catchy music in different styles. There's lots of random silliness that will tickle this age group's funny bones. Trollstopia is visually beautiful with its candy-coloured world and copious amounts of glitter. Lead troll Poppy has a very high emotional intelligence, and sets a great example for how to be a good friend and how to openly communicate your feelings."
The Mighty Ones S1 | First on Showmax | 5 August
DreamWorks Animation's latest cartoon series, The Mighty Ones, follows the hilarious adventures of a group of creatures: a twig, a pebble, a leaf and a strawberry, who live in an unkempt backyard belonging to a trio of equally unkempt humans whom they mistake for gods.
Voiced by legends like Eric Bauza (Looney Tunes' Bugs Bunny and Daffy Duck), Fred Tatasciore (Looney Tunes' Yosemite Sam and Taz) and Josh Brener (Rise of the Teenage Mutant Ninja Turtles' Donnie), the series was nominated for a 2021 Emmy for Outstanding Voice Directing for an Animated Series.
Madagascar: A Little Wild S1 | 12 August | First on Showmax
DreamWorks Animation's Madagascar: A Little Wild follows the early years of the Madagascar movie franchise's heroes – Alex the Lion, Marty the Zebra, Melman the Giraffe and Gloria the Hippo – as they grow up in a rescue habitat at the Central Park Zoo.
Eric Petersen was nominated for a 2021 Emmy for his voice performance as Ant'ney.
Moominvalley S1-2 | First on Showmax | 9 August
Moominvalley, the 2019 adaptation of Tove Jansson's beloved tales of the Moomin family, won a 2020 British Animation Award for Best Children's Series.
Written by Mark Huckerby (Peter Rabbit), Moominvalley's stellar voice cast includes Matt Berry (Poseidon in the SpongeBob movies) as Moominpappa, Rosamund Pike (Gone Girl) as Moominmamma, Taron Egerton (Rocketman) as Moomintroll, Warwick Davis (Willow) as Sniff, and Edvin Endre (Vikings) as Snufkin.
War with Grandpa | 19 August
Peter and his grandpa used to be very close, but when Grandpa Jack moves in with the family, Peter is forced to give up his most prized possession: his bedroom. Peter will stop at nothing to get his room back, scheming with friends to devise a series of pranks to drive him out. However, Grandpa doesn't give up easily, and it turns into an all-out war between the two.
War with Grandpa stars Robert De Niro, Uma Thurman, and rising child star and Oakes Fegley (Pete's Dragon, Wonderstruck), as well as Christopher Walken, Jane Seymour and Cheech Marin.
---
Also on Showmax in August
1 August
Bulletproof S2 | Chad S1 | Fool's Gold | Jack the Giant Slayer | Yes Man
2 August
Aansit S1 | Agter Tralies S1 | The Jungle Bunch S1-3 | Vergewe My S1
5 August
Capone | City of Angels | Date | Agteruit S1-2 | Die Koevert S1-2 | Non-Stop | Zoolander 2
9 August
The Campaign | Due Date | Hall Pass | King's Ransom | Ninja Assassin
12 August
12 Oz. Mouse S1-3 and Specials | Clarice S1 | Fokofpolisiekar: The Sound of Fokof Unplugged | Francois van Coke & Die Gevaar 2021 | In die Sop S1 | Karakter S1 | Love Heist | Shooter | The Doorman | U.S. Marshals | Veronica Mars
16 August
Bobby & Karlien S1-2 | Die Kliek S6-9 | Inkheart | Richard Says Goodbye
19 August
Doodgewone Jo S1 | Eendag S1 | Presto! School of Magic S1
23 August
Fame | Rock Star | Torque
26 August
Chaos Theory | Firewall | Ghosts of Girlfriends Past | Rumor Has It…
30 August
Alone | Gangster Squad