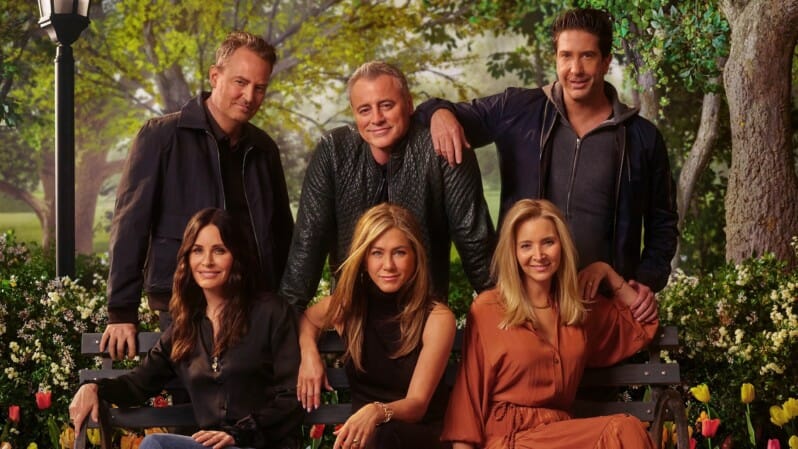 28 May 2021
What's new on Showmax in June 2021
Browse full collection
Don't be left out in the cold – watch Friends: The Reunion and more of the most-talked about shows streaming right now, from Kate Winslet's bleak, brilliant Mare of Easttown to the whole Dark Knight Trilogy, to the wacky fifth season of Rick and Morty.
International series
Friends: The Reunion | Stream from 31 May
Ladies and gentlemen, can we have an OMG? (And all the tissues!) It's Friends: The Reunion! Also known as "The One Where They Get Back Together", the two-hour TV special is coming to Showmax, fresh from the US!
Friends stars Jennifer Aniston, Courteney Cox, Lisa Kudrow, Matt LeBlanc, Matthew Perry, and David Schwimmer return to the iconic comedy's original soundstage, Stage 24, on the Warner Bros. Studio lot in Burbank for a real-life unscripted celebration of the beloved show.
Friends: The Reunion will feature a variety of special guest appearances, including David Beckham, Justin Bieber, BTS, James Corden, Cindy Crawford, Cara Delevingne, Lady Gaga, Elliott Gould, Kit Harington, Larry Hankin, Mindy Kaling, Thomas Lennon, Christina Pickles, Tom Selleck, James Michael Tyler, Maggie Wheeler, Reese Witherspoon and Malala Yousafzai.
HBO's latest drama Mare of Easttown stars Oscar winner Kate Winslet as small-town detective Mare Sheehan, who must investigate a murder while trying – and failing – to keep her life from falling apart.
The seven-episode series holds a 92% critics' rating on Rotten Tomatoes and an 8.5/10 score on IMDb. "Winslet is utterly mesmeric, shorn of any glamour," says the Times (UK), while Time calls the show, "poignant, richly observed," saying "Easttown is not an ideal place. Mare is not an ideal detective or mom. But both have something more compelling than perfection going for them: they're real."
Rick and Morty S5 | Episodes weekly, express from the US from 21 June | First on Showmax
Rick and Morty Season 5 is here, and Rick Sanchez is back! The sociopathic genius scientist lives with his daughter Beth's family, constantly bringing her, his son-in-law Jerry, granddaughter Summer, and timid grandson Morty on insanely dangerous adventures across the multiverse.
Rick and Morty won its second Emmy in three years in 2020 and is currently the 13th highest rated series of all-time on IMDb, with a 9.2/10 rating from nearly 400 000 fans. That makes Rick and Morty the second highest-rated animated series of all time, behind only Avatar: The Last Airbender. It's one of the most-binged series on Showmax, with all previous seasons available to stream.
Younger S7 | Binge from 11 June 2021
For six seasons, Younger has kept fans guessing: will Liza (Sutton Foster in a Critics Choice nominated performance) choose Charles (Peter Hermann) or Josh (Nico Tortorello)? Now, in Season 7, she's going to have to decide once and for all, because, not only has Charles proposed, but it's the final season… (Although, advance warning, the trailer suggests there's a third option this season: surf legend Kai Manning).
From Sex and the City creator Darren Star, Younger is set in the publishing world of New York City. The cast includes Hilary Duff as Kelsey; Miriam Shor as Diana (sadly mostly absent this season due to the pandemic); and Debi Mazar (Entourage) as Maggie.
Younger has a 99% critics' rating on Rotten Tomatoes, with The New York Times hailing it in April 2021 as "escapism at its fantastical best."
Based on Robert Kirkman's hit comics, The Walking Dead is the definitive zombie show, having won 78 awards globally, including Emmy, People's Choice and Critics Choice awards. The final six episodes – delayed by the pandemic – will finally hit our screens on 4 June.
Season 10 has an 83% critics' rating on Rotten Tomatoes, where the consensus is: "A few changes in front of and behind the camera allow The Walking Dead to create space for compelling new stories and some seriously scary new adversaries."
Betty S2 | New episodes every Monday from 14 June, same day as 1Magic
HBO comedy Betty follows a diverse group of young women navigating their lives through New York's predominantly male-orientated skateboarding scene. The comedy stars Dede Lovelace, Moonbear, Nina Moran, Ajani Russell, and Rachelle Vinberg.
Betty has a 97% critics' rating on Rotten Tomatoes, where Season 1 was the fourth best-reviewed young adult series of 2020. As the critics consensus there puts it: "Earnest, audacious, and effortlessly cool, Betty captures the spirit of skating and friendship with style."
In this horror anthology from Oscar-nominated producer Jason Blum (Us, Get Out, The Purge), each episode is inspired by a holiday, from Halloween to Thanksgiving, Christmas to New Year's Eve.
Look out for the likes of Carly Chaikin (Mr. Robot), Judy Greer (Ant-man), Josephine Langford (After), Dermot Mulroney (August: Osage County), and Harvey Guillén (Guillermo in What We Do In The Shadows).
Charmed S3 | Binge episodes 1-10 now and 11-14 from 28 June
This teen favourite reboot of the popular original series follows three sisters: Macy (Madeleine Mantock), Mel (Melonie Diaz) and Maggie (Sarah Jeffery). Following the death of their mother, they discover they are a powerful trio of good witches, known as the Charmed Ones. With the help of their Whitelighter guide, they must embrace their destiny to protect the innocent from the forces of evil.
Movies
The Outpost | 21 June
The Outpost is Rotten Tomatoes' second-best-reviewed Action and Adventure film of 2020, with a 93% critics' rating. As the critics' consensus says, "Told with gripping realism, The Outpost is a thrilling technical feat and a worthy tribute to military heroes."
As members of a small team of American soldiers outnumbered by the Taliban in Afghanistan, Teen Choice Award winners Orlando Bloom (The Lord of the Rings, Pirates of the Caribbean) and Clint Eastwood's son, Scott Eastwood (Suicide Squad, Fast and Furious 8, Pacific Rim: Uprising) co-star with Caleb Landry Jones (Three Billboards Outside Ebbing, Missouri), who was nominated as Best Actor: Action at the Critics Choice Super Awards for the role. The Outpost was also nominated as Best Action Movie at the 2021 Critics Choice Super Awards.
Richard Jewell | 3 June | First on Showmax
AFI's Movie of the Year for 2020, Richard Jewell is the true story of the security guard who became a hero after finding the device at the 1996 Atlanta bombing, but then became the FBI's number one suspect, vilified by press and public alike, his life ripped apart.
Paul Walter Hauser won the National Board of Review's Breakthrough Performance Award as the title character, with Kathy Bates (American Horror Story) nominated for an Oscar and Golden Globe as his mother, and Sam Rockwell (Three Billboards Outside Ebbing, Missouri) winning Best Supporting Actor at the Faro Island Film Festival as his lawyer. Golden Globe winner Jon Hamm (Mad Men) and Olivia Wilde (House) co-star.
Directed by four-time Oscar winner Clint Eastwood (Million Dollar Baby, Unforgiven), Richard Jewell was hailed as "unforgettable" by The Observer.
The High Note | 17 June
2020 music drama The High Note sees a superstar singer and her overworked personal assistant presented with a choice that could alter the course of their respective careers.
The High Note stars Golden Globe winners Dakota Johnson (The Social Network, and the Fifty Shades movies) and Tracee Ellis Ross (Black-ish, Girlfriends), who was nominated for a 2020 People's Choice Award and a Black Reel Award for her role as R&B singer and mega-star Grace Davis. BAFTA nominee Kelvin Harrison Jr. (Waves, The Trial of the Chicago 7), Critics Choice nominee Bill Pullman (The Sinner, Independence Day), rapper Ice Cube and Emmy-winning comedian Eddie Izzard co-star.
FilmWeek calls it, "an enchanting and escapist summer movie … with so much love of music in its soul."
Also watch:
3 June
Directed by Oscar winner Ang Lee (Life of Pi, Crouching Tiger, Hidden Dragon) and adapted from the short story by Annie Proulx, the groundbreaking 2005 drama Brokeback Mountain won three Oscars and is still considered a cinematic milestone for LGBTQIA+ representation in the mainstream media. It stars Jake Gyllenhaal and the late Heath Ledger, who were both nominated for Oscars for their roles.
Sandra Bullock won an Oscar for her performance in sports drama The Blind Side, alongside Teen Choice nominee Quinton Aaron (Halfway), Oscar winner Kathy Bates (Richard Jewell, American Horror Story), Golden Globe nominee Lily Collins (Emily in Paris) and Grammy-winning country music icon Tim McGraw. Directed by BAFTA nominee John Lee Hancock (Saving Mr. Banks), this biographical story of a homeless boy who became an All-American football player grossed over $300m worldwide in 2009.
Also catch Bullock starring opposite Hugh Grant in the classic romcom Two Weeks Notice, which saw her nominated for the 2003 Teen Choice Awards for Choice Movie Actress and Choice Movie Hissy Fit.
Nominated for a People's Choice Award for Favourite Comedy and for six Teen Choice Awards, What to Expect When You're Expecting's ensemble cast includes Oscar nominee Anna Kendrick (Love Life), Emmy winner Chris Rock (Fargo) and nominee Elizabeth Banks (The Hunger Games), and Golden Globe nominees Jennifer Lopez (Hustlers), Cameron Diaz (There's Something About Mary), Matthew Morrison (Glee), and Dennis Quaid (Far From Heaven).
7 June
Filmed in South Africa and nominated for five Oscars, the 2006 drama Blood Diamond stars Oscar winners Leonardo DiCaprio (Inception) and Jennifer Connelly (A Beautiful Mind), alongside Oscar nominee Djimon Hounsou (Guardians of the Galaxy) and local talent like Arnold Vosloo (Griekwastad), Marius Weyers (Dis Ek, Anna), and Akin Omotoso (Queen of Katwe).
This medical disaster thriller Outbreak earned Kevin Spacey a Critics Choice Best Supporting Actor award opposite fellow Oscar winners Dustin Hoffman (Tootsie, Rain Man), Morgan Freeman (Se7en) and Cuba Gooding Jr (Empire)., and is directed by Oscar nominee Wolfgang Petersen, who directed the original Das Boot.
Arnold Schwarzenegger plays a US Marshal who must protect a key witness in an illegal arms deal in the classic action blockbuster Eraser. The film was the 15th highest-grossing movie of 1996 and was nominated for an Oscar for Best Effects: Sound Effects Editing as well as the MTV Movie Award for Best Action Sequence.
10 June
The all-star cast of Christopher Nolan's unforgettable Dark Knight trilogy – Batman Begins, The Dark Knight, and The Dark Knight Rises – includes Oscar winners Christian Bale (The Fighter), Heath Ledger (Brokeback Mountain), Michael Caine (The Cider House Rules), Gary Oldman (Mank, Darkest Hour), Anne Hathaway (Les Misérables), and Morgan Freeman (Se7en). The trilogy racked up three Oscars, and is still regarded as among the best superhero franchises of all time.
Also catch the DC blockbusters Man of Steel, starring Henry Cavill, and Green Lantern, starring Ryan Reynolds.
17 June
A small-time drug dealer enlists a fake family in a bid to smuggle drugs across the US border in the blockbuster comedy, We're the Millers, which grossed over $270m worldwide and won two MTV Movie Awards, as well as a Teen Choice Award for Emma Roberts.
21 June
Robert Downey Jr. plays the ultimate eccentric genius detective, Sherlock, opposite Jude Law as Watson, in Guy Ritchie's 2009 film, Sherlock Holmes, which was nominated for two Oscars and became the 8th-biggest movie of the year, grossing over $520m worldwide. Also catch the 2011 sequel, Sherlock Holmes: A Game of Shadows.
24 June
Led by Sandra Bullock and George Clooney, Gravity is one of the most successful sci-fi films of all time, with a worldwide gross of $723m in 2013 and seven Academy Awards, including Best Director for multi-Oscar winner Alfonso Cuarón (Roma, Children of Men).
South African additions
Pearls of Wisdom | First on Showmax | Stream from 14 June
Nhlakanipho is a talented young girl with a big dream – to be an actress. The Johannesburg School of the Arts could be the key to her future, a place where her passion and dreams will be supported. But it's up to Nhlakanipho to come into her own as a young woman and as a performer if she's to succeed. Will she find her voice or lose it in the crowd?
The film stars Amina Jack (Isibaya's Thokozani), SAFTA winner Linda Sokhulu (Still Breathing, Sokhulu and Partners), International Emmy nominee Lerato Mvelase (Life, Above All, Home Affairs), Makgofe Moagi (Skeem Saam) and Thabiso Ramotshela (The River).
Becoming S1 | Binge from 30 June 2021
In the new local reality series Becoming, four participants – Ramazan, Gugu, Yaya and Gina – grapple with what it means to be trans in South Africa today. Follow each of their stories as they unpack their past and the many challenges they have faced living in the wrong body, before sitting down with their respective families to tell them who they really are inside, and that they plan to embark on the journey of transitioning.
Non-Fiction
The Day Sports Stood Still | 1 June | First on Showmax
The HBO documentary film The Day Sports Stood Still tells the story of the unprecedented sports shutdown in March 2020 and the events that followed. Emmy-winning director Antoine Fuqua (What's My Name: Muhammad Ali) chronicles the abrupt stoppage due to Covid-19, how top athletes made their voices heard in the cultural and political reckoning on racial injustice in America, and the complex return to competition as the sports world tries to find its new normal. ‌
Our Towns | 1 June
Amidst the turbulence and division of recent years in America's history, HBO's documentary feature Our Towns finds a different story: the tale of eight towns across the US where the rise of civic and economic reinvention is transforming communities.
Based on the bestselling book Our Towns: A 100,000-Mile Journey into the Heart of America, by journalists James and Deborah Fallows (who also present the film), it has an 88% critics' rating on Rotten Tomatoes, with the Washington Post saying, "As an exercise in sincerity, fellowship and earnest inquiry, it might be the most subversive movie in circulation right now."
Kids
Steven Universe Future | Binge from 3 June | First on Showmax
Calling all Steven Universe fans: Cartoon Network's 20-episode epilogue to the beloved original series zooms in on life in the aftermath of the events of Steven Universe and Steven Universe: The Movie. Humans and Gems coexist in harmony at last, after the end of the war between the Crystal Gems and Homeworld… but, at 16 – and with no more enemies to defeat – our love-everyone, make-friends-with-everyone, heal-everyone hero must see if he can make that Steven Universe awesomeness work for himself.
Sticking with the award-winning legacy of the franchise, Steven Universe Future has been widely acclaimed by critics and fans alike. It has a 100% critics' rating on Rotten Tomatoes, with Salon.com saying, "A cartoon that's a rallying cry to love yourself and grow into your identity should be nothing radical for children."
Looney Tunes Cartoons S1 | Binge eps 1-20 from 25 June
Warner Bros. and HBO Max are bringing back one of the best things on TV ever – Looney Tunes Cartoons! And they're daffier, crazier, and loonier than ever, with 20 all-new episodes (and more in the pipeline) that see Bugs Bunny, Daffy Duck, Sylvester and Tweety, the Road Runner and other favourites up to their old antics with hilarious misadventures inspired by the original classic Looney Tunes and Merrie Melodies.
True to the spirit of the originals, there's still loads of insane cartoon violence and Acme Corporation weaponry, but parents will be happy to see that they've excluded any depictions of firearms. It has an 8.1/10 score on IMDb, an 88% critics' rating on Rotten Tomatoes, and four stars on Common Sense Media, where it's recommended for ages 7+.
Four Kids and It | 24 June
The great-grandbaby of Five Children and It, E. Nesbit's beloved classic children's novel, and Jacqueline Wilson's 2012 novel Four Children and It, the delightful adventure movie Four Kids and It follows the Trent children who, while on holiday, discover a creature with magical powers. It stars Paula Patton (Precious); Russell Brand (Despicable Me); and Matthew Goode (A Discovery of Witches). Oscar winner Michael Caine is the voice of the wish-granting creature, Psammead.
Common Sense Media suggests the film for kids aged 8+, but says it can be enjoyed by the whole family, "There's an enchantment to this movie that's enriched by positive messages… the casting is excellent," adding that Brand "steals the show".
Esme & Roy S2 | Binge from 24 June
Sesame Workshop's animated series Esme & Roy follows the adventures of a little girl named Esme and her bestest, fuzziest monster friend, Roy, as they babysit the little monsters of Monsterdale… and help them handle monster problems like fussy eating, thunderstorms, sadness, anger and frustration. Recommended for ages 3+, this sweet show is packed with positive messages and tools for little ones and parents dealing with all those big emotions.
Nominated for three Emmys, the series has a five-star rating on Common Sense Media, where the consensus says: "They're an unusual pair, but these sweet sitters are just what the doctor ordered… Esme & Roy's thoughtful approach to self-awareness and mindful behavior makes it an excellent tool for families and caretakers to use in teaching similar skills to kids."
The Remarkable Mr. King | 14 June
With its charming characters and positive messages, the super sweet animated series The Remarkable Mr. King is perfect for the littlest little ones.
Mr King is a well-meaning but sometimes short-sighted little lion who thinks he should know everything, but sometimes his "big think" causes big snags and tangles. If Mr King tries and fails, he has a think, and tries again to make things right. Mr King shows us how to turn mistakes into wins for everyone to share.
Also on Showmax in June
3 June
Escape Plan | Gastroblast S1 | A Nice Girl Like You | Taffy S1
7 June
Arctic Justice | Di-Gata Defenders S1-2 | How'd You Get So Rich? S1-2 | How'd You Get So Rich? U.K. S1 | Hy Se/Sy Se | Killerman | Mysteries of Evolution | Run All Night
10 June
Alex Cross | Danie du Toit 'Live' by Atterbury Teater | Siyaya: Come Wild With Us
14 June
Agent Cody Banks | Agent Cody Banks 2: Destination London | Joy of Artificial Intelligence | Joy of Chance | Joy of Data | Joy of Winning | A Man Apart | Black Dollar
17 June
Monster In-Law | Snitch | Zak Storm S1 (TBC)
21 June
Amazing World of Gravity | Taking Lives
24 June
Alvinnn!!! And the Chipmunks S1-3 (TBC) | Animal Anarchists S1 | Forced Vengeance | The Kitchen
28 June
Combat Wombat | Denver S1 (TBC) | Free Willy | Free Willy 2: The Adventure Home | Free Willy 3: The Rescue | The Informer | The Legendaries S1 (TBC) | Whiteout