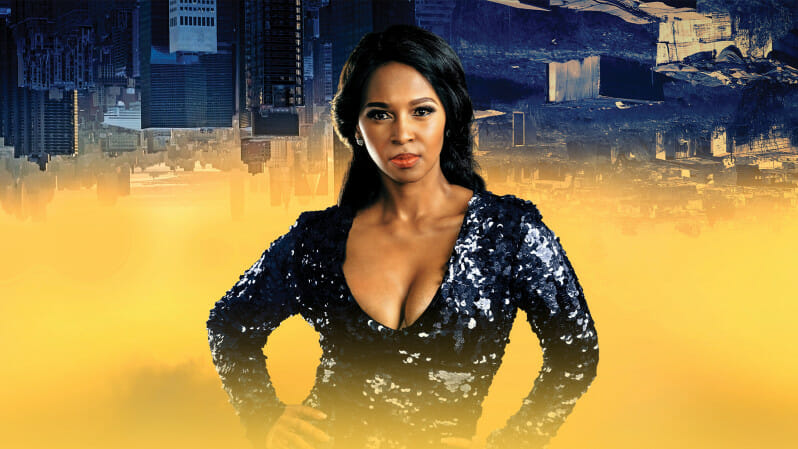 24 April 2020
What's new on Showmax in May 2020
Browse full collection
Action movies fans won't know where to start this month. The whole Fast & Furious saga is streaming, as well as all the Jason Bourne movies. If your taste turns to horror, also watch the entire Purge series – if you dare. Then, enjoy the latest local movies. They tackle some serious issues that will have you thinking long after the credits have rolled.
Of course, there are also brand-new international series to enjoy, including HBO's Run, starring Merrit Wever and Domhnall Gleeson and a reboot of The L-Word, as well as new seasons of hilarious I'm Sorry and fantasy series The Magicians. Enjoy all the streaming!
Gomora is a story about inequality. It's about the rich and the poor and how fine the line between the two can be. It follows the lives of two families and how their worlds collide. All the episodes so far are available to binge-watch from 20 May, and new episodes will land every weekday from 1 June, 24 hours after the broadcast on Mzansi Magic.
---
International series
---
Run S1 | First on Showmax | Mondays from 4 May
From the team behind Fleabag comes the brand-new series Run, a romantic comedy thriller about a woman, Ruby Richardson (Emmy winner Merritt Wever), who walks away from her ordinary life in the suburbs to revisit her past with her college boyfriend, Billy Johnson (Domhnall Gleeson). They made a pact 17 years earlier that if either one of them texted the word "RUN" and the other replied with the same, they would drop everything to meet in Grand Central Station and travel across America together.
Emmy and Golden Globe winner, Phoebe Waller-Bridge (Fleabag) guest stars, and is also executive producer.
Run has an 84% critics rating on Rotten Tomatoes. "Run… is a beam of glorious light and a jolt of electricity," says Vulture. "It's also an absorbing piece of escapism about two people compelled to drop everything and escape."
I'm Sorry S2 | First on Showmax | 1 May
Comedy writer, wife, and mom Andrea is back with a new season of zero-filter, acid-sharp and usually totally inappropriate humour, putting her foot in it in cringeworthy everyday situations that are at once laugh-out-loud funny and bitingly true.
The series is inspired by the life of creator and star Andrea Savage (Veep, Step Brothers, Episodes). Tom Everett Scott (13 Reasons Why) plays Andrea's husband Mike, while Golden Globe winner Kathy Baker (Picket Fences, Edward Scissorhands), Golden Globe nominee Allison Tolman (Emergence, Fargo), Jason Mantzoukas (Brooklyn Nine-Nine), and Judy Greer (Two and a Half Men) co-star.
I'm Sorry has a 81% audience score on Rotten Tomatoes and was recently renewed for a third season.
Los Angeles Times calls it "funny and grounded", saying, "This is a show about what happens when the compulsively comic mind meets the casually funny (or humorless) one, and what can seem the astonishing willingness of the professional comedian to violate taste and decorum."
In this sequel to the ground-breaking, Emmy-nominated 2004-2009 series, Golden Globe nominee Jennifer Beals, Kate Moennig and Leisha Hailey reprise their original roles alongside a new generation of diverse, self-possessed LGBTQIA+ characters as they take on love, heartbreak, sex, setbacks and success in LA.
Generation Q is up for a 2020 Queerty for Best TV Series and has a 81% critics rating on Rotten Tomatoes, where the critics consensus says Generation Q "has style and charm to spare and announces a new phase for The L Word that will please new and old fans alike."
Based on the bestselling novels by Lev Grossman, The Magicians follows a group of New York magic students who discover a fantasy world that threatens our own.
Spoiler alert: The fifth and final season finds Julia, Alice, Eliot, Margo, Penny and the rest of the gang coping with the tragic loss of Quentin as they navigate the return of magic. However, not only is magic back, but now there is way too much of it. The magicians must deal with the repercussions of this new magical surplus as they fight to prevent the literal end of the world.
Season 5 has a 100% critics rating on Rotten Tomatoes. TV Fanatic calls it "…without a doubt a satisfying conclusion to an amazing five-year series," while The Verge says, "The Magicians is a joy to watch moment to moment.
Rick and Morty S4 | First on Showmax | New episodes weekly from 4 May
Adult Swim revealed the mid-season return of Rick and Morty during their annual April Fools' stunt – and it's no joke. The Other Five episodes of Rick and Morty Season 4 will be arriving on the Adult Swim Corner on Showmax weekly, just 24 hours after they air in the USA.
Rick and Morty is an Emmy-award-winning half-hour animated hit comedy series that follows a sociopathic genius scientist who drags his inherently timid grandson on insanely dangerous adventures across the universe.
Rotten Tomatoes's 100% rating critics consensus says, "Rick and Morty's fourth season is both an exciting progression and a delightful return to form that proves more than worth the two-year wait."
The twelfth top rated TV series of all time on IMDb, with a 9.2/10 rating, Rick & Morty has won an Emmy, two Annie Awards, and a Critics Choice Award, among other honours.
The Plot Against America S1 | Mondays at 23:30 from 11 May | Same day as M-Net
From the award-winning creators of The Wire comes The Plot Against America, an alternate history story in which Franklin D Roosevelt loses the US presidential election of 1940 to Nazi sympathiser Charles Lindbergh. What follows is the terrifying and tension-building tale of the country's turn to fascism, told through the eyes of a working-class Jewish family in New Jersey in the build-up to World War 2.
Starring Emmy nominee Zoe Kazan (The Big Sick), Oscar nominee Winona Ryder (Stranger Things), Golden Globe nominee John Turturro (The Night Of) and Morgan Spector (Boardwalk Empire), The Plot Against America is based on the acclaimed novel by Pulitzer Prize winner Philip Roth.
The Plot Against America has an 87% rating on Rotten Tomatoes, where the critics' consensus reads: "A cautionary tale that hits close to home, The Plot Against America's handsomely realized revisionist history is disturbingly relevant, making it difficult, but essential viewing."
King's Dominion is an exclusive private school with a focus on special skills: specifically, the art of assasination and all the skills required to become the young heirs of the world's most prominent crime families. Like any school, there's a brutal curriculum and hectic social cliques, and it's these that newbie Marcus will need to survive if he's to prove his worth. It's based on the comic book series by Rick Remender and Wesley Craig.
Deadly Class has a 92% audience score on Rotten Tomatoes. "It's very much a story of '80s rebellion, complete with John Hughes archetypes," says AV Club, "but that tale is one that has been influenced by Park Chan-wook and Quentin Tarantino. Sounds fun, right?"
---
Movies
---
Bad Education (2019)| First On Showmax | 1 May
Bad Education is based on the real-life scandal that went down at writer Mike Makowsky's high school, where a student journalist uncovered the single largest public school embezzlement scheme in America's history.
The movie follows Frank Tassone (Oscar nominee Hugh Jackman) and Pam Gluckin (Oscar winner Allison Janney), whose reign over a prestigious school district is threatened by the embezzlement scandal, forcing Frank to take drastic steps to maintain order and secrecy.
Bad Education has an 89% critics rating. IndieWire calls it, "A diabolically smart true-life crime drama that stars Hugh Jackman in his best performance since The Prestige".
Willowdean ('Dumplin'), the plus-size teenage daughter of a former beauty queen, signs up for her mom's Miss Teen Bluebonnet pageant as a protest that escalates when other contestants follow in her footsteps, revolutionizing the pageant and their small Texas town.
Danielle MacDonald (Unbelievable) stars as Dumplin', with Jennifer Aniston as her mother.
The movie has a 85% critics rating on Rotten Tomatoes, where the critics consensus says, "Elevated by a solid soundtrack and a terrific cast, Dumplin' offers sweetly uplifting drama that adds just enough new ingredients to a reliably comforting formula."
Jared Hedges is the son of a Baptist preacher in a small town, who is confronted with an ultimatum after being forcibly outed to his parents: attend a church-sponsored conversion therapy programme, or lose his family, friends, and faith.
Based on author and LGBTQIA+ activist Garrard Conley's acclaimed autobiographical memoir, this true story is written and directed by Golden Globe-nominated actor Joel Edgerton (The Great Gatsby), who also stars.
Oscar nominee Lucas Hedges (Manchester by the Sea) was nominated for a Golden Globe as Jared, with Oscar winners Nicole Kidman and Russell Crowe as his parents.
Boy, Erased won the 2019 GLAAD Media Award for Outstanding Limited Release Film and has a 81% critics rating on Rotten Tomatoes. CNN calls it, "one of those meticulously crafted films imbued with the kind of quiet power that can, and should, truly leave a mark."
Fast & Furious: Hobbs & Shaw (2019)| 14 May
Hobbs & Shaw sees Diplomatic Security Service agent Luke Hobbs (Dwayne Johnson) and British military elite operative-turned-outlaw Deckard Shaw (Jason Statham) forced into an unlikely alliance when anarchist Brixton (Idris Elba) threatens to unleash a deadly virus on humanity.
Emmy nominee Vanessa Kirby (The Crown) shines as rogue MI6 agent, Shaw's sister, and audience favourite Hattie, and look out for Oscar winner Helen Mirren as Magdalene "Queenie" Shaw, as well as a cameo from Golden Globe nominee Ryan Reynolds.
Common Sense Media puts the recommended age at 14+, saying, "This high-spirited summer action extravaganza delivers precisely what it promises: two great personalities, great stunts, and a little something extra. Hobbs & Shaw … narrows its focus to the most charismatic, and funniest, of the series' characters."
But that's not all …
From 14 May 2010, you can also binge the entire nine-movie Fast Saga, from its street racing beginnings to the most recent heist adventures. Stars include MTV Movie Award winners Vin Diesel and Gal Gadot (Wonder Woman), the late Paul Walker, and our very own Oscar winner Charlize Theron.
And why stop your action-fest there? From 21 May, Showmax will also have the entire Bourne Series: The Bourne Identity, The Bourne Supremacy, The Bourne Ultimatum, The Bourne Legacy, and Jason Bourne.
Good Boys (2019) | 28 May
Three sixth grade boys ditch school and embark on an epic journey that includes carrying accidentally stolen drugs, being hunted by teenage girls, and trying to make their way home in time for a long-awaited party.
This blast of an adventure comedy stars kids, but it gets pretty crude, and with a 16 age restriction, it's very much not for kids – though it might take you back to some of the insane stuff you got up to at that mad age.
A number one US box office hit, Good Boys was nominated for a 2019 People's Choice Award for Favourite Comedy Movie and has an 80% critics rating on Rotten Tomatoes. IndieWire calls it "adorable and twisted at the same time".
---
Kids
---
Pokémon Detective Pikachu | 24 May
21-year-old insurance adjuster Tim Goodman lives in Ryme City, a place where humans and Pokémon co-exist in harmony. As a kid, Tim wanted to become a Pokémon trainer, but things didn't work out that way. Then his dad, ace private eye Harry Goodman, goes missing, and Tim teams up with Harry's former Pokémon partner, Detective Pikachu – a wise-cracking detective who's lost his memory.
Golden Globe nominee Ryan Reynolds voices Pikachu, while Justice Smith (Jurassic World: Fallen Kingdom) plays Tim.
"Who would have thought that one of the most enjoyable buddy-cop movies of 2019 would star a Pokémon?" asks New York Post.
In a world populated entirely by LEGO characters, in the realm of Ninjago, the wise Master Wu has trained an elite group of heroic ninja to defend the land. As Lloyd, Nya, Kai, Cole, Jay, and Zane master the legendary art of Spinjitzu, they must fight to protect Ninjago from its enemies. Season 10 ends the Masters of Spinjitzu series, although Ninjago will continue in a new format.
Common Sense Media recommends the series for ages 7+, saying, "The fantastic all-LEGO design of the series, along with some genuinely witty moments, provides much-needed excitement and levity."
Dora has grown up in the jungle with her explorer parents, but now she faces a new challenge unlike any she's survived before: high school! After a sudden, dangerous turn of events, Dora soon finds herself back on familiar ground as she and her best friend, Boots the monkey, must lead Diego, a mysterious jungle dweller, and a group of kids from her school on a perilous trek through the jungle to rescue her parents and uncover the truth behind the legend of the lost city of gold.
Based on the hugely successful animated TV series Dora the Explorer, this spectacular live-action adventure grossed over $120m at the global box office as the 62nd biggest film of last year.
Dora is played by Teen Choice nominee Isabela Moner (now Isabela Merced), who starred in 100 Things to Do Before High School and Transformers: The Last Knight.
Dora and the Lost City of Gold has a 84% critics rating on Rotten Tomatoes, and Common Sense Media recommends the movie for ages 8+, saying, "This surprisingly funny, earnest adaptation of the beloved bilingual kids' show features an unwaveringly positive teen version of Dora."
---
Reality
---
LGBTQI+ additions| 8 May
A whole pride of programmes strut onto our screens this month with a selection of delicious programming, including reality and competition shows like Finding Prince Charming and The Boulet Brothers Dragula; dating series Naked Attraction; docuseries Big Freedia: Queen of Bounce; drama series Lip Service; comedy series The Kids in the Hall; and comedy special Katya: Help Me I'm Dying.
Don't miss Drag SOS, the quirky makeover show that sees drag collective the Family Gorgeous help unlikely protégées unlock their long-lost confidence and become bolder, braver drag-enhanced versions of themselves. The show has an 80% critics rating on Rotten Tomatoes and 8.2/10 on IMDb.
Also look out for Trixie Mattel: Skinny Legend, RuPaul's Drag Race All Star Trixie Mattel's variety show, with music and comedy her fans love from her performances.
---
Local
---
(S)he | First On Showmax | 7 May
After qualifying to compete in the 2016 Olympic trials for swimming, Penny Kemp, an intersex teenager, is forced to undergo gender treatment, all the while dealing with being ostracised by one of her teammates. (S)he is a coming-of-age drama that speaks to what it means to be a teenager, what it means to be accepted, and what it means to stand up for who you are.
Kate Roothman (Getroud Met Rugby, Erfsondes) stars as Penny, with Fleur du Cap nominee Kate Liquourish (Still Breathing, Queen Sono) as her coach and Justin Strydom (Snitch, The Mating Game, High Rollers) as her dad. Fiona Ramsay (Hard Copy), Mila Guy (Wonderlus) and Daniella Retief (Song vir Katryn) co-star.
Loving Thokoza | First on Showmax | Date TBC
Lockdown creator Mandla N makes his feature film debut with Loving Thokoza. Enhle Mbali Mlotshwa (Isidingo, uHambo) stars as Charlotte Grootboom, who graduates from Fort Hare University in 1994 and takes a teaching job at a rough and tumble, Apartheid-ravaged school in Thokoza. SAFTA winners Hamilton Dlamini (Isithembiso), Mduduzi Mabaso (Rhythm City) and Vele Manenje (Ring of Lies) co-star.
The Beautiful People S1 | First on Showmax | 18 May
Five models. Three months. One city. The Beautiful People is a 10-part documentary series that follows a group of American, British and Brazilian fashion models as they follow the sun to Cape Town for the summer season. The show goes behind the scenes into the day-to-day, real-life business of modelling – the auditions, the challenges, the insecurities and the fierce competition for work over the peak season.
Directed by acclaimed entertainment journalist Nicky Greenwall.
---
Also on Showmax in May
---
1 May
Girlfriend's Guide to Divorce S1-5 | I Don't Know How She Does It | Lego City Adventures
4 May
Suidooster S5
7 May
Everest | Kidnap | Khanyisa Bunu Comedy Special | Alles Malan S1
8 May
Ali & Cavett: The Tale of the Tapes | Women of Troy
11 May
Ander Mens | Girl in Progress | The Loft House | Warcraft
14 May
Come and Find Me | Rage of a Lioness | Uthando Nes'Thembu S3 | Kings of Mulberry Street
18 May
Auction Wild | Stratton: First into Action
21 May
Dillan Oliphant: Good Kid M.A.A.D Witty | The First Purge
25 May
The Journey