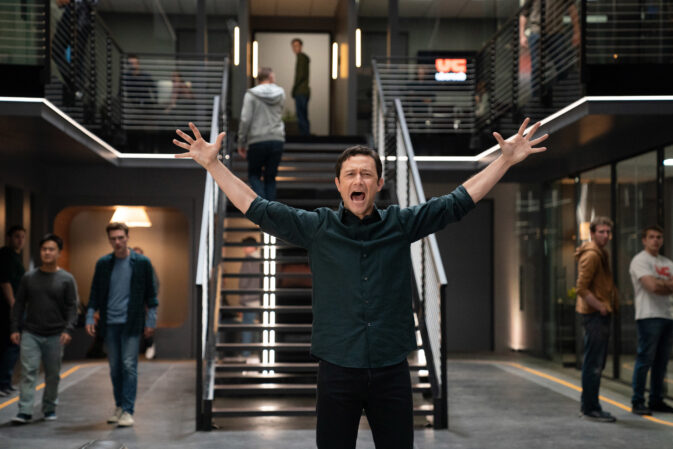 "You can't believe how crazy it is": stream Super Pumped now
Watch now
"We are disruptors… kings… gods," says two-time Emmy winner Joseph Gordon-Levitt as Uber CEO Travis Kalanick in Super Pumped: The Battle for Uber. "We are in the world-changing business."
Now available to binge on Showmax, Super Pumped is based on the rollercoaster true story of Uber, the upstart transportation company that became one of the top-valued private companies in Silicon Valley.
"They were writing software to systematically break the law," Joseph explains. "And their attitude was, by the time anybody catches us, we'll be too big. And they were right. That's what happened… It's entertaining to watch because you can't believe how crazy it is."
Super Pumped centres on Kalanick, Uber's hard-charging CEO, who was ultimately ousted in a boardroom coup. The seven-part series co-stars Oscar nominee Uma Thurman (Pulp Fiction, Kill Bill) as Uber board member Arianna Huffington, the savvy businesswoman and co-founder of The Huffington Post, and Emmy winner Kyle Chandler (Catch-22, Argo, Super 8, Friday Night Lights), as Travis' conflicted mentor Bill Gurley, the plainspoken, brilliant Texan venture capitalist who bet his sterling reputation on Uber's success – and had to live with the consequences.
Created by writing duo Brian Koppelman and David Levien (Billions, Ocean's Thirteen), Super Pumped is based on the non-fiction book of the same name by New York Times journalist Mike Isaac, which details the "work hard, play hard" culture that made Uber a unicorn in the eyes of venture capitalists – despite the multiple scandals that surrounded it, including the mishandling of personal information, dodging regulators and fines, and allegations of sexual harassment documented by Susan Fowler (played in show by Eva Victor from Billions).
Oscar nominee Elisabeth Shue (The Boys) plays Travis' mother, Bonnie Kalanick. "Uber is in our life," she says "and yet we don't know, really, what the origin of that company was."
"It seems like Uber's been here forever, but it was a pretty bumpy ride getting there," says Babak Tafti (Succession), who plays Uber vice president Emil Michael.
Narrated by Oscar-winning director Quentin Tarantino, Super Pumped also boasts an all-star guest line-up, including the likes of Emmy winners Richard Schiff (Black Panther: Wakanda Forever, The West Wing) and Hank Azaria (Ray Donovan, The Simpsons, Godzilla), Emmy nominees Ben Feldman (Superstore, Silicon Valley, Mad Men) and Fred Armisen (Saturday Night Live, Our Flag Means Death), and Teen Choice nominee David Krumholtz (The Deuce, The Plot Against America). Also look out for billionaire entrepreneur and Shark Tank investor Mark Cuban (a former Kalanick investor who famously passed on investing in Uber) as himself.
For those who were there at the beginning, Uber looked like the proverbial pot of gold. "They knew that it would work," says Chandler. "They had faith in it. Boy, were they right."
Bridget Gao-Hollitt plays violinist Gabi Holzwarth, Travis' girlfriend. She says, as the show progresses, "There's this constant sinister feeling that something is wrong. It's the ripple effect on the people around somebody who really, really needs to win."
Bill Gurley began to feel those effects early on. As Gordon-Levitt told TV Insider, "[Bill is] not quite Travis' boss, but he's a certain authority because he's got the keys to the purse, and then he becomes a sort of a Jiminy Cricket conscience, saying, 'You can't do these things.' And by the time Bill Gurley says 'no' to Travis, Travis is unwilling to hear 'no' from anybody. When you surround yourself with only people who will say 'yes', you start to lose your mind. And that's what you see in this show."
As Jon Bass (She-Hulk: Attorney at Law, Miracle Workers), who plays Uber co-founder Garrett Camp, puts it, "You're asked to sympathise with billionaires, and then it shows you the people who have been taken advantage of. That's where the show really starts to rev up."
The anthology series has already been renewed for a second season, which will focus on Facebook and the relationship between Mark Zuckerberg and COO Sheryl Sandberg.