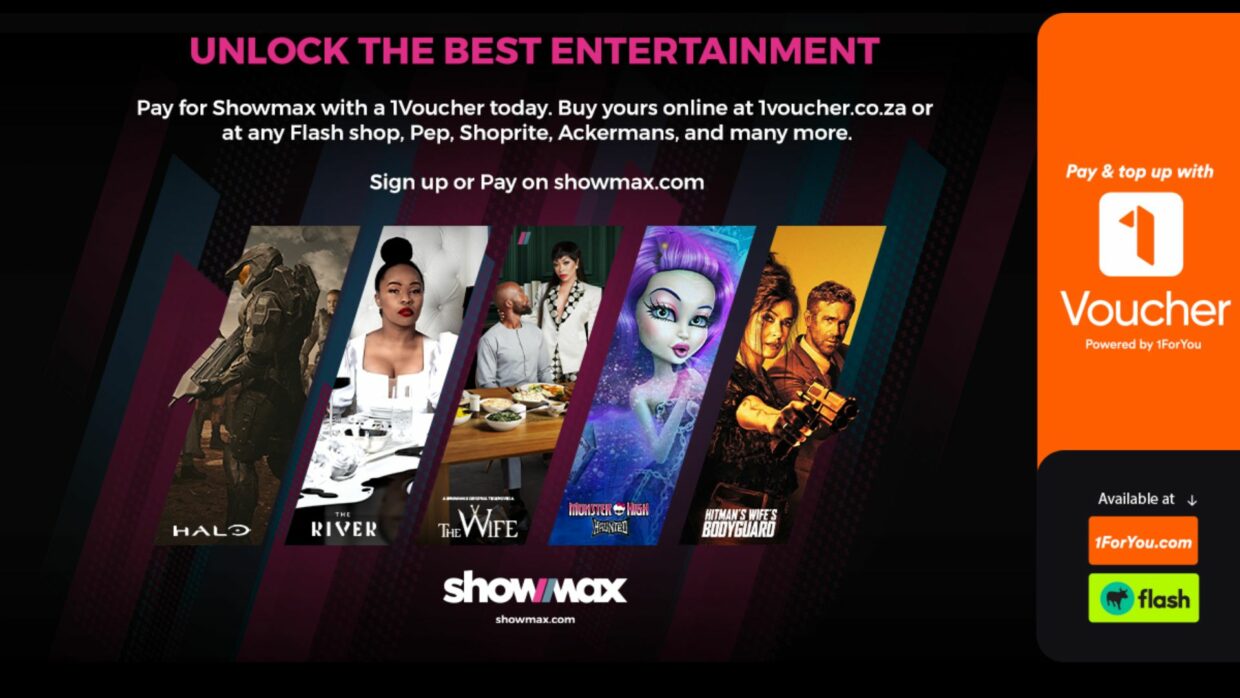 26 April 2022
How to use your 1Voucher to get Showmax
Good news for Showmax fans in South Africa! Showmax and Flash have partnered up, so you can use your 1Voucher to pay for your Showmax subscription.
How to get your 1Voucher
Head over to the 1Voucher website, any Ackerman's or PEP store, via the Thyme Bank app, or from any Flash retailer, for any amount.
Then come back to Showmax.com to redeem your voucher for any Showmax subscription you like.
If the value of your 1Voucher is higher than the cost of the Showmax subscription you chose, no worries. You'll receive an SMS with a balance of the funds left on your voucher.
1Voucher Terms and Conditions
Please read these terms and conditions carefully.
The 1Voucher Showmax partnership offering is only applicable in South Africa.
The 1Voucher can only be purchased at either https://1foryou.com/, Ackerman's, PEP Stores, Tyme Bank App or any 1Voucher Retail outlet.
Customers are only able to redeem their 1Voucher on Showmax.com for a monthly subscription; and where such subscription is subject to the Showmax terms and conditions – South Africa.
In case of partial voucher redemption, no refund will be processed by Showmax, any credit due to the Customer will be issued by 1Voucher by sending the customer a new voucher pin via SMS to the same cellphone number used on the voucher redemption stage.
Showmax will not be liable for the issuing of the credit remaining from their redeemed 1Voucher used on Showmax.com
Showmax nor 1Voucher will be liable if the customer supplied an incorrect cellphone number when redeeming the 1Voucher and the new change voucher is sent to the wrong number.
1Voucher will use the serial number on the voucher slip to recover the change voucher pin and send it to the correct cellphone number, as provided.
The cellphone number field is optional on Showmax sign-up page; therefore, users can skip this step and only use the email mandatory field, hence Showmax can only guarantee tracking of user transactions by email address only.
1Voucher will endeavour to reconcile user details submitted to Showmax to resolve any customer queries relating to undelivered change voucher pin.
Showmax cannot be held accountable for unrecovered change voucher pin in any given circumstance.
Only South African dialling code (+27) will be allowed for cellphone fields.
Cellphone numbers will not be stored for the protection of personal information as per POPI Act aligned with local regulations.
No refund will be issued if a customer selects wrong the subscription and redeems their voucher.
The voucher serial number (which will be used as a unique identifier of the transaction), will be displayed on the redemption "success page" by Showmax which the user must keep safe as per instructions on the page.
FAQs
What is Showmax?
Showmax is Africa's largest online entertainment streaming platform – packed with thousands of TV local and international shows, movies, kids shows, live sport and more ready and waiting to go! Just pick what you want and hit play. No schedule or airing times. With Showmax you watch what you want when you want it!
How do I get Showmax?
You need three things – a Showmax subscription, good internet access, and a device to watch Showmax on.
Subscribing is really easy and the monthly subscription price starts from R39 up to R349 per month. That's less than a night on the town for unlimited access to a huge library of hit TV shows and movies. 
Head over to https://1foryou.com/, or any Ackerman's, PEP store, Thyme Bank and Flash outlet to buy your 1Voucher.
Then go to Showmax.com on your web browser, sign up with your email address, smash in a password, enter your 1Voucher code, follow the prompts and you're ready to get your binge on!
Showmax streams movies and TV shows via the internet, so you'll use data. How much data depends on how much you watch and the video quality level you select.
To get your show on, you need something connected to the internet – a smart TV, laptop, smartphone, tablet, or a media player like Apple TV or Chromecast. For a full list of supported devices, check out showmax.com.
Where do I find the Showmax app?
You can download the Showmax app for Android on the Google Play Store and Huawei App Gallery; for iOS at the Apple App Store.
How do I sign in to watch?
Click on "Sign In" on your smart TV, laptop, smartphone, tablet, or a media player like Apple TV or Chromecast. Enter the e-mail address and password used when subscribing and you are ready to start watching.
How do I find what I want to watch?
You can search for a movie or series by typing the name of it in the search field or scroll through Movies, Series and Kids programmes by selecting the category.
How do I watch?
Select what you want to watch and click on Play Now to start watching.
Sweet! So, what exactly does the monthly subscription fee cover?
Showmax is all-you-can-eat, so go crazy. Watch as much as you want. In fact, you can have 5 devices registered on your account on the R99 subscription package. The mobile subscription package only allows you to register on 1 device.
Your subscription allows you to stream two different shows on separate devices simultaneously. So, while you're binging on your favourites like The Wife, and Raised by Wolves, the kids can go to town watching their favourite characters sans the royal rumble for the remote. Just remember adding another stream uses more data.
More you say? Well, we've got more… downloads. Smartphones and tablets with the Showmax app (iOS, Andriod and Huawei) can download up to 25 movies or episodes of your favourite TV shows to watch later offline. Downloads are only available on the iOS and Android apps, remember you can only watch downloads by using the app and you cannot save a download to an external hard drive, USB or SD card.
Jump on the Wi-Fi at a coffee shop, download, watch when you get home, during load shedding, or on a flight or an endless road trip.