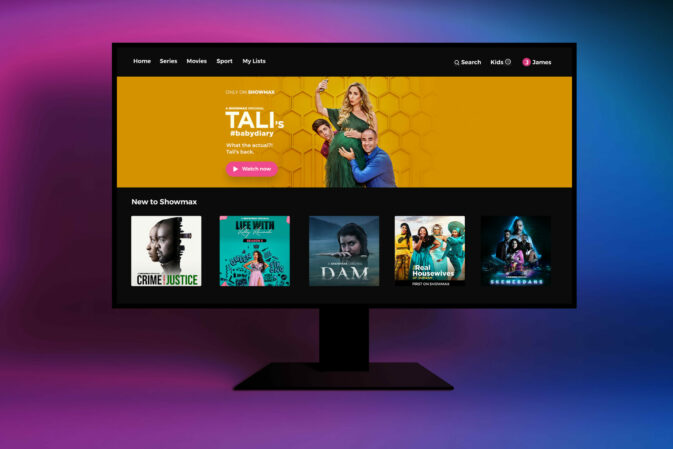 10 February 2022
How to pay for Showmax
Don't have a credit card? Shy when it comes to making online payments? No problem – you can still get Showmax.
Showmax, the internet TV service that gives you access to the best local and international content (from Boer Soek 'n Vrou to Game of Thrones), movies and a huge selection of kids' shows, also gives you all these credit-card free ways to pay.
Showmax vouchers in store
Prepaid vouchers for Showmax are available to buy at selected branches of these stores:
Pick n Pay
CNA
Dis-Chem
Game
Makro
HiFi Corp
Builders Warehouse
Incredible Connection
Once you've bought your voucher, simply enter the unique code to complete your sign-up at www.showmax.com/voucher.
Showmax vouchers online
Buy vouchers online via these platforms:
Showmax vouchers are available on the online portal and the FNB and RMB Private Bank apps. Scroll down to select the Showmax option. Save your rands and pay using eBucks. Once you've bought your voucher, enter the unique code at www.showmax.com/voucher.
FNB App
Purchase Mobile, Pro or Standard Showmax vouchers for yourself or as a gift to loved ones on the FNB App. Enjoy vouchers from one, three or six months and pay using our transactional account or your eBucks.
Log onto the FNB App > click the Buy tab > select Vouchers > click the Online tab > then select Showmax (under Entertainment)
Once you've bought your voucher, enter the unique code at www.showmax.com/voucher.
Go to the UCount Rewards Online Mall. This will give you two options – to either buy the voucher Prepaid or to Recharge your Showmax subscription directly using your email address that's captured on the UCount site. If you choose to recharge, you won't have to capture the voucher code, making the process much simpler and easier.
Choose to use your credit cards or rewards cash to purchase the voucher. If you choose Prepaid, you'll follow these steps: click "Add to cart" and "Checkout". Then follow all the prompts (Contact details, Payment then Confirmation). You will receive an order summary to show that you have placed the order successfully. You will then receive an SMS with the voucher code and an email with the steps on how to redeem your Showmax prepaid voucher at www.showmax.com/voucher.
Pay with your Standard Bank UCount Rewards Card in the same way you would with your debit card. The card does not allow for recurring or repeat billings. If you have not yet done so, activate your UCount card online, or call 0860 UCOUNT (82 68 68).
Go to showmax.com/ucount.
Select Mobile or Standard.
Enter your email address and create a password.
Confirm the subscription value.
Enter your Standard Bank UCount card details.
Confirm using 3D Secure.
Start watching.
Customers who subscribe to Showmax using their Standard Bank Personal Credit or Debit cards online will:
Earn 5% back in Rewards Points, plus
Earn up to 1.25% back in Rewards Points based on their Rewards Tier.
ABSA Banking App
Buy Showmax vouchers on the ABSA Banking App. Go to the Digital Vouchers option and choose Showmax. You can also buy the vouchers on your banking app.
Clientele Rewards
Clientele Rewards customers can buy vouchers from the Clientele website or Clientele app at a discounted rate. Navigate to the My Deals section and choose Showmax from the menu. Select Standard or Mobile, and pay. It's that simple! Find out more on the Clientele website.
Add to your MWEB account
Add your Showmax account to your existing MWEB account, so you'll be billed for, and can pay for, all your internet costs in one shot. Use the activation code from MWEB to set up your Showmax account on www.showmax.com. Includes a 14-day free trial. Find out more on the MWEB site »
Add to your DStv Account via debit order (Premium customers get Showmax at zero cost)
DStv customers have the option of linking their Showmax account to their DStv account to streamline their monthly payments into a single debit order. DStv Premium customers now get Showmax included in their monthly subscription. Compact, Compact Plus, Family and Access customers get Showmax for just R49 per month.
Go to www.showmax.com, sign in, and go to My Account and Manage Subscriptions. Select Add to DStv Account, sign in using your DStv Connect ID, and then add Showmax to your DStv account.
Plus, if you're a Showmax subscriber with a connected DStv Explora, watching Showmax on your TV is easy – simply use your DStv remote to launch Showmax.
Add to your phone account
Please note that Telkom, Vodacom and MTN customers will be charged in advance for the coming month. If you're on Prepaid, make sure you have sufficient airtime credit to pay for your subscription.
Add to your Vox bill
Pay for Showmax by adding to monthly subscription to your Vox bill – add to bill now »
PayPal
You can choose to pay your subscription using your PayPal account. Go to the Manage Subscriptions option under My Account (once you've signed in at www.showmax.com) and select the PayPal option. Remember, though, you'll be charged in US dollars, so you may pay a little more or a little less from month to month, depending on the exchange rate.