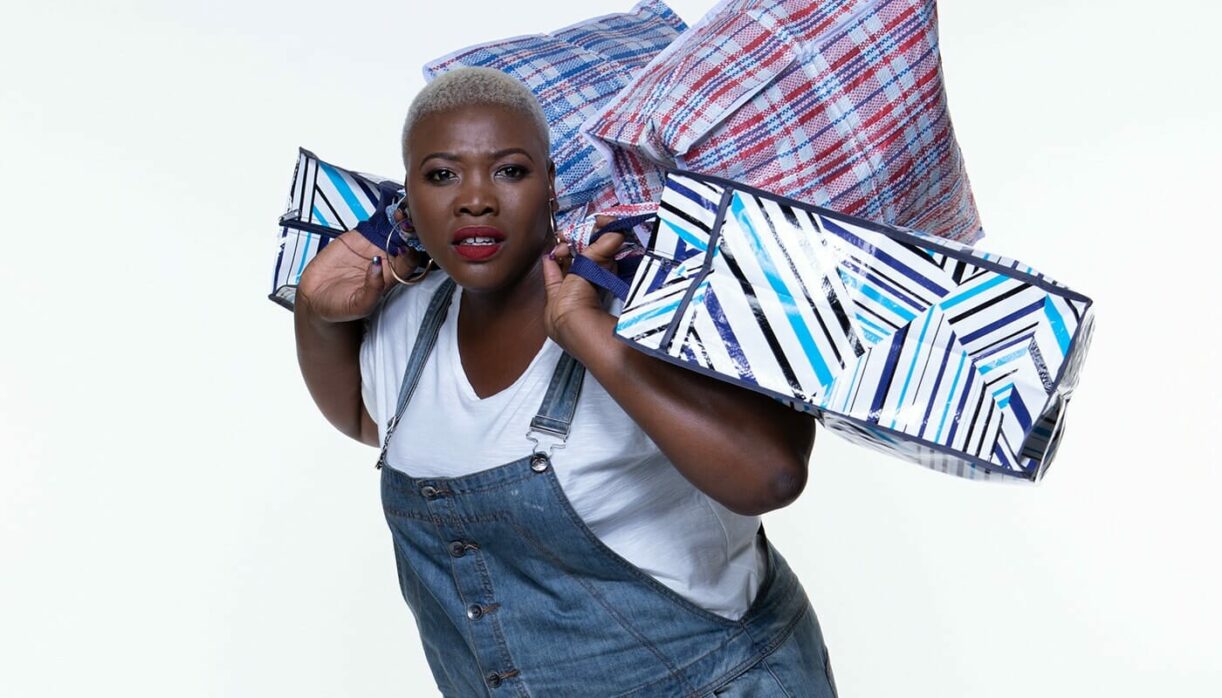 7 February 2019
INTERVIEW: Celeste Ntuli on Trippin With Skhumba
In the third Showmax Original, Skhumba visits the hometowns of some of our country's finest stand-up comedians in a fun show that's just as much about travel as it is about comedy. Celeste Ntuli is one of his featured comedians, and here she lets us in on what we can expect from the episode that's all about her and her hometown.
Celeste Ntuli is the queen of Zulu comedy. She's a full-time stand-up comedian and actress – you can catch her in Isibaya – and the first ever local female comic to record a one-woman show DVD, called Seriously Celeste. Together with Skhumba, she was the most nominated comedian in the 2018 Comic's Choice Awards.
Why did you sign up for this adventure?
It's always a good time, rolling with comedians. I can see why people will love watching Trippin With Skhumba, because we [comedians] have a lot to say.
Who is in charge of the tunes on the road?
I've actually driven with Skhumba to a couple of shows. He's hilarious, and he talks a lot. His music – he loves hip-hop. The rule is if you're driving, you pick the tunes. I love being driven around so I don't care much. Sometimes I'll say: "This is boring, let's change the music."
What's it like travelling with comedians?
The nice thing is when we ride as comics, everyone is free to be themselves. We can move from Skhumba's vibe, to Siya Seya's vibe, to Tumi's vibe while we're travelling. We give each other the space to be ourselves.
What's your plan for when you arrive home in Empangeni?
You guys are going to see my home and where I come from. I got my mom there, and when I told her we were coming, she wanted to repaint the whole house. I said, "No, it's not like that. Just relax. Don't renovate the house!"
What's on the menu?
I'm going to be serving dumplings, chicken, and my mom's favourite – which I'm going to ask her to make – the cabbage. She cooks a mean, saucy cabbage. Probably some yams, some spinach. I'm going to keep it traditional. I don't have time to be cooking curries and my mom is 70-something! Funnily enough African cuisine is very vegetarian and very vegan, although we didn't know what to dub it. I've been telling people: "We've been going green, we ARE green!"
Where else are you going to visit while you're in your old hood?
I'm going to try to organise a visit to my school but I have no idea if my old teachers are still there. The kids in the area all know me. You'll probably also meet my brothers. I'll also take viewers around the township and the rural area – it's not as rural as you think, though!
We believe you have two homes to show viewers…
Yes, where my mom lives now and where we grew up.
Do you do your stand-up strictly in English?
When I'm in Durban I'll throw in a bit of Zulu, because I am Zulu. I don't mind changing my material to suit the crowd. In Joburg, these is such a mix of languages – Sotho, Tswana, Venda – and sometimes they don't get your joke. I performed in Pretoria once and I spoke in Zulu, and they were like 'what did she say' and I had to revert back to English quickly. Because my Zulu is Zulu, there is a difference. People from KwaZulu-Natal speak proper Zulu; in Joburg the people's Zulu is like… Grade D Zulu. Sometimes when I perform, it'll be funny and hilarious, then I'll use this one word that nobody uses…
What is it about performing comedy in vernacular that makes it so memorable?
Zulu is very rich and it's such a lovely language to play with, especially when it comes to comedy. It's not always funny because of the punchline, it's funny because of a word that I used. You can't try to translate your joke into English, it'll lose its whole meaning.