Best action movies to watch on Showmax
Browse all movies
Looking to round-house kick your way through some hard-hitting action movies? Say no more. We've put together this kick-ass list of awesome action movies to watch on Showmax. Check it out.
Maggie Q leads this all-star cast in this action movie. When the mentor of the world's best contract killer is killed, she vows to avenge the man who taught her everything. Watch now »
Zack Snyder's epic re-edit of the 2017 blockbuster Justice League. Following Superman's sacrifice, Batman and Wonder Woman assemble a team of metahumans to save the world. Watch now »
Liev Schreiber stars in this film that brings the Donovan family legacy full circle. After the events of season seven, Ray is determined to find and stop Mickey. But he also deals with the fallout from the Donovan/Sullivan feud. Watch now »
Ryan Reynolds and Samuel L. Jackson return as Michael and Darius respectively. The two continue their friendship as they try to save Darius' wife, Sonia (Salma Hayek). Watch now »
A fantasy action film about a realm where female warriors are at war – but one hotel worker realises she is not the killer she needs to be. Watch now »
Oscar winning director George Miller, Tom Hardy and Charlize Theron bring the post-apocalyptic world of Mad Max back to life. Max must help save a group of women from a warlord. Watch now »
The Little Things stars Oscar winners Denzel Washington (Fences) and Rami Malek (Bohemian Rhapsody, Mr Robot) as Deputy Sheriff Joe "Deke" Deacon and Sergeant Jim Baxter, two cops on the hunt for a serial killer who's terrorising Los Angeles. As their search begins to dredge up echoes of Deke's past, disturbing secrets emerge, which could threaten more than his case. Watch now »
Action star Frank Grillo leads an all-star cast in this slugfest. Trapped in a time loop that repeats the day of his murder, a former special-ops agent must uncover how he died. Watch now »
Joe Manganiello leads this action drama. Max Fist claims to be a hero from another dimension. No one believes his stories except for a local teen named Hamster. Watch now »
Guy Ritchie and Jason Statham team up again to deliver this gritty action film. A mysterious and fierce new cash truck security guard has a hidden vengeful agenda. Watch now »
Liam Neeson takes matters into his own hands in this action thriller. A rancher on the Arizona border defends a young Mexican boy fleeing the cartel assassins. Watch now »
A recently widowed traveler is kidnapped by a cold blooded killer, only to escape into the wilderness where she is forced to battle against the elements as her pursuer closes in on her. Watch now »
Oscar winner Russell Crowe is frightening in this road-rage thriller. After a confrontation with an unstable man at an intersection, a woman becomes the target of his rage. Watch now »
Ruby Rose is lethal in this action film. A woman who has just returned from combat, now working as a doorman, is the only thing standing in the way of a gang of thieves and a family. Watch now »
Gerard Butler and Morena Baccarin drive this chaos-filled film. As comet fragments hit the Earth, a family scrambles to safety while the world around them disintegrates. Watch now »
Liam Hemsworth drives this gritty crime thriller. After a deal goes bad, a money launderer wakes up from a car crash with no memory, stolen cash, drugs, and dirty cops on his tail. Watch now »
After splitting with the Joker, Harley Quinn (Margot Robbie) joins superheroes to save a young girl from an evil crime lord. Watch now »
Bruce Willis fights for his family in this action film. The work of a billionaire tech CEO is so valuable that he hires mercenaries to protect it, but terrorists kidnap his daughter. Watch now »
Jodie Foster must conquer her fear in this revenge movie. After a brutal assault kills her fiancé and leaves her in a coma, a woman wakes up and embarks on a quest for vengeance. Watch now »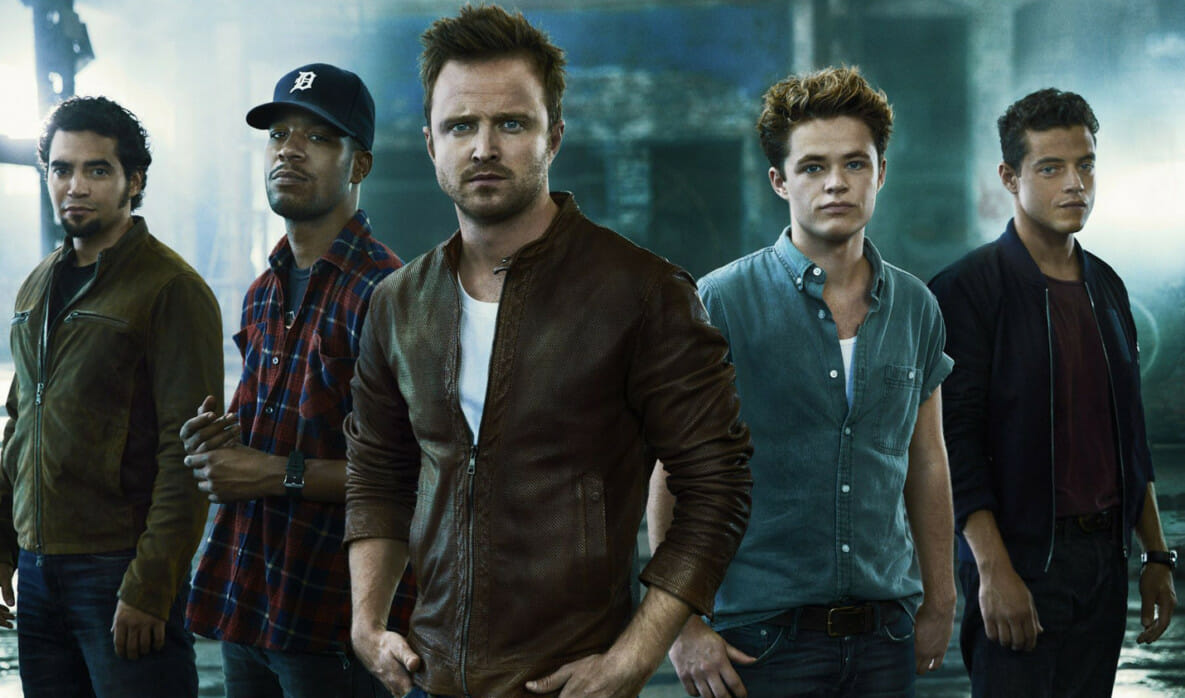 If you love Fast and Furious you will definitely love Need For Speed. This high octane street racing movie with Breaking Bad's Aaron Paul will keep you on the edge of your seat. Watch now »
Action star Bruce Willis drives this home invasion thriller. Two robbers hold a disgraced doctor and his family hostage so that they can get treatment after a robbery gone wrong. Watch now »
Gerard Butler returns for the third instalment of this action-packed franchise. Mike Banning is on the run after he is framed for the attempted assassination of the President. Watch now »
The late, great Chadwick Boseman powers this crime thriller. As a detective leads a manhunt for two cop killers he is thrust into a massive and unexpected conspiracy. Watch now »
Acclaimed filmmaker Yimou Zhang helms this historical fantasy starring Matt Damon. An elite force of warriors must save humanity from a horde of monstrous creatures. Watch now »
Jesse Eisenberg (Rio) and Kristen Stewart (Twilight) fight to survive in this action-comedy. A stoner, secret agent and his girlfriend go on the run when he's marked for death. Watch now »
A small group of survivors are left behind after millions of people suddenly vanish and the world is plunged into chaos and destruction. Watch now »
After deadly terrorists abduct his niece at a soccer match, an ex-soldier with lethal fighting skills wages a one-man war to save her and prevent mass destruction. Starring Dave Bautista and Pierce Brosnan. Watch now »
After security expert Ray Breslin is hired to rescue the kidnapped daughter of a Hong Kong tech mogul from a formidable Latvian prison, Breslin's girlfriend is also captured. Watch now »
A woman seeks revenge against those who orchestrated a plane crash that killed her family. Watch now »
After escaping her violent husband, Sadie learns lethal survival skills, which she uses to free other victims of domestic abuse. This thriller stars Olivia Wilde. Watch now »
Robin of Loxley and his commander lead a revolt against the corrupt English crown. Starring Taron Egerton and Jamie Foxx. Watch now »
American submarine Captain Joe Glass teams up with an elite group of Navy SEALs to rescue the kidnapped Russian president and prevent the outbreak of WWIII. Watch now »
Destroyer is a heavy-weight, neo-noir crime drama starring Oscar winner Nicole Kidman in a 2019 Golden Globe-nominated performance as a damaged ex-LAPD cop with a score to settle, some wrongs to right, and a history to set straight. As Variety says, "Nothing Nicole Kidman has done can prepare you for Destroyer". Watch now »
Matt Damon brings Robert Ludlum's spy Jason Bourne to life in four movies. Watch them all, plus Jeremy Renner's turn in the franchise. Watch now »
In this thriller written and directed by Luc Besson (The Big Blue, Valerian and the City of a Thousand Planets), a young Russian woman tries to escape a life of domestic abuse by joining the KGB and becoming an assassin.
Years later, in an attempt to change careers, she becomes a double agent for the CIA – but soon realises she's entangled in the deep web of international espionage. Watch now »
The world's top bodyguard gets a new client, a hitman who must testify at the International Criminal Court. They must put their differences aside and work together to make it to the trial on time. This one stars Ryan Reynolds and Samuel L. Jackson, so expect laughs along with the action. Watch now »
A special boat service operative for MI6 is recruited on an incredibly dangerous mission to stop a terrorist with access to chemical weapons. Watch now »
Two brothers are part of a rebel movement planning to overthrow the alien race currently ruling Earth, 10 years after they first invaded the planet. Watch now »
Joe and his father arrive at their remote cabin expecting a relaxed weekend, but find heroin stashed there by drug traffickers. They have to fight for their lives when the traffickers return to claim their goods. Watch now »
A group of Navy SEALS take on a covert operation to retrieve Nazi gold located at the bottom of a lake in Bosnia. But they'll have to avoid a group of dangerous, greedy thugs. Watch now »
In the future, an experiment for unlimited energy goes horribly wrong. Now it's up to a pilot to not only keep his family alive but also save the rest of the world. Watch now »